Pakistani cuisine is delightful, inviting, exquisite and hearty like the Pakistani people. Just the aroma of the cooking will water your mouth. Every region has its own taste with a different weather and scenery. Like the spicy delicious taste with the beautiful lush green fields or the sweet tasty with the gorgeous waterfalls. Pakistani cuisine speaks for the centuries of history the sub-continent era had. The food evolved as the British migrate and Hindus separated but it merged with local dishes and got more flavorful. Variety of food dishes incorporated with meat, vegetables and pulses can make you revisit the traditional place. Try the following most notable dishes to have the genuine kind of Pakistani experience!
1. Sindhi Biryani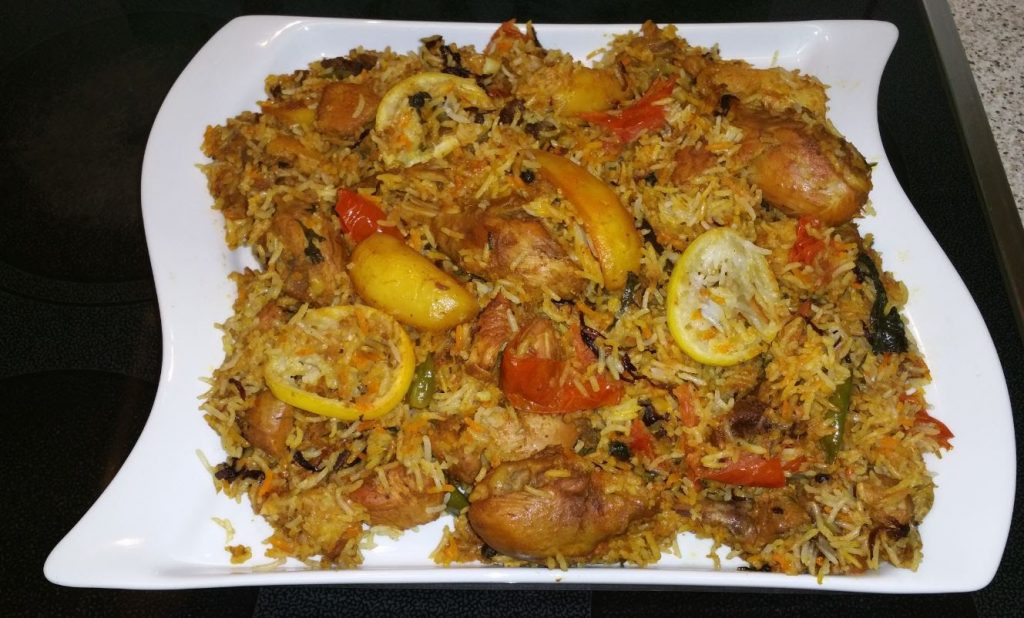 Sindhi Biryani is a special meat and rice dish originating from the Sindh province of Pakistan. Owing to its popularity, it forms one of the most consumed dishes of Pakistani cuisine and Sindhi cuisine. Sindhi biryani is served in nearly all the flights of Pakistan International Airlines (PIA). The following are the basic ingredients that are used in order to cook this famous Sindhi dish: mutton or chicken or fish or shrimp, basmati rice , potatoes, tomatoes, yogurt, red chili powder, salt, onions, turmeric, garlic ,ginger, cardamom, black cardamom pods, cloves, black pepper, cumin seeds, cinnamon stick, Bay leaves, Oil. Sindhi Biryani is a special meat and rice biryani dish originating from the Sindh province of Pakistan. Owing to its popularity, it forms one of the most consumed dishes of Pakistani(Asian) cuisine.
2. Chappli Kabab
Chapli kebab is a Pashtun-style minced kebab, usually made from ground beef or mutton with various spices in the shape of a patty. It originates from Peshawar in northwest Pakistan, and is also known as the Peshawari kebab.
The chapli kebab is a popular barbecue and street food throughout Khyber Pakhtunkhwa and other parts of Pakistan, as well as in eastern Afghanistan. It can be served and eaten hot with naan bread, rice, or in buns and sandwiches such as a bun kebab. Its mainly used Ingredients generally used are Various herbs and spices.
3. Aloo Gosht
Aloo gosht is a meat curry in Pakistani and North Indian cuisine. It consists of potatoes cooked with meat, usually lamb or mutton, in a stew-like shorba gravy. The dish can be served and eaten with plain rice or with bread such as roti, paratha or naan. It is a favorite and common dish in Pakistani meals[1][3] and is commonly consumed as a comfort food There are various methods of cooking aloo gosht. Generally, the preparation method involves simmering lamb pieces and potatoes over medium heat, with various spices.
4. Kadi Pakora
Kadi is a spicy food it is made like a "curry". Its basic ingredients are gram flour and different condiments. It is usually served with rice and salad in restaurants and mainly with Asian chppati and parathas. Vegetable pakoras are added to it or some people like to add stripes of meat. Turmeric gives the kadi a yellowish tempting color with a unique aroma.
5. Koftas
Koftas is a family of meatball or meatloaf dishes found in South Asian, Middle Eastern, Balkan, and Central Asian cuisine. In the simplest form, koftas consist of balls of minced or ground meat usually beef, chicken, lamb, or pork mixed with spices and/or onions. In South Asia and the Middle East, koftas are usually made from lamb, beef, mutton or chicken The meat is often mixed with other ingredients, such as rice, bulgur, vegetables, or eggs to form a smooth paste. They can be grilled, fried, steamed, poached, baked or marinated, and may be served with a rich spicy sauce. In India, vegetarian varieties include koftas made from potato, calabash, paneer, or banana. In Europe, kofta is often served as fast food sandwich in kebab shops. Koftas in Pakistan are usually served cooked in a spicy curry/gravy and are eaten with boiled rice or a variety of Pakistani breads.
6. Nihari
Nihari is a stew consisting of slow-cooked meat mainly beef or lamb along with bone marrow. Nihari is mainly the Breakfast, Main course but can also be cooked for lunch. It main ingredients are Beef shank, Lamb and Mutton. Its Serving temperature is always Hot. It can be served with varieties of Bread. For its garnishing lemons, coriander leaves and ginger is mostly used.
7. Tikka
Chicken tikka is a chicken dish originating in the Punjab region of the Indian Subcontinent; the dish is popular in  Pakistan It is small pieces of boneless chicken cooked/steamed in a traditionally way. The word tikka means "bits" or "pieces". It is also a chicken dish served in Punjabi cuisine. The Kashmiri version of the dish, however, is grilled over red-hot coals, and does not always contain boneless pieces. The pieces are brushed with ghee (clarified butter) at intervals to increase its flavour, while being continuously fanned. It is typically eaten with green coriander and tamarind chutney served with onion rings and lemon, or used in preparing achicken tikka masala.
8. Chicken Jalfrezi
Jalfrezi (also jhal frezi, zalfrezi, jaffrazi, and many other alternative spellings) is a type of pakistani Chinese cuisine that involves frying marinated pieces of meat, or vegetables in oil and spices to produce a dry, thick sauce. As the dish includes green chillies, a jalfrezi can range in heat from medium to very hot. Typically those eating jalfrezi cool it down by consuming cream, yoghurt or other foods that help aleviate the heat. Other main ingredients include bell peppers, onions, cabbage, and tomatoes. It is served with rice or variety of breads (naan, chappati)
9. Matar(peas) Keema
Keema or qeema is a traditional meat dish from the Middle East. The word may be borrowed from the Turkish kıyma, which means minced meat. It is typically minced mutton curry (lamb or goat) with peas or potatoes or sometimes adding capsicum to enhance the taste. Keema can be made from almost any meat, can be cooked by stewing or frying, and can be formed into kebabs. Keema is also sometimes used as a filling for samosas or naan. The word for a similar dish in Armenian is "Gheymah" and in Turkish"kıyma" means minced meat.
10. Mamtu
Mamtu (a.k.a Mantu) are little dumplings which are used as a perfect starter or great party food. They are easy to make and fun for children too. They are served with yogurt and parsley and black pepper, vinegar and chili-sauce. Mantu (dumplings) are a steam boiled dish which is filled with chopped meat (lamb, beef), onions and vegetables which are all mixed with spices and wrapped in dough. They are steamed for several hours in circular steel container. The container has circler holes on it which allows the steam to be passed to the manuts placed over the container. Mantus are served with black pepper, vinegar, chili-sauce or ketchup.
11. Brown Haleem
Haleem is a stew popular in the Middle East, Central Asia, and South Asia. Although the dish varies from region to region..  This dish is finger liking good. Haleem is made of wheat, barley, meat (usually minced meat of beef or mutton or chicken), lentils and spices, sometimes rice is also used. This dish is slow cooked for seven to eight hours, which results in a paste-like consistency, blending the flavors of spices, meat, barley and wheat. In Pakistan, Haleem is available all year round, as well as in most Pakistani restaurants around the world. Haleem is sold as a snack food and street food in Pakistani bazaars throughout the year. To garnish the haleem fried brown onion, lemons, ginger and coriander leaves are used. People loves to eat naan with haleem.
12. Lahori Tawa Tali Machli
This dish is mainly popular in Lahore and its main ingredients are fish and different spices add up to marinate the fish and steaming it on a pan known as tawa. Lemons are squeezed on it coal burns bneath the pan to give it a barbeque touch. It is enriched in taste and mostly available in winters season. Peole eat with different ketchup sauces or some eat it with chappati. Rice flour, cumin seds, garam masla also added in it to enhance it taste to the upper level. A sauce is especially served with this it includes salted seedless soft finely ground dates after boiling in water. Some spices are added to the paste and served with steamy fish.
13. Moong daal
The mung bean, alternatively known as the moong bean, green gram, or mung mudga, is a plant species in the legume family. The mung bean is mainly cultivated in Pakistan, India, China, Korea, and Southeast Asia. Whole cooked mung beans are generally prepared from dried beans by boiling until they are soft. Mung beans are light yellow in color when their skins are removed Mung bean paste can be made by dehulling, cooking, and pulverizing the beans to a dry paste. They are soaked in water for six to 12 hours (the higher the temperature, the lesser soaking time). Then they are ground into fine paste along with ginger and salt. Then pancakes are made on a very hot griddle. These are usually eaten for breakfast. This provides high quality protein.
14. Chicken Sajji
Sajji is dish originated from the Baluchistan, province of Pakistan. It consists of whole Mutton mainly lamb or chicken, in skewers (fat and meat intact), marinated only in salt, sometimes covered with green papaya paste, stuffed with rice, then roasted over coals. Sajji is considered done when it is at the 'rare' stage. It is served with a special bread "Kaak", "roti" or "naan", which is baked in an oven, wrapped around a stone "tandoor". Sajji is favourite dish of Baloch people and is available in all regions of Pakistan. Regional varieties are found with subtle differences in flavoring notably in the urban centres of Karachi, Islamabad or Lahore, uses chicken instead of lamb, and is roasted until it is medium or well-done. Balochi Sajji has special cuisine in Lahore with name of Balochi Sajji by Bundo Khan Restaurant situated in Qadafi Stadium Lahore.
15. Kaghzi/Seekh Kabab
Kebabs (also kabobs) are various cooked meat dishes, with their origins in Middle East. In most majority English-speaking countries, two of the most prevalent and familiar kebab dishes are shish kebab and doner kebab. Either of these are often simply referred to as a "kebab" in English. Kebab dishes can consist of cut up or ground meat or seafood, sometimes with fruits and vegetables; cooked on a skewer over a fire, or like a hamburger on a grill, baked in a pan in an oven, or as a stew; and served with various accompaniments according to each recipe. The traditional meat for kebabs is most often mutton or lamb, but regional recipes may include beef, goat, chicken, fish, or more rarely due to religious prohibitions, pork.
16. Mutton Taka Tak
It is famous in different regions of Pakistan and this dish served with a spicy yummy mint sauce. Chop the mutton mince. Clean and blanch the mutton brain. Saute some chopped ginger and garlic. Then add red chilli powder, turmeric powder, salt, coriander seeds and cumin seeds. Stir fry for a while. Then add onion and tomato, ginger paste, garlic paste and carom seeds. Cook on high flame. Then add all the meats and lower the heat and cook till meat is tender. Finish with garam masala powder. Garnish with ginger juliennes, chopped green coriander and green chilies for Mint Chutney blend all the ingredients together. Serve with mutton taka tak.
17. Aalo ki Bhujya
Aalo ki bhjiya is the spicy Aalo that made in breakfast served with paratha (Chappati served with oil fried) heat oil in a pan and bhjiya is made by adding the onions, ginger & garlic paste fry till golden on high flame. add the cumin seeds, kalonji, dried fenugreek leaves, tomatoes, salt, turmeric, red chili mix well and cook till the oil comes on the surface now add the potatoes, water mix and cover and cook on medium flame till the potatoes are cooked and the water dries, garnish with few green chili and serve hot.
18. Anda Kaleji
Anda kaleji is very tempting dish. Egg and chicken or mutton liver is used to made this. It is made with ginger paste, garlic paste, onion, tomatoes, ginger, garlic, spices and green chilies cooked together. Then finely cut Kaleji (liver) and raw eggs are added for cooking. Garnished with coriander leaves, it is served with sulemani parantha or khameeri naan. It enhances the taste.
19. Palatable Kheer
Kheer is a kind of rice pudding from the cuisine of the Indian-Pakistani subcontinent, made by boiling rice, broken wheat, tapioca, or vermicelli with milk and sugar. It is flavored with cardamom, raisins, saffron, cashews, pistachios or almonds. This is a dessert usually served after meals. It also served on different special occasions as a sweet dish.
20. Gajrela
Gajar ka halwa, also known as gajrela or gajorer halwa, is a carrot-based sweet dessert pudding. It is made by placing grated carrot in a pot containing a specific amount of water, milk and sugar and then cooking while stirring regularly Gajar ka halwa is a combination of nuts, milk, sugar, khoya and ghee with grated carrot. It is a light nutritious dessert with less fat (a minimum of 10.03% and an average of 12.19%) than many other typical South Asian desserts. Gajar halwa has a medium shelf life so it is now sometimes exported. At festival time many people prefer vegetarian dishes as well as desserts in their Thali. Because of its low fat content, vegetarian characteristics, ease of making, medium shelf-life and taste Gajar ka halwa is a popular dessert all over Pakistan and often served at most festivals. The dish is popular among adults as well as children. In 300 grams of gajar halwa there are 268 calories (76 come from fat, 180 from carbohydrate and 16 from protein). It is also served as dessert (sweet dish).
21. Kabuli Palao
Qabli or Kabuli palaw is a northern Afghan dish, a variety of pilaf, consisting of steamed rice mixed with raisins, carrots, and lamb. It is one of the most popular dishes in Afghanistan and is considered the Afghan national dish. Qabli or Kabuli palaw is a northern Afghan dish, a variety of pilaf, consisting of steamed rice mixed with raisins, carrots, and lamb. It is one of the most popular dishes in Afghanistan and is considered the Afghan national dish. Qabli is not to be mistaken with the capital of Afghanistan, Kabul. Qabuli is made by cooking basmati or long grained rice in a brothy sauce (which makes the rice brown). This dish may be made with lamb,chicken, or beef. Qabuli palaw is baked in the oven and may be topped with fried sliced carrots, raisins, orange peel strips, and chopped nuts like pistachios or almonds. The meat is covered by the rice or buried in the rice mixture.
22. Bhindi Bites
This is amazing crunchy snack popular among the vegetarians all over Pakistan. Sometimes zucchini is also added in this dish. Bindhi or ladyfinger is cut in small chunks and put in a pot along with the chicken stock, bay leaves and masala. This gravy or masala is made from onions, ginger paste, garlic paste, tomatoes, spices and peanuts. It gives the dish a unique nutty taste with spicy flavor. It is usually served with fig chutni. that's the blend of finely steamed figs.
23. Rasmalai malai 
Rasmalai malai or rossomalai is a dessert originating from the south Asia. The name ras malai comes from two words in Hindi: ras, meaning "juice", and malai, meaning "cream". It has been described as "a rich cheesecake without a crust". Ras malai consists of sugary white cream, or yellow-coloured (flattened) balls of chhana soaked in malai (clotted cream) flavoured with cardamom. It is cooked in sugar syrup and milk with saffron, pistachios and kheer as stuffing. Homemade ras malai is usually made from powdered milk, all-purpose flour, baking powder and oil, which are kneaded to form a dough, molded into small round balls, and dropped into simmering milk cream. It is garnished with various ground nuts like almonds, pistachios, walnuts and others.
24. Sai Bhaji
It is a traditional bhaji from Sindhi region of Pakistan. It is a vegetarian curry. It is made with a blend of several vegetables notably spinach, dill leaves, chopped onions and chana dal(pulses). It is cooked in a pressure cooker after adding spices. Little water is added to make thick gravy. It is usually served with boiled rice or can be eaten with chapati. Different verities of the dish are available in which people add carrots, green chilies, capsicum and other vegetables according to their taste.
25. Multani Chaamp
This is a mouthwatering dish originated from the middle of Punjab, popularity province of Pakistan. This is the steamed chaamp of goat. It is marinated with various spices. lemon and vinegar for several hours. People make their own spices with certain secret ingredients to promote the taste of the dish. It is then fried or sometimes steamed. It is served with ketchup or traditional mint-chili chatni.
These delightful varieties of dishes will win your heart and their aroma will bring you back to visit Pakistan. The taste will last and haunt your palates from time to time!