And how you can make it yourself at home!
Believe it or not, America isn't the only country in the world that has a love for barbecued meats. It seems the love for meats that are lovingly tended to and slow-cooked over grills in and in smokers is pretty universal. Before you roll out your grill for summertime barbecues, take a look at how other countries smoke their meats. Even better, click here to properly recreate these world-famous smoked dishes in your backyard by investing in one of these smoker machines that will take your next meat-eating gathering to new heights!
Argentina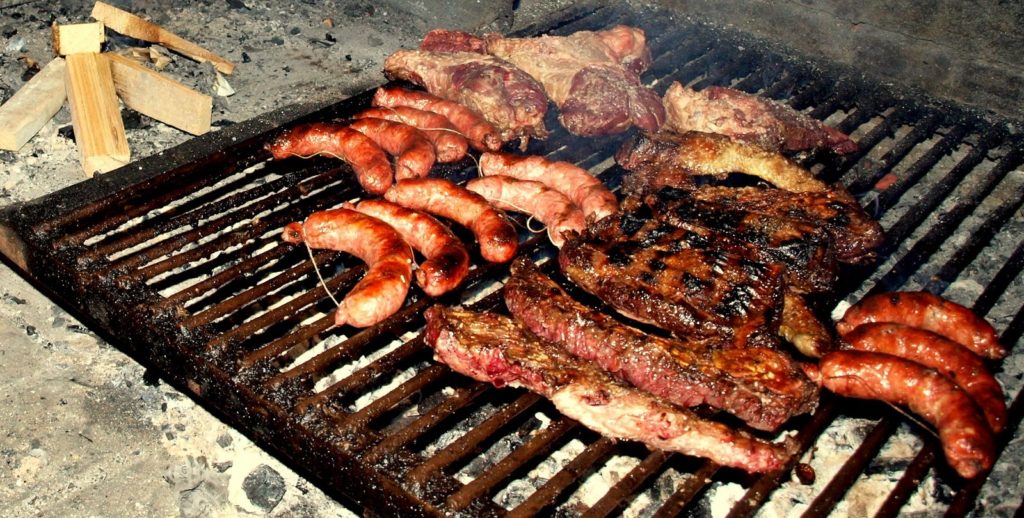 In Argentina, they do asado. Huge cuts of meats, and sometimes even the whole entire animal, are stretched out over an open fire pit and smoked to absolute perfection. Side salads and grilled vegetables round out the typical asado offerings, though it wouldn't be complete without chimichurri sauce, a garlicky sauce that comes in both green and red varieties. It's excellent on the smoked meats but you'll find it's also delightful to lick off your fingertips. Argentinians love to gather for asado with great friends and family, keeping their cups full of libations as they share a love for smoked food and fun together.
South Korea
South Korea is a haven for grilled and smoked meats. They have restaurants devoted to the art of Korean barbecue. The fun here is that YOU get to grill it yourself on your own personal grill, complete with adjustable air vent, right at your table. Popular offerings are galbi or beef short ribs, bulgogi, the signature marinated beef dish of Korea, or samgyeopsal, fatty pork. Grill these up and wrap them (they call it ssam there) in a variety of leafy greens with your banchan, a friendly complimentary array of side dishes to complement the meats you grill. Korean beer like Hite and Cass are very popular to drink with it though nothing goes better than Korea's version of vodka, better known as soju.
The Philippines
There's something you need to know about Filipino culture…they love to celebrate. And for any celebration, whether it's a birthday or an anniversary, they serve lechon or whole roasted pig. If you're in the Philippines and you don't happen to find an epic celebration taking place, you can grab a few skewers of smoky roasted meat served with the favorite gravy of Filipinos, mang tomas.
South Africa
In South Africa, they love outdoor grilling so much that they have a national holiday for it. Called braais, the holiday, National Braai Day is celebrated on the same day as the National Heritage Day. To be a guest during this event means that you'll be filling up on boerwors (sausages of both beef and pork), sosaties (skewers of lamb or chicken), and bitlong (meat jerky). What could be better than this dazzling array of meats? Savoring it with those beautiful South African wines, of course!
India
If you've ever had the pleasure of going to an Indian restaurant, perhaps you've seen tandoori chicken on the menu. This delight of a grilled dish is done in an indoor buried clay oven or tandoor. It renders the meats cooked within it with such an impeccable flavor while keeping it juicy. It's the best of grilled and smoky combined. Wrap your tandoori chicken in naan or roti, two of the most popular types of Indian breads. The sauces like chutney and cucumber raita are a dream come true for pairing pleasures.
Brazil
Brazilian restaurants, called churrascaria, are at every turn in Brazil. In the states and other countries too, if you're fortunate enough to find one, go. It's a never-ending smorgasbord of grilled and smoked meats making the rounds via servers who come to your table and carve off a variety of meat from skewers. This all-you-can-eat style is something any meat lover can totally get behind.
7. Australia
Fun fact: that saying about "shrimp on the barbie" was made for an Australian advertisement targeted to an American audience. Australians call the barbecue a "barbie" but they call shrimp "prawns" there. And now that you know, you should also be aware that Australians love to grill. But sausages are their meat of choice. Slathered with grilled onions and mustard on a roll, it only seems simplistic until you take your first bite.
America
And finally, let's discuss the American culture of grilling and smoking, shall we? The variety of styles here just speaks volumes about our adoration of all things meaty. One not to miss is the kalua pig of Hawaiian luau fame. In the Hawaiian Islands, they bury a whole pig deep in a sand pit and slow-roast it for hours on end until it is perfectly succulent. Then that whole luau fun they throw along with it puts the other 49 states to shame.
But wait! There's the barbecue feud between the Carolinas, Texas, Kentucky, and Tennessee too. You'd be missing out dearly if you went anywhere in the southern US and didn't sample the barbecue at every turn. The arguing ensues wherever you go when one place claims to have better barbecue than the other.
Really though, who cares who is right? Can't we all agree to just eat, drink and be merry with our smoked meats? If you have your own smoker machine, you can make all of these meats and many more from around the world and lay your own claim to fame of making the best smoked meats in the world. Talk about food for thought!