1. Sushi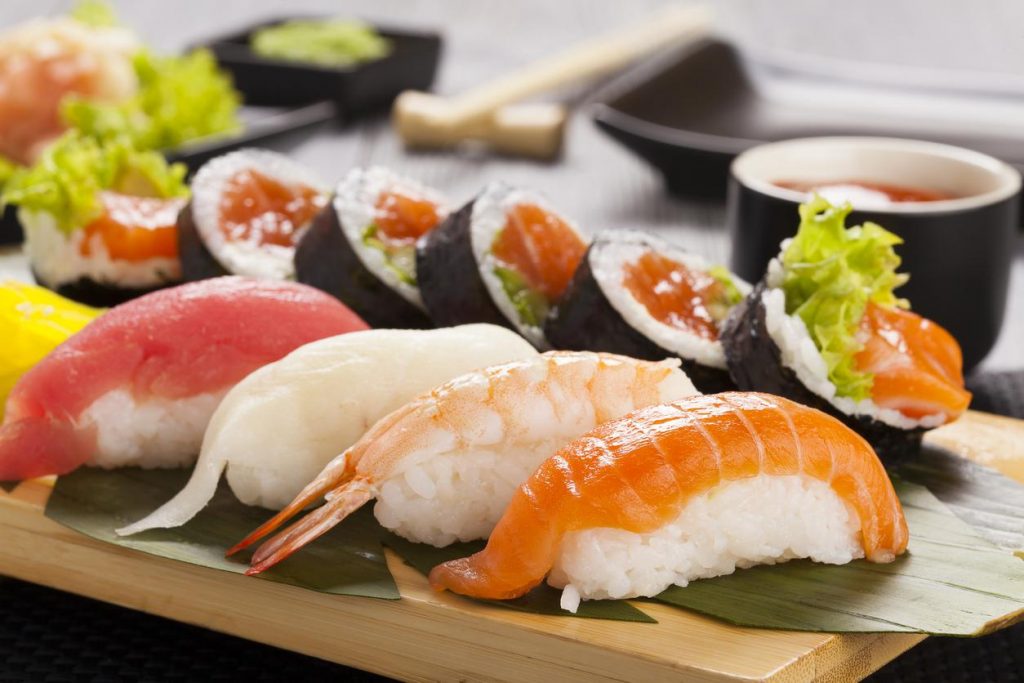 Sushi  is the Japanese preparation and serving of specially prepared vinegared rice combined with varied ingredients such as chiefly seafood (often uncooked), vegetables, and occasionally tropical fruits. Styles of sushi and its presentation vary widely, but the key ingredient is sushi rice, also referred to as shari , or sumeshi .
Sushi can be prepared with either brown or white rice. It is often prepared with raw seafood, but some varieties of sushi use cooked ingredients and many other are vegetarian. Sushi is often served with pickled ginger, wasabi, and soy sauce. Daikon radish is popular as a garnish.
Sushi is often confused with sashimi, a related Japanese dish consisting of thinly sliced raw fish or occasionally meat, and an optional serving of rice.
2. Shabushabu
Shabu-shabu is a Japanese nabemono hotpot dish of thinly sliced meat and vegetables boiled in water. The term is onomatopoeic, derived from the sound emitted when the ingredients are stirred in the cooking pot and served with dipping sauces.  The food is cooked piece by piece by the diner at the table. Shabu-shabu is considered to be more savory and less sweet than sukiyaki.
3. Tonkatsu
Tonkatsu  (pork cutlet), is a Japanese dish which consists of a breaded, deep-fried pork cutlet. There are two main types, fillet and loin. It is often served with shredded cabbage. In Korea, tonkatsu is known as don-gaseu (돈가스) or don-kkaseu (돈까스), which derived from a transliteration of the Japanese word.
4. Sashimi
Sashimi  is a Japanese delicacy consisting of very fresh raw meat or fish sliced into thin pieces. Sashimi is often the first course in a formal Japanese meal, but it can also be the main course, presented with rice and miso soup in separate bowls. Japanese chefs consider sashimi the finest dish in Japanese formal dining and recommend that it be eaten before other strong flavors affect the palate.
5. Onigiri
O-nigiri,  also known as o-musubi  or rice ball, is a Japanese food made from white rice formed into triangular or cylindrical shapes and often wrapped in nori (seaweed). Traditionally, an onigiri is filled with pickled ume (umeboshi), salted salmon, katsuobushi, kombu, tarako, or any other salty or sour ingredient as a natural preservative. Because of the popularity of onigiri in Japan, most convenience stores stock their onigiri with various fillings and flavors. There are even specialized shops which only sell onigiri to take out. Due to the popularity of this trend in Japan, onigiri has become a popular staple in Japanese restaurants worldwide.
6. Sukiyaki
Sukiyaki is a Japanese dish that is prepared and served in the nabemono (Japanese hot pot) style. It consists of meat (usually thinly sliced beef) which is slowly cooked or simmered at the table, alongside vegetables and other ingredients, in a shallow iron pot in a mixture of soy sauce, sugar, and mirin. The ingredients are usually dipped in a small bowl of raw, beaten eggs after being cooked in the pot, and then eaten.
7. Unagi 
Unagi is the Japanese word for freshwater eel, especially the Japanese eel, Anguilla japonica. Unagi is a common ingredient in Japanese cooking, often as kabayaki. It is not to be confused with saltwater eel, which is known as anago in Japanese. Unagi is served as part of unadon (sometimes spelled unagidon, especially in menus in Japanese restaurants in Western countries), a donburi dish with sliced eel served on a bed of rice. A kind of sweet biscuit called unagi pie made with powdered unagi also exists. Unagi is high in protein, vitamin A, and calcium. 
Unakyu is a common expression used for sushi containing eel & cucumber. Due to the health hazards of eating raw freshwater fish, eels are always cooked, and in Japanese food, are often served with tare sauce. Unagi that is roasted without tare and only seasoned with salt is known as "Shirayaki."
8. Yakisoba
Yakisoba , literally "fried buckwheat," is a Japanese noodle stir-fry dish. Although soba means buckwheat, yakisoba noodles are actually made from wheat flour, and are typically flavored with a condiment similar to oyster sauce. The dish first appeared in food stalls in Japan during the early 20th century. Yakisoba is prepared by frying ramen-style wheat noodles with bite-sized pork, vegetables (usually cabbage, onions or carrots) and flavored with yakisoba sauce, salt and pepper. It can be served with a variety of garnishes, such as aonori (seaweed powder), beni shoga (shredded pickled ginger), katsuobushi (fish flakes), and mayonnaise.
9. Tamagoyaki 
Tamagoyaki (literally "grilled egg", also called tamago or dashimaki) is a type of Japanese omelette, which is made by rolling together several layers of cooked egg. These are usually prepared in a rectangular omelette pan called a makiyakinabe. There are several types of tamagoyaki. It is made by combining eggs, and sometimes sugar or soy sauce. Additionally, sake and mirin are used in some recipes.[1] An alternative version includes a mix of shrimp puree, grated mountain yam, sake, and egg, turned into a custard-like cake.
Tamagoyaki is served around the world in the form of nigiri, and also appears in many types of sushi rolls. In Japan, it is also served as a breakfast dish and in other preparations. As part of a sushi/sashimi dinner tamago is usually taken as the final course, in essence a dessert bite.
10. Okonomiyaki
Okonomiyaki is a Japanese savory pancake containing a variety of ingredients. The name is derived from the word okonomi, meaning "how you like" or "what you like", and yaki meaning "grill" (cf. yakitori and yakisoba). Okonomiyaki is mainly associated with the Kansai or Hiroshima areas of Japan, but is widely available throughout the country. Toppings and batters tend to vary according to region. In Tokyo, there is liquid okonomiyaki called 'monjayaki.'
Some okonomiyaki restaurants are grill-it-yourself establishments, where the server produces a bowl of raw ingredients that the customer mixes and grills at tables fitted with teppan, or special hotplates. They may also have a diner-style counter where the cook prepares the dish in front of the customers.
11. Yakitori
Yakitori is a Japanese type of skewered chicken. Its preparation involves skewering the meat with kushi, a type of skewer typically made of steel, bamboo, or similar materials. Afterwards, they are grilled over a charcoal fire. During or after cooking, the meat is typically seasoned with tare sauce or salt.
As they are designed for convenience and portability, yakitori are typically cooked using step-by-step methods. Traditionally, it was accomplished using portable charcoal grills. That is the method most often employed by yatai, however, restaurants may use stationary grills and, depending on the situation, higher quality binchōtan charcoal.
12. Yakiniku
Yakiniku  meaning "grilled meat", is a Japanese term that, in its broadest sense, refers to grilled meat cuisine. "Yakiniku" originally referred to western "barbecue" food, the term being popularized by Japanese writer Kanagaki Robun . 
Today, "yakiniku" commonly refers to a Japanese style of cooking bite-size meat (usually beef and offal) and vegetables on gridirons or griddles over a flame of wood charcoals carbonized by dry distillation (sumibi) or a gas/electric grill. In North America, China, and Taiwan, yakiniku is also referred to as "Japanese barbecue".
13. Mochi
Mochi is Japanese rice cake made of mochigome, a short-grain japonica glutinous rice. The rice is pounded into paste and molded into the desired shape. In Japan it is traditionally made in a ceremony called mochitsuki. While also eaten year-round, mochi is a traditional food for the Japanese New Year and is commonly sold and eaten during that time.14. 
14. Fugu
Fugu is the Japanese word for pufferfish and the dish prepared from it, normally species of genus Takifugu, Lagocephalus, or Sphoeroides, or porcupinefish of the genus Diodon. In Korean, it is called bogeo or bok.
The restaurant preparation of fugu is strictly controlled by law in Japan and several other countries, and only chefs who have qualified after three or more years of rigorous training are allowed to prepare the fish. Domestic preparation occasionally leads to accidental death. Fugu is served as sashimi and chirinabe. Some consider the liver to be the tastiest part, but it is also the most poisonous, and serving this organ in restaurants was banned in Japan in 1984.  Fugu has become one of the most celebrated and notorious dishes in Japanese cuisine.
15. Oyakodon 
Oyakodon, literally "parent-and-child donburi", is a donburi, or Japanese rice bowl dish, in which chicken, egg, sliced scallion (or sometimes regular onions), and other ingredients are all simmered together in a kind of soup which is made with soy sauce and stock, and then served on top of a large bowl of rice. The name of the dish is a poetic reflection of the fact that both chicken and egg are used in the
16. Miso-shiru (Miso soup)
Miso soup (味噌汁 misoshiru) is a traditional Japanese soup consisting of a stock called "dashi" into which softened miso paste is mixed. Many ingredients are added depending on regional and seasonal recipes, and personal preference.
17. Kobe beef 
Kobe beef (Kōbe bīfu) (KO-BEH) refers to beef from the Tajima strain of Wagyu cattle, raised in Japan's Hyogo Prefecture according to rules as set out by the Kobe Beef Marketing and Distribution Promotion Association. The meat is a delicacy renowned for its flavor, tenderness, and fatty, well-marbled texture. Kobe beef can be prepared as steak, sukiyaki, shabu shabu, sashimi, and teppanyaki. Kobe beef is generally considered one of the three top brands (known as Sandai Wagyuu, "the three big beefs"), along with Matsusaka beef and Ōmi beef or Yonezawa beef.
18. Ramen
Ramen is a Japanese dish. It consists of Chinese-style wheat noodles served in a meat or (occasionally) fish-based broth, often flavored with soy sauce or miso, and uses toppings such as sliced pork, dried seaweed (海苔 nori), menma and green onions (葱 negi). Nearly every region in Japan has its own variation of ramen, from the tonkotsu (pork bone broth) ramen of Kyushu to the miso ramen of Hokkaido.
19. Motsunabe
Motsunabe is a type of nabemono in Japanese cuisine, which is made from beef or pork tripe or other offal. It is a popular stew made with guts portions of various types of meat, prepared in a conventional kitchen cooking pot or a special Japanese nabe pot (nabe). When it is cooked, it is filled with soup, prepared beef or pork offal and boiled for a while; cabbage and garlic chives are added. The base soup is usually soy sauce with garlic and chili pepper, or miso. Champon noodles are often put into the pot and boiled to complete the dish. The offal used in motsunabe is mostly beef intestines, but various kinds of offal can be used.
20. Ikayaki 
Ikayaki (baked or grilled squid) is a popular fast food in Japan. In much of Japan, the term refers to simple grilled squid topped with soy sauce; the portion of squid served may be the whole body (minus entrails), rings cut from the body, or one or more tentacles, depending on the size. Ikayaki is served in many izakayas and a grilled tentacle on a stick is popular at Japanese festivals.
21. Tamago kake gohan
Tamago kake gohan (egg on rice), or Tamago gohan for short is a popular Japanese breakfast food consisting of cooked rice topped or mixed with raw egg and soy sauce.
22. Katsudon
Katsudon is a popular Japanese food, a bowl of rice topped with a deep-fried pork cutlet, egg, vegetables, and condiments. The dish takes its name from the Japanese words tonkatsu (for pork cutlet) and donburi (for rice bowl dish).
23. Gyoza
Japanese dumplings. The most popular preparation method is the pan-fried style called yaki-gyōza, in which the dumpling is first fried on one flat side, creating a crispy skin. Then, water is added and the pan sealed with a lid, until the upper part of the dumpling is steamed. Other popular methods include boiled sui-gyōza and deep fried age-gyōza.
24. Korokke
Korokke is the Japanese name for a deep-fried dish originally related to a French dish, the croquette. Korokke is made by mixing cooked chopped meat, seafood, or vegetables with mashed potato or white sauce, usually shaped like a flat patty, rolling it in wheat flour, eggs, and Japanese style breadcrumbs, then deep-frying this until brown on the outside.
25. Takoyaki
Takoyaki  is a ball-shaped Japanese snack made of a wheat flour-based batter and cooked in a special molded pan. It is typically filled with minced or diced octopus (tako), tempura scraps (tenkasu), pickled ginger, and green onion. Takoyaki are brushed with takoyaki sauce (similar to Worcestershire sauce) and mayonnaise, and then sprinkled with green laver (aonori) and shavings of dried bonito. There are many variations to the takoyaki recipe, for example, ponzu (soy sauce with dashi and citrus vinegar), goma-dare (sesame-and-vinegar sauce) or vinegared dashi.
26. Japanese Noodles – Soba &  Udon
Udon is a type of thick wheat flour noodle of Japanese cuisine. Udon is often served hot as a noodle soup in its simplest form, as kake udon, in a mildly flavoured broth called kakejiru, which is made of dashi, soy sauce, and mirin. It is usually topped with thinly chopped scallions. Other common toppings include tempura, often prawn or kakiage (a type of mixed tempura fritter), or aburaage, a type of deep-fried tofu pockets seasoned with sugar, mirin, and soy sauce. A thin slice of kamaboko, a halfmoon-shaped fish cake, is often added. Shichimi can be added to taste.
Soba is the Japanese name for buckwheat. It usually refers to thin noodles made from buckwheat flour, or a combination of buckwheat and wheat flours (Nagano soba). They contrast to thick wheat noodles, called udon. Soba noodles are served either chilled with a dipping sauce, or in hot broth as a noodle soup. In Japan, soba noodles are served in a variety of settings throughout Japan, but are also served by expensive specialty restaurants. Markets sell dried noodles and men-tsuyu, or instant noodle broth, to make home preparation easy. There are a wide variety of dishes, both hot for winter and cold for summer, using these noodles.
27. Karaage
Karaage is a Japanese cooking technique in which various foods — most often chicken, but also other meat and fish — are deep fried in oil. The process involves lightly coating small pieces of the meat or fish with a seasoned wheat flour or potato starch mix, and frying in a light oil. Occasionally, the foods are marinating in a sauce prior to coating with the seasoning mix. The process is similar in technique to the preparation of tempura.
28. Tempura
Tempura is a classical Portuguese dish brought to and popularized by Japan, consisting of seafood or vegetables that have been battered and deep fried.
29. Taiyaki 
Taiyaki (literally "baked sea bream") is a Japanese fish-shaped cake. The most common filling is red bean paste that is made from sweetened azuki beans. Other common fillings may be custard, chocolate, cheese, or sweet potato. Some shops even sell taiyaki with okonomiyaki, gyoza filling, or a sausage inside. Taiyaki is made using regular pancake or waffle batter. The batter is poured into a fish-shaped mould for each side. The filling is then put on one side and the mold is closed. It is then cooked on both sides until golden brown.
30. Robatayaki
In Japanese cuisine, robatayaki (literally "fireside-cooking"), often shortened to just robata, refers to a method of cooking, similar to barbecue, in which items of food on skewers are slow-grilled over hot charcoal. Many Japanese restaurants, both in Japan and abroad, specialize in this style of food preparation. Traditionally, the food consists of a combination of morsels of seafood and vegetables, but other kinds of food that are suitable for grilling may also be offered.
31. Chankonabe
Chankonabe is a Japanese stew (a type of nabemono or one-pot dish) commonly eaten in vast quantity by sumo wrestlers as part of a weight-gain diet. he dish contains a dashi or chicken broth soup base with sake or mirin to add flavor. The dish is not made according to a fixed recipe and often contains whatever is available to the cook; the bulk is made up of large quantities of protein sources such as chicken (quartered, skin left on), fish (fried and made into balls), tofu, or sometimes beef, and vegetables (daikon, bok choy, etc.).
32. Gyudon
Gyūdon, literally beef bowl, is a Japanese dish consisting of a bowl of rice topped with beef and onion simmered in a mildly sweet sauce flavored with dashi (fish and seaweed stock), soy sauce and mirin (sweet rice wine). It also often includes shirataki noodles, and is sometimes topped with a raw egg or a soft poached egg (onsen tamago). A very popular food in Japan, it is commonly served with beni shōga (pickled ginger), shichimi (ground chili pepper), and a side dish of miso soup. Gyū is the prefix for anything cow-related, and don is short for donburi, the Japanese word for "bowl".
33. Natto 
Nattō is a traditional Japanese food made from soybeans fermented with Bacillus subtilis var. natto. Some eat it as a breakfast food. It is served with soy sauce, karashi mustard and Japanese bunching onion. Nattō may be an acquired taste because of its powerful smell, strong flavor, and slimy texture. In Japan nattō is most popular in the eastern regions, including Kantō, Tōhoku, and Hokkaido.
34.  Nizakana
Nizakana – fish poached in sweet soy (often on the menu as "nitsuke")
35. Katsu Curry (Japanese Curry with Chicken)
Curry rice – introduced from the UK in the late 19th century, "curry rice" is now one of the most popular dishes in Japan. It is much milder than its Indian counterpart.
36. Omurice 
Omurice or omu-riceis an example of yōshoku (a Western-influenced style of Japanese cuisine) consisting of an omelette made with fried rice and usually topped with ketchup. With omu and raisu being contractions of the words omelette and rice, the name is an example of Gairaigo. It is a popular dish both commonly cooked at home and often found at western style diners in Japan