Indonesian Food
Indonesian cuisine is one of the most vibrant and colourful cuisines in the world, full of intense flavour. It is eclectic and diverse, in part because Indonesia is composed of approximately 6,000 populated islands of the total 17,508 in the world's largest archipelago, with more than 300 ethnic groups calling Indonesia home. Many regional cuisines exist, often based upon indigenous culture and foreign influences. Indonesia has around 5,350 traditional recipes, with 30 of them considered the most important. Indonesia's cuisine may include rice, noodle and soup dishes in modest local eateries to street-side snacks and top-dollar plates. Read more about indonesian food below. 
1. Nasi Goreng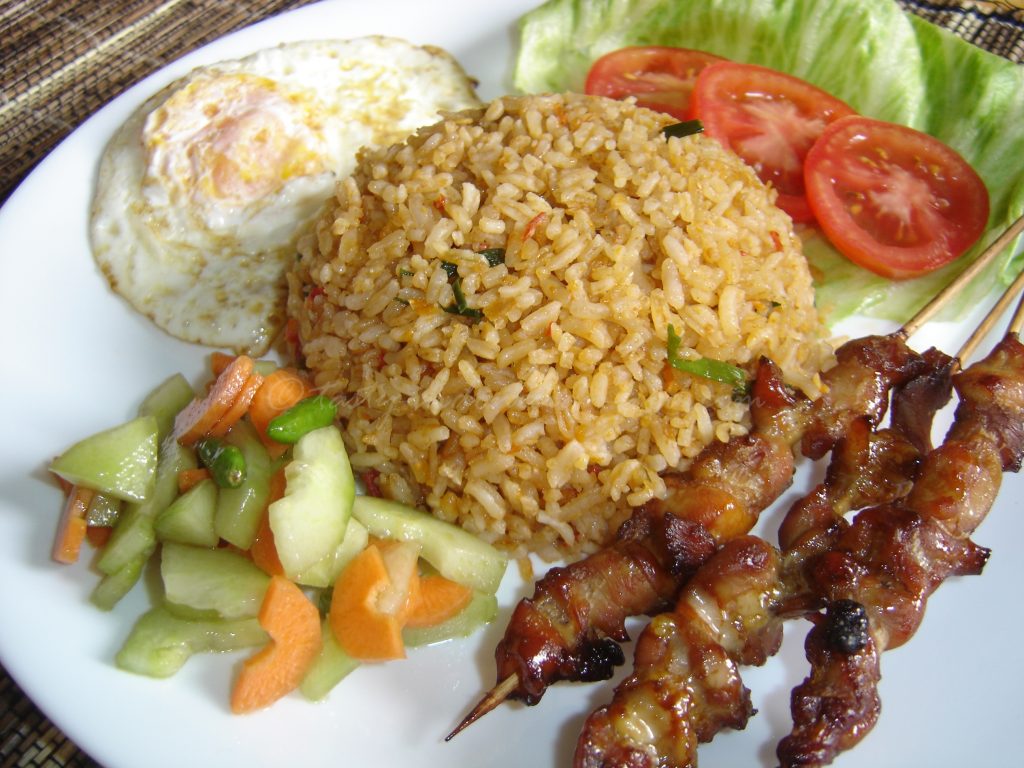 Nasi goreng, literally meaning "fried rice" in Indonesian and Malay, can refer simply to fried pre-cooked rice, a meal including stir fried rice in a small amount of cooking oil or margarine, typically spiced with kecap manis (sweet soy sauce), shallot, garlic, ground shrimp paste, tamarind and chilli and accompanied by other ingredients, particularly egg, chicken and for example prawns cooked using medium size electric skillet. There is also another kind of nasi goreng which is made with ikan asin (salted dried fish) which is also popular across Indonesia. Nasi goreng is sometimes described as Indonesian stir-fried rice,although it is also popular in Malaysia, Singapore and Brunei.
2. NASI CAMPUR
Nasi campur (Indonesian/Malay: "mixed rice", also called nasi rames in Indonesia) refers to a dish of a scoop of nasi putih (white rice) accompanied by small portions of a number of other dishes, which includes meats, vegetables, peanuts, eggs and fried-shrimp krupuk. Depending where it originates, a nasi campur vendor might served several side dishes, including vegetables, fish and meats.
Sata
3. Sate lilit
Sate Lilit is a satay variant from Balinese cuisine. This satay is made from minced pork, fish, chicken, beef, or even turtle meat, which is then mixed with grated coconut, thick coconut milk, lemon juice, shallots, and pepper. The spiced minced meat is wound around bamboo, sugar cane or lemongrass sticks, it is then grilled on charcoal. Unlike skewers of other satay recipes which is made narrow and sharp, the bamboo skewer of sate lilit is flat and wide. This wider surface allowed the minced meat to stick and settle. The term lilit in Balinese and Indonesian means "to wrap around", which corresponds to its making method to wrapping around instead of skewering the meat.
4. Nasi Uduk
Nasi uduk is an Indonesian Betawi style steamed rice cooked in coconut milk dish originally from Jakarta, which can be widely found across the country.
5. Gado-Gado (Lotek)
Gado-gado (Indonesian or Betawi), also known as lotek (Sundanese and Javanese), is an Indonesian salad of slightly boiled, blanched or steamed vegetables and hard-boiled eggs, boiled potato, fried tofu and tempeh, and lontong (rice wrapped in a banana leaf), served with a peanut sauce dressing.
6. Ikan Bakar
Ikan bakar is an Indonesian or Malaysian dish of charcoal-grilled fish or other forms of seafood. Ikan bakar literally means "burned fish" in Malay and Indonesian. The barbecued fish is one of the classic Indonesian dish.
7. Sweet Martabak
Murtabak is a stuffed pancake or pan-fried bread which is commonly found in Saudi Arabia (especially the Tihamah and the Hejaz regions), Yemen, India, Indonesia, Malaysia, Singapore, Brunei and Thailand.  In Indonesia, the Murtabak is one of the most popular street foods and is known as "martabak". There are two Indonesian versions: a savory with egg and meat, and a sweet one. In Indonesia, the savory beaten-egg filled martabak is called 'martabak telur — to differ it from 'martabak manis, the sweet martabak folded pancake.
8. Nasi Rawon
Rawon or Nasi Rawon/Rawon Rice (when served with rice) is a strong rich tasting traditional Indonesian beef black soup.Originally from Surabaya in Indonesian province of East Java. It uses black nuts/keluak (Pangeum edule, fruits of kepayang tree) as the main seasoning which gives the strong nutty flavor and dark color to the soup.
The soup is made of ground mixture of garlic, shallot, keluak, ginger, candlenut, turmeric, red chili and salt sauteed with oil until it gets aromatic.
9. Siomay
Siomay (also Somay), is an Indonesian steamed fish dumpling with vegetables served in peanut sauce. It is derived from ChineseShumai. It is considered a light meal that is similar to the Chinese Dim Sum, but is cone shaped. It is traditionally made from tenggiri (wahoo) fish meat. Sometimes other types of seafood such as tuna, mackerel, and prawn also can be used to make siomay.
10. Soto Ayam
Soto ayam is a yellow spicy chicken soup with lontong or nasi himpit or ketupat (all compressed rice that is then cut into small cakes) and/or vermicelli or noodles, commonly found in Indonesia, Singapore, Malaysia and Suriname. Turmeric is added as one of its ingredients to get yellow chicken broth. It is probably the most popular variant of soto, a traditional soup commonly found in Indonesian cuisine. Besides chicken and vermicelli, it can also be served with hard-boiled eggs, slices of fried potatoes, Chinese celery leaves, and fried shallots. Coconut milk is sometimes used as an ingredient.
11. Pempek
Pempek, mpek-mpek or empek-empek is a savoury fishcake delicacy from Palembang,[South Sumatera, Indonesia, made of fish and tapioca. Pempek is served with rich sweet and sour sauce called kuah cuka or kuah cuko (lit. vinegar sauce), or just "cuko". Sometimes local people also add yellow noodles for variations.
12. Sop Buntut (Oxtail Soup)
In Indonesian cuisine, oxtail soup (Indonesian: sop buntut) is a popular dish. It is made of slices of fried or barbecued oxtail, served in vegetable soup with rich but clear beef broth. It contains boiled potatoes, carrots, tomatoes, leek, celery, and fried shallots. Indonesian sop buntut is seasoned with shallot, garlic and native spices such as black pepper, nutmeg, and clove.
13. Nasi Pecel
Nasi pecel is a Javanese rice dish served with pecel (cooked vegetables and peanut sauce). The vegetables are usually kangkung or water spinach, long beans, cassava leaves, papaya leaves, and in East Java often used kembang turi. It tastes best when eaten with fried tempeh and traditional cracker called peyek.
14. Mie Goreng
Mie goreng (Indonesian: mie goreng or mi goreng; Malay: mee goreng or mi goreng; both meaning "fried noodles"), also known as bakmi goreng,  is a flavorful and spicy fried noodle dish common in Indonesia, Malaysia, and Singapore. It is made with thin yellow noodles fried in cooking oil with garlic, onion or shallots, fried prawn, chicken, beef, or sliced bakso (meatballs), chili, Chinese cabbage, cabbages, tomatoes, egg, and other vegetables. 
15. Dadar gulung
Dadar gulung (lit: "rolled pancake/omelette") is a popular traditional kue (traditional snack) of sweet coconut pancake. It is often described as Indonesian coconut pancake. Usually the pancake has green-coloured which acquired from daun suji or pandan leaves.
16. Rendang
Rendang is a spicy meat dish which originated from the Minangkabau ethnic group of Indonesia and is now commonly served across the country. In 2011 an online poll of 35,000 people by CNN International chose rendang as the number one dish of their "World's 50 Most Delicious Foods (Readers' Pick)" list. Along with the main meat ingredient, rendang uses coconut milk and a paste of mixed ground spices, including ginger, galangal, turmeric leaves, lemongrass, garlic, shallots, chillis, and other spices. This spice mixture is called pemasak in Minangkabau. The spices, garlic, shallot, ginger, and galangal used in rendang have antimicrobial properties and serve as natural organic preservatives. If cooked properly, dry rendang can last for as long as four weeks.
17.  Babi Guling 
Babi guling, or suckling pig, is one of Bali's most famed dishes. The pig is stuffed and infused with a spicy concoction typically involving turmeric, coriander seeds, lemongrass, black pepper and garlic, and traditionally spit-roasted.
18. Soto Betawi
Soto Betawi is a type of soup that originates from the Jakarta area of Indonesia.. Soto Betawi main typical ingredients include beef in a soup that's made from both coconut milk and fresh milk, simmered with aromatic herbs and spices like galangal, garlic, shallots, kaffir lime leaves, and candlenut. The soup is typically eaten along with rice and can be garnished with a number of side sambal chili sauces or acar pickles.
19. Ketoprak
Ketoprak is a vegetarian dish from Jakarta, Indonesia, consists of tofu, vegetables and rice cake, rice vermicelli served in peanut sauce.
20. Cap Cay
Cap cai  is term for a popular Chinese Indonesian stir fried vegetable dish that originates from Fuji an cuisine. Various vegetables such as cauliflower, cabbage, Chinese cabbage, Napa cabbage, carrot, baby corn, mushroom, and leek are chopped and stir fried in a wok with small amount of cooking oil and water, added with chopped garlic and onion with salt, sugar, soy sauce, ang ciu Chinese cooking wine and oyster sauce for taste. The liquid sauces were thickened using maizena (corn starch)
21. Ayam goreng
Ayam goreng is a generic term to refer to various kinds of Indonesian and Malaysian dish of chicken deep fried in coconut oil. Ayam goreng literally means "fried chicken" in Indonesian and Malay. Unlike Southern United States-style fried chicken, this Southeast Asian version does not have batter on it and is not coated in flour and is richer in spices.
22. Sayur Asem
Sayur asem or sayur asam is a popular Indonesian vegetable in tamarind soup. Common ingredients are peanuts, young jackfruit, young leaves and unpeeled seeds of melinjo, bilimbi, chayote, long beans, all cooked in tamarind-based soups and sometimes enriched with beef stock. Quite often, the recipe also includes corn.
23. Bakso
Bakso or baso is Indonesian meatball, or meat paste made from beef surimi.Its texture is similar to the Chinese beef ball, fish ball, or pork ball. The term bakso could refer to a single meatball or the whole bowl of meatballs soup.
24. Nasi Kuning 
Nasi Kuning (Indonesian for: "yellow rice"), or sometimes called Nasi Kunyit (Indonesian for: "turmeric rice"), is an Indonesian fragrant rice dish cooked with coconut milk and turmeric, hence the name nasi kuning (yellow rice).
25. Indomie
Indomie is a brand of instant noodle by Indofood, the largest instant noodle manufacturer in Indonesia, with a market share of 72%.[It is distributed in Australia, Asia, Africa, New Zealand, the United States, Canada and European and Middle Eastern countries.
26. Gudeg
Gudeg is a traditional Javanese cuisine from Yogyakarta and Central Java, Indonesia. Gudeg is made from young unripe jack fruit (Javanese: gori, Indonesian: nangka muda) boiled for several hours with palm sugar, and coconut milk. Additional spices include garlic, shallot, candlenut, coriander seed, galangal, bay leaves, and teak leaves, the latter giving a reddish-brown color to the dish. It is often described as "green jack fruit sweet stew".
More about indonesian cuisine & indonesian food at Wikipedia – click here