The warm and tropical country of Malaysia is home to a melting pot of culinary influences. Drawing from Chinese, Indian, and native Malay cuisines, the dishes that you'll find on your trip to Malaysia are extraordinary in flavor, somewhat akin to Indonesian food. While it's wise not to draw up any comparisons between the two countries with the natives during your travels, that doesn't mean you can't rightfully dig in with complete gusto into one of the many delicious dishes you'll discover while traveling in Malaysia. Here are 28 fantastic Malaysian dishes to try.
1. Apam balik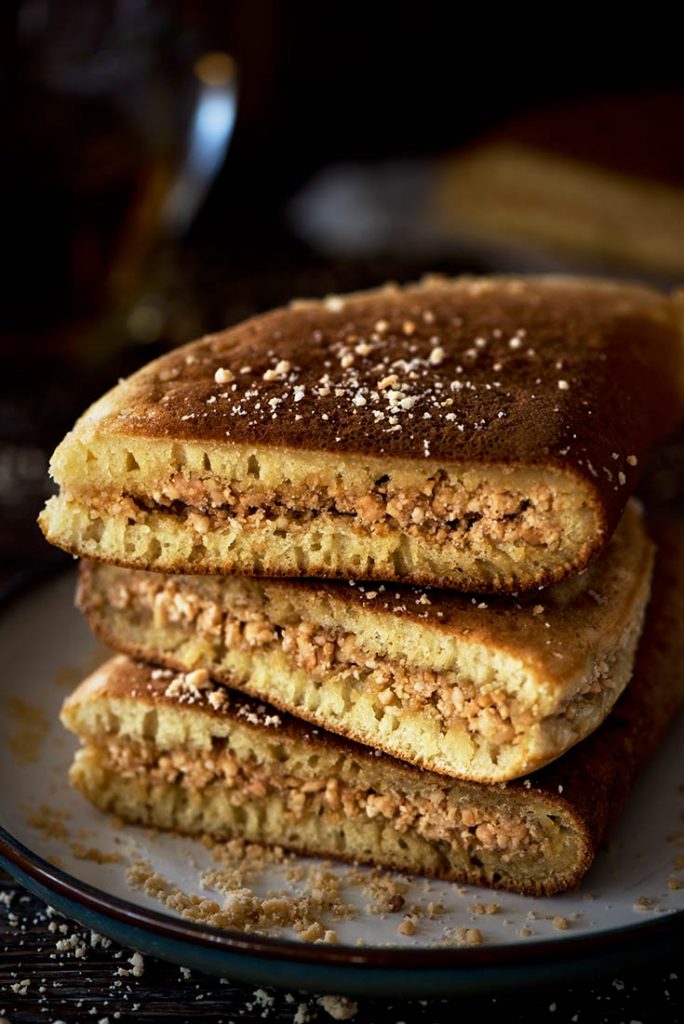 One of the first things you must try in Malaysia is apam balik. It's a snack that is somewhat like a pancake and a little like an omelet. It's stuffed with a robust amount of sugar and peanuts, though sometimes you'll find it with a bit of corn thrown in for good measure. You'll find this tasty treat in many varieties. Give it a try and then for the duration of your trip, you'll be comparing it against every vendor you purchase it from.
2. Mee goreng mamak
It's an Indian and Muslim dish rolled into one. You can get it at a sit-down style restaurant though you'll just as easily find this readily available at the hundreds of vendor stalls along the streets. This dish is humble yet satisfying. It consists of yellow noodles with a choice of beef or chicken. Then it's thrown together with shrimp, a mixture of vegetables, eggs, and soy sauce. The coup de gras is the chili thrown in at the end, giving it a delightful pop of heat without overpowering the dish. It's simple, yet simply spectacular.
3. Nasi kerabu
Two words for you: blue rice. Yes, really. This favorite Kelantanese dish draws long lines of hungry people that are eager to eat it. It hails from the northern part of Malaysia in the area known as Kelantan. This dish gets its famous blue hue thanks to telang flowers. They are crushed and mixed into the flour. The result is a bright blue dish adorned with bean sprouts and fried coconut. The finishing touch is a nice dousing of fermented fish sauce, called spicy budu. To eat it in the traditional way, you should eat with your hands. Make sure they're clean!
4. Ayam percik
America is not the only country to be obsessed with chicken. In other Asian countries as well (particularly Korea and Chinese cuisine) chicken places can be found everywhere, including the fast food chain of KFC. Ayam percik is chicken in percik sauce. If that sounds vague, that simply means this chicken is barbecued up after being coated liberally with a sauce made from spicy chili, garlic, ginger, and coconut milk. Fried alternatives have absolutely nothing on this finger-lickingly delicious chicken dish.
5. Nasi lemak
Nasi lemak is often referred to as Malaysia's national dish, though that's a bit unofficial. It's a delicious dish of rice cooked in coconut milk. While that sounds profoundly simple, depending on where you are in Malaysia, you'll find it served with a variety of other offerings. Some places will serve it with hard-boiled eggs, others with peanuts. You'll also find it with vegetables, lamb, chicken, beef, curry, seafood, or even a chili-based sauce called sambal. Most commonly, nasi lemak is eaten for breakfast, however it's perfectly acceptable to enjoy it at any time of day that you wish.
6. Rendang beef, chicken or lamb
It's tempting to refer to rending as curry. It's not, though it is a bit similar. It's a slow-simmered, sweet and savory mixture of coconut milk, spices and meat. By slowly cooking it, the meat has time to absorb all the flavors of the spices and coconut milk. Eventually, the liquid evaporates, leaving behind succulent, tender and fully-flavored chicken, beef or lamb. It's commonly served during festive times though it is a fantastic dish to enjoy any time of the year in all parts of the country. Also popular in Indonesian cuisine.
7. Kuih
Malay-style pastries, kuih, are found in a ton of varieties. The rainbow of kuih you'll find at every kuih vendor varies but you'll find these all over Malaysia. They're made from glutinous rice, which is a bit different to the Western palate but no less delicious. They're bite-sized and have a bit of sugar to them. The soft texture and sweet taste will definitely have you popping the kuih vendors during your trip in Malaysia to pop more of these delightful things into your mouth.
8. Nasi kandar
If you like to have a choice of toppings, nasi kandar is for you. You get a heaping pile of rice and then can choose from a buffet-style of add-ons like fish, eggs, curry, cubes of beef, okra, and plenty more. You'll find eateries with nasi kandar all over Malaysia. The best part is many of them are open 24 hours a day, so after a night of drinking, you can sit down and fill up deliciously on this Indian Muslim ethnic cuisine.
9. Laksa
If you like spicy, you'll "laksa" laksa. Laksa is a spicy noodle soup that borderlines on the explosive side of spicy. Be ready with plenty of water, even if you're a spice lover. You'll usually find it with fish or prawns. Other varieties include asam laksa, which is made with tamarind to give it a spicy yet sour flavor that is unlike anything else you've ever tasted. The bottom line is this: if you like seafood and spice, laksa is right up your alley.
10. Murtabak 
Murtabak is a pan-fried bread that's stuffed with all kinds of deliciousness. It's an Indian Muslim delight that is packed full of minced meat (usually beef or chicken, though sometimes you'll find it with lamb), garlic, egg, and onion. You'll find it served with curry or gravy, sliced cucumbers, onions pickled in syrup or tomato sauce. It's very spicy, yet very sour. The convergence of these two flavors make murtabak a must-try Malaysian food!
11. Cendawan goreng
If you frequently enjoy ordering fried mushrooms for your appetizer at those typical American fare chain-style restaurants with the kitsch all over the walls, then you'll love the Malaysian version. Cendawan goring is a deep-fried mushroom dish flavored with chili or barbecue seasoning. The result is a crispy, deeply fried fungus that has an incredible and craveable kick. It's a perfect appetizer or snack, and is great to grab as you walk around. They're perfectly poppable!
12. Tepung pelita
You haven't had sweet until you've tried tepung pelita. Similar to kuih in many ways, it's ranked as even more magical of a dessert. It's a two-layer treat featuring a top layer of thickened coconut milk with a hit of salt and a bottom layer that's made from a milky mixture of sugar and pandan leaves, rendering it a green color. Tepung pelita is served in little bowl fashioned from pandan leaves. It's a delightfully sweet, refreshing dessert that is absolutely addictive and almost impossible to stop gorging on.
13. Rempeyek
Are salty and savory snacks more of your thing? Then rempeyek is totally for you. It will absolutely satisfy your need for saltiness. It's a deep fried dough that is topped with both peanuts and anchovies. Some versions are saltier than others while other varieties use dried shrimp and garlic in lieu of anchovies. Whichever version you find, you're bound to be a slave to this snack for the duration of your trip. It is highly satisfying and highly addictive.
14. Rojak
For the most sublime combination of sweet, sour, and spicy, get rojak. This fried dough fritter is typically filled with vegetables and fruits, though it will vary by region. Whatever you find inside though, it comes mixed in that ever-popular Malaysian shrimp paste. It sounds downright bizarre, but it is such a fascinating melding of flavors that you'll find yourself craving rojak at every turn.
15. Putu piring
Get your sweet tooth ready. Putu piring is everything a cake should be and then some. It's got bursts of sweet palm sugar throughout this flat-shaped steamed cake. While it doesn't look like anything extra special, this is one of the most heavenly Malaysian desserts you'll try. Unassuming visually, it will definitely take you by surprise.
16. Roti canai
This flatbread is inspired by Indian cuisine. It consists of flour, butter and watecr in its most basic form. But you will find vendors who will add condensed milk to it which gives it a sweet taste. This flatbread creation is flattened, then folded. It gets a coating of oil and is then cooked up in a skillet. What appears next is this fluffy bread (roti) that has a perfectly crisp outside. It is commonly eaten as a snack or used as the ideal vessel for scooping up curries.
17. Satay
Some say satay came from Thai cuisine. Others think it came from Indonesia. Wherever it came from, it's delicious. Everyone loves meat on a stick and that's what satay is. So if meat on a stick is what you're craving, find a vendor selling satay. You can find chicken satay and beef satay. You'll also find pork satay but you'll only find it in non-Muslim eateries. Each region has its own sauce to accompany satay and they're all worth a try, however it's that amazing peanut sauce commonly served with the Thai version that is so beloved here.
18. Ikan bakar
In English, ikan bakar translates to "burned fish." Of course, it's more of a grilled scorching that renders it crispy on the outside and perfectly fleshy on the inside. Ikan bakar is first marinated in sambal, a hot sauce made of chili peppers and shrimp paste. Then, it's set upon a banana leaf and grilled over an open flame. If you love seafood and barbecue, this is something you simply must taste while adventuring in Malaysia.
19. Mee rebus
Mee rebus is very similar to mee goreng. It's simple, yet wholly satisfying. Drawing from Chinese influences, the sauce is similar to a curry-meets-gravy. But then this potato-based creation catapults from ordinary to extraordinary with the addition of lemongrass and ginger. You'll often find it with shrimp, lamb, and dried anchovies. And while that sounds very unusual, the typical garnishes of lime, sprouts and boiled eggs will definitely make you pause before tasting. But don't. Just go for it. Because while it sounds like the strangest medley of flavors, they all work so beautifully together for a taste you will dream about forevermore.
20. Gulai ayam kampung
Long before you see gulai ayam kampung, you'll smell it. This smell will waft over to you and drag you by the nostrils to a heavenly place. It's completely irresistible. It's a chicken curry dish that you'll see cooked in many different ways. No matter how it's prepared though, it always is flavored with turmeric, kaffir lime leaves and lemongrass. It sounds a bit like Thai food, but with a hit of palm sugar and coconut paste, it drags those Thai influences right on over to Malaysia for the perfect marriage of Asian flavors.
21. Lor bak 
Lor bak is one of the most special dishes you'll find. Braised pork is marinated in five-spice powder, then wrapped up in a soft bean curd skin. It gets deep fried and the taste is this insanely heavenly flavor that is unlike anything you've ever had before. Best of all, it comes with two different dipping sauces. One is a spicy red chili sauce while the other is more like gravy. The pork juices along with cornstarch and a beaten egg are used to create this gravy. Which one is best? Well, it depends on your tastes, but alternating between the two is never a bad option.
22. Char kuey teow
Of all the incredibly tasty dishes in Malaysia, please don't leave without trying char keuy teow. It comes from Chinese influence, and is a dish of flat rice noodles that are fried up with pork lard. Then these noodles are tossed with both dark and light soy sauce, chili, cockles that have been removed from the shell), Chinese chives, and bean sprouts. Sometimes, you'll even find it with prawns and egg. The key to making this dish the favorite noodle dish of Southeast Asia is cooking it over extremely high heat in a wok. It adds that extra element to it, uniting the ingredients so harmoniously that with one bite, you will see why it is so beloved.
23. Chai tow kway
This tasty snack is great to grab on the go. It's made with rice flour and white radish that has been grated up. This mixture gets steamed up into big cakes. From there, the cakes are cut up into small pieces and then fried with soy sauce, preserved turnips, fish sauce, eggs, spring onions, and garlic. It comes in two varieties. The white variety is simply as is described, but the black variety comes with the addition of a sweet, dark soy sauce. It's sometimes referred to as chye tow kueh (fried carrot cake). Whatever you want to call it, it's undeniably delicious!
24. Wonton mee
With a name like wonton mee, you've probably guessed it is of Chinese origin. And for that, you'd guess correctly. You'll find plenty of versions of this tasty dish everywhere you go. It's made with al dente egg noodles that are coated in a sticky soy sauce-based sauce. It's then topped with leafy Chinese kale, pickled green chilies, sliced green onions, and boiled or steamed wontons. Spicy sambal is served up on the side. In Penang, you'll find the wontons fried, which gives it an extra element of texture. The crunch really satisfies.
25. Goreng pisang
If you love bananas, you'll love goreng pisang. These are deep-fried banana fritters. The frying process causes the bananas to caramelize naturally, making them a perfectly sweet and indulgent treat.
26. Ketupat
This adorably Malaysian pocket of rice is something you need in your life. It's the perfect side to a saucy curry or rending. While you'll find it in more than a few varieties, it consists of using a pouch of palm leaves to encase a good handful of rice. As the rice expands and contracts, it creates this awesome rice pocket that you'll love to dip in your sauces.
27. Jeu hoo char
Jeu hoo char is a finely shredded salad with stir-fried carrots, mushrooms, onions, pork, and cuttlefish (similar to squid). It's something you'll see everyone enjoying during special occasions, particularly during the Chinese New Year. It's flavorful and zingy, and the cuttlefish gives it a special element.
28. Kaya toast 
For breakfast, kaya toast will be your new favorite. Kaya is a heavenly concoction of coconut custard jam. It has a delightful taste and aroma, and it is sublime when served smothering pieces warm buttered toast. You'll see the locals enjoying this along with soft-boiled eggs dribbled with soy sauce and pepper. Try it their way too, and don't forget coffee!
Now that you know what to try when you head to Malaysia, it's time to pack your bags. While there are certainly many more dishes to try while you're visiting, these will give you a nice taste of what Malaysia is all about. It's a welcoming country with food that truly reflects the different cultures that you'll find there. Charming food and charming culture are what makes Malaysia a wonderful place to find yourself vacationing and feasting.
Related links :
https://en.wikipedia.org/wiki/Malaysian_cuisine