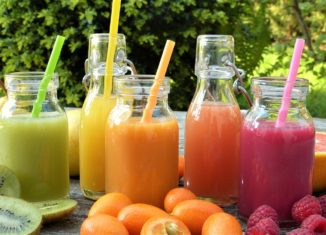 Smoothies are a delicious and fun way to start your day full of energy. Stick to the essentials for a healthy lunch or snack: fruits and vegetables. Fruit and/or vegetables (typically frozen) and a liquid, such as fruit juice, vegetable juice, or milk, are the two essential elements in every good smoothie. You can also add seeds, herbs, spices, yogurt, which all contribute to the delicious taste.
Check these recipes that are high in vitamins, minerals, antioxidants, fiber, and protein, which are all beneficial to your health. They're created entirely of natural ingredients and come in a variety of tastes, including mango, chocolate, and vegetable.
Spinach And Blueberry
Green smoothie recipes are quite popular, and for good reason: they are quick and simple to make. And, when done correctly, they are delightful. This smoothie contains spinach, blueberries, and bananas, and provides a significant antioxidant boost. You might add some plant-based protein powder, hemp protein powder, or even a handful of hemp seeds or hemp hearts to give this drink an extra protein boost.
This smoothie doesn't require any sugar, unlike many others because the components are all-natural, unprocessed whole foods that are sweet enough on their own. There are a few alternatives if you want to enhance the sweetness to offset the earthiness of the spinach and add something to it. It is also great to use dates in smoothies; simply soak one in warm water for a few minutes to soften it up a bit before removing the pit.
Pear Smoothie
A handmade pear smoothie has a bright, fresh flavor. This quick and easy dish is bursting with flavor, complementing the sweet and tangy pear as well as the earthy kale. It's a fantastic way to start with green smoothies, since the creamy bananas and ginger, as well as ground cinnamon, help to balance out the fruit and vegetable flavors. Prepare yourself for a delectable, delicious beverage that is both satisfying and nutritious. If you take the time to visit BlendTopia.com, you'll see that there are also ready-to-blend superfood smoothies. This is especially convenient for those who don't have time to prepare or make their own healthy smoothies.
To make the pear smoothies, blend the banana, pear, almond milk, ginger, honey, vanilla essence, and ground cinnamon in a blender. Toss in the kale, then cover with ice to keep everything in place. Blend until the mixture is completely smooth. 2 to 3 minutes, depending on your blender, will be enough. To ensure that all of the ingredients are well mixed, you may need to pause the blender halfway through and press the ingredients down with a spoon.
Curly kale and dinosaur kale have thick, tough leaves with an earthy bitter flavor that is best cooked rather than eaten raw. Red kale, often known as Russian kale, has softer leaves and a sweeter flavor and is delicious in salads and smoothies. If you can find red kale, wash it thoroughly, remove the stems, and pat it dry to prevent it from withering. Refrigerate everything you aren't using for up to four days, loosely wrapped in paper towels.
Vegetable Smoothie
Vegetables are a great addition to any smoothie recipe, and there are a variety of ways to include them in your next one. While many smoothies include fruits and vegetables to help balance sweet and salty flavors, this one is entirely composed of veggies.
Combine the tomato juice, carrot juice, celery, spinach, cucumber, and ice in a blender. You may also create smoothies with any other tiny gadget. Using a juicer will merely extract the juice from the veggies, leaving the fiber-rich and nutrient-rich component of the vegetables behind.
Blend the ingredients until it is completely smooth. If the smoothie has a thicker or thinner consistency than you want, add more water or ice. Pour the smoothie into two glasses and top with an additional cucumber slice or a celery stalk.
Watermelon Smoothie
Watermelon is one of the most refreshing fruits. For a thick and delicious drink, you can combine sweet watermelon with yogurt, milk (or plant-based milk), and maple syrup. Watermelons are a fantastic addition to any recipe. They are low in calories, having only 30 calories in a 100-gram meal, due to their 90% water content. Look for seedless watermelons, which are easy to chop for freezing, have no seeds to remove, and are much sweeter.
Cut the watermelon into tiny 1/2-inch square pieces. It will be simpler to mix this size into the smoothie. The waxed paper should be used to line a cookie sheet. Place the watermelon slices on the baking tray, allowing space between them, and let them cool in the freezer. If you're making smoothies later in the week, put the watermelon in plastic storage bags and freeze it in 3-cup increments until ready to use. Measure 3 cups of frozen watermelon into a blender once it has been frozen. Milk, yogurt, and maple syrup are drizzled over the fruit. Blend until completely smooth.
Smoothies are a delicious, yet so healthy way to start your morning and be sure to be refreshed and full of positivity for the day ahead of you. Try these great recipes and enjoy the wonderful taste of health.