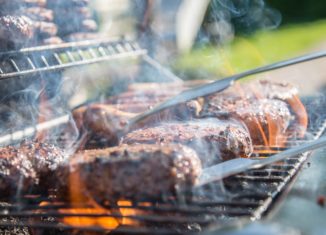 Do you have a smoker and aren't really sure what to do with it? Or, perhaps, you are thinking of buying one but want to know what food you can make with a smoker. Well, regardless of your current situation, you have come to the right place.
There are actually a lot of different ways to use your smoker and there are a myriad of recipes that you can whip up. So, here is a guide to top dishes that you can make whenever you are in the mood to use your smoker:
Smoked Brisket
If you are like most people, then you will have made your fair share of briskets in the oven. However, you haven't truly lived until you've made one in your smoker. Of course, if this is your first time undertaking this task, then you are going to need some tips to tide you over.
First and foremost, always make sure that your smoker has been properly heated up before popping the brisket in. Therefore, you should also give your smoker plenty of time to preheat – don't try and rush this step! This means that you should plan out when you will be preparing your brisket.
Next, you should be mindful that each hunk of meat is going to be different. So, don't just go by timing and temperature alone. Make it a point to consider the texture of your brisket as well. This will let you know when it is perfectly done.
Smoked Pork
If you use your smoker for nothing else, at least make sure that you use it to make the ultimate smoked pork butt. You can guarantee that you won't regret it. Now, this recipe can take several hours so you will need some patience. However, the good news is that there isn't much effort involved.
Here, the smoker does most of the work. You just have to check on the meat and make a few adjustments accordingly. Once you have allowed the meat to rest, you can enjoy it by itself or make pulled pork sandwiches.
Smoked Mashed Potatoes
If you thought that mashed potatoes couldn't get any better, think again! Popping your mashed potatoes into a smoker is the final touch that you need to get this dish absolutely perfect. Best of all, you can adjust the taste according to your preferences.
Choose your hardwoods carefully and you will be able to infuse a gorgeous flavor into your mashed potatoes. This process shouldn't take too long either – about an hour in the smoker is all that you need to get it just right.
Smoked Vegetables
When most people think of smokers, they automatically think of cooking meat. The truth, though, is that vegetables are great options too. For one thing, you can throw in entire heads of cabbages or zucchini and smoke it just as it is! All you need is the right spices and rubs.
With vegetables, it is good to get creative. Go ahead and try as many different veggies as you like. Just remember to keep an eye on them while they are smoking. This makes it easier to figure out when individual veggies are done.
Smoked Cobbler
Yup, you can even make dessert in a smoker! Now, it is up to you to decide what kind of cobbler you want to make. Peach, blueberry, and other options will all work equally well. The dessert is quite easy to put together as well. You can use either homemade or store bought biscuit dough on top.
Then, your cobbler will be ready within an hour or so. It will be crumbly, smoky, and oh so delicious. It tastes best when it is still warm and served with a scoop of vanilla ice cream.
These are just some of the things that you can make with your smoker. As you become more of a pro, you can branch out as you choose.