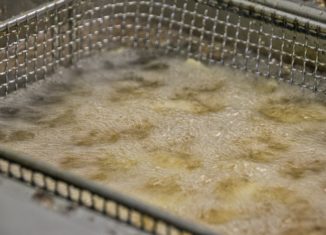 A Deep Fryer is one of the handiest kitchen appliances that make your food delicious, and crispy. Especially, when you intend to prepare French Fry, Chicken Fry, Rings, or Fish Fry, then there is the fact that there is no alternative to a deep fryer.
Deep Fryer comes with different models, sizes, colors, prices, and capacities. That's the reason, people become daunt while choosing a deep fryer. What types of deep fryer you should pick up depends on multiple things like how often you'll be using it, what types of food you'll cook with it, and more,
Throughout the context below, we have provided a complete explanation regarding the title. So, you'll be able to perceive what things you should take into contemplation when choosing a deep fryer. So, stay with us, keep reading with full of intent.
How To Choose a Deep Fryer [Things You Should Consider]
As we have already mentioned, deep fryers come with different brands, models, sizes, and capacities. So, selecting a perfect deep fryer is a daunting matter for a maximum number of people. Keeping that in our mind, we have given a few ideas below that should be considered while choosing a deep fryer. These are
Capacity of a Deep Fryer
What Food You Intend to Prepare
Space & Size
Proper Maintenance
Appliance Safety
Energy Usage
Easy to Use & Clean
Cost
Below we have given an explanation regarding every single topic that can be checked out to get proper perception.
This is the initial thing that you should take into consideration. Different households or party settings have a respective number of people to serve. If you have to serve food to a small number of people at your family or party, you can have a small size deep fryer that can contain approximately 1.2-liter oil and o.66 pounds of fresh food. On the contrary, for 6 plus people, you should select a deep fryer with the capacity of 4+ quarts.
What Food You Intend to Prepare
While having a deep fryer, you should determine what you intend to prepare. If you are supposed to deep fry a larger item like an entire chicken or turkey, you'll need a fryer that can handle the size you are likely to buy. For frying fish, you can also use the small-sized deep fryer or fish fryer. Here is the Outdoor Fish Fryers Review if anyone is interested to know about them.
In addition, for frying a different food simultaneously, you can purchase a deep fryer with multiple baskets. These types of fryers will reduce your cooking time, and you can spend more time with your guests, and loved ones.
You'll get a considerable number of Deep fryers that are too large to fit in a kitchen but hold less space. Take that into account, you should get the right one. We prefer having countertop deep fryers for comparatively small kitchen establishments. On the other hand, a tabletop deep fryer will be the best choice for a corporate-sized café. So, we highly recommend making sure the model will be suitable for your place.
How long will your deep fryer last completely depends on your maintenance? Filtering and oil draining are the two most crucial appliance maintenance related to a deep fryer. Periodically, oil filtration and replacement are essential when dealing with fresh food products. However, some models of deep fryers come with an auto oil filtration system. If you don't want to purchase that type of deep fryer, then you can include a manual filtration system.
It is another thing that you should take into your account. You'll see that many deep fryers claim that they are certified on safety standards approved. But, you can't deny your safety when choosing electric, or gas-powered kitchen supplies. There is a chance of being injured due to a fire while cooking. That is why it is necessary to research the safe approval of the product first or you can read out the previous users' reviews from multiple sites on the internet.
To avoid safety issues, we recommend purchasing a deep fryer with an understandable manual with safety policies and procedures. On top of that, you have to consider some safety features of a deep fryer such as a viewing window, which pares down the lid's opening and closing during the cook. However, bear in mind that safety supplies are covered with materials that protect the outer part of the product from becoming too hot when cooking.
Always try to pick up the deep fryer that consumes less energy. Research shows that energy-efficient deep fryers allow users a comparatively consistent and faster cooking experience by using a minimal portion of energy. Besides, they produce less heat to the external environment and keep our surroundings cool. So, choose an energy-star-rated deep-fryer and save your utility bills.
Before picking up a deep fryer from a market, make sure that it is easy to use or not. The Breville Smart Fryer is considered one of the easiest deep fryers. Apart from that, you have to consider whether the deep fryer you are going to use is simple to clean or not. Some models have parts that are dishwasher safe and easily removable to make your cleaning process easier. Moreover, make sure that the deep fryer draining system is simple and easy to dispose of the used oil.
While purchasing an ideal deep fryer, you have to go through a budget, right? The price of a deep fryer basically depends on multiple things including, brands, models, size, capacity, and more. You can purchase a good and small deep fryer for approximately $60-70. On the other hand, sizable deep fryers cost $100 or more. Before having a deep fryer, ensure that the manufacturer gives a product warranty. That is one of the most crucial considerations when it comes to how to choose a deep fryer.
Final Thought
A Deep fryer is undoubtedly a piece of handy kitchen appliance that makes our life easier & healthier. It helps to cook with less amount of oil and make food more crispy and delicious. So, you can't overlook the importance of having a deep fryer.
However, the discussion was all about How to Choose a Deep Fryer. We have shown the different things that one should take into account while having a perfect deep fryer. If anyone can consider those things, they won't find it difficult to select an appropriate deep fryer anymore.