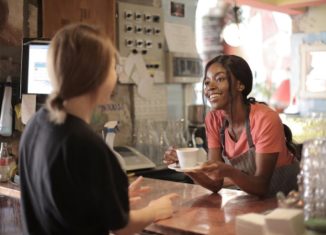 A coffee shop is a good business venture that will never go out of style. Unlike other types of businesses, there will always be a good market for a coffee business. After all, many people will always look for a good cup of coffee at any time of the day. Because of these, opening a coffee shop can be a profitable business venture to try today. 
It doesn't matter if there are thousands of coffee shops in your town, you can start your own and run an extremely lucrative business if you do it right. Besides the solid plan every business needs, you should closely consider some of the most important aspects of a successful coffee shop.
So, what are the secrets of running a successful coffee shop in 2021 when huge chains, franchisees and other giants are around us?
1. Find a charming location
A charming location is a selling point for your business. Since your main goal is to attract as many customers as you can, choose a location in a high traffic area. Generally, two types of locations are perfect for a coffee shop business. These can include high-volume migratory clientele locations and captive-audience locations. The high-volume migratory clientele locations are places where you can find airports, amusement parks, shopping centers, and other areas with large masses of people passing through daily. Meanwhile, captive-audience locations are those where you can see office buildings, business parks, college campuses, hospitals, and large neighborhoods. These can be a great location for your coffee shop because they usually have a high number of coffee drinkers.
However, such locations have their pros and cons.
Even though the location is vital, you need to take care of other aspects such as the rent and parking. If your coffee shop is located on a busy street, having no parking can be dreadful. On top of that, if the rent is too high, there is no point in even starting a business that doesn't pay off. So, you need to search for a location that would be nearly ideal for your future customers. Try to find a perfect balance between area and rent.
2. Serve only high-quality coffee
Nearly no one is willing to pay money for an ordinary coffee they can make at home. That's why you should step up your game and consistently serve only the high-quality products people want. Keep up with the coffee culture and ensure to order fresh coffee beans. On top of that, you should invest in reliable equipment such as espresso machines, grinders, filters, etc.
Create a distinctive menu that will make your coffee shop stand out among all the others. If you're a beginner, learn how to make 5 popular espresso coffee varieties and build your knowledge from there. Don't be afraid to experiment with ingredients such as milk, chocolate, and ice cream. Unique coffee tastes are always welcome among coffee lovers!
But to serve only high-quality coffee, you may need to find reliable coffee suppliers in your area. They can provide you with a wide range of coffee products, such as cold brew, coffee extracts, syrups, and freeze-dried. With them at your side, you can provide a better coffee experience for your customers using high-quality coffee products. When this happens, you can position your coffee shop for success.
3. Create a relaxing atmosphere
Besides the high-quality products and distinctive aromas that will make your taste buds dance with pleasure, what will make your coffee shop stand out is the relaxing and intimate atmosphere. Unlike huge coffee chains that sell commercial products, your original products will make your coffee shop climb above the competition.
Such a relaxing and intimate atmosphere is one of the main reasons why you should choose a small coffee shop over a large chain. Don't forget to design a cute interior, play happy music and employ polite baristas that will lift the mood up. Besides that, don't forget to display some artworks by local artists and support the local economy.
4. Take care of your team and customers
The way you treat your customers and team is one of the crucial aspects of success. One of the best ads you can get is not the paid ones, but honest recommendations from your loyal customers. So, create a loyalty program that will keep them coming back! However, the way your staff acts also has a huge impact on customer retention.
On the other hand, the way you treat your team displays what kind of a person you are. Therefore, communication and good organization are crucial within a team. For better organization and teamwork you should check out platforms that provide you with a safe space where you can talk and share files. You can find out more here about the perks of engagement apps. Appreciated employees create a happy and pleasant atmosphere where coffee lovers would always return.
5. Offer snacks
Coffee shops that offer a wide variety of snacks, drinks and other delicious appetizers are definitely places to die for. On top of that, if you offer the continuing appeal of English cafes, your coffee shop will be well-known in town for its charm and comprehensive menu. What kind of dishes and snacks can you offer?
From cookies and muffins, over breakfast deals with tasty vegan and vegetarian alternatives, your coffee shop will be on top of Trip advisor's list! Decide whether you want to keep it pj13 or serve alcoholic beverages as well. It all depends on the target audience you want to attract.
Conclusion
So, here are some of the best tips you can use to run a successful coffee shop in your city. To be above the competition you need to offer unique value to your customers and these tips will help you achieve that!