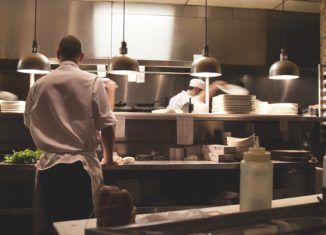 To attract more customers and maintain a perfect reputation, any catering establishment must offer not only a good selection of dishes but also high-quality services. This goal is achievable only if you will properly organize the kitchen space to facilitate the food prep process. Thus, the staff will require a large amount of basic and additional restaurant equipment. Among such essential components, there are stainless steel work tables that come in different configurations, styles, and finishes.
A safe environment free from dirt, dust, mold, fast and simplified cooking procedure, compliance with hygienic standards are the primary features when it comes to commercial work surfaces for restaurants. Also, in every kitchen, work surfaces come into contact with moisture, chemicals and detergents, food scraps that affect its properties. This speeds up the wear and tear of the equipment, so it is recommended to buy only stainless steel work tables. It is an indispensable element for the organization of a workplace resistant to negative influences, reproduction and growth of bacteria, temperature fluctuations.
How you can benefit from investing in stainless steel work tables
The manufacturing of equipment meets sanitary standards, so stainless steel furniture is a great choice for catering establishments. Unfortunately, not all foodservice businesses choose such products. But traditional work surfaces, such as wood, wear out, deform, and deteriorate quickly. They accumulate moisture, are easily scratched, and provoke the development of microbes and bacillus. It increases the health risks for both the personnel and visitors, so stainless steel work tables are the smartest decision. Key advantages are:
simple maintenance;
a modern look that fits any commercial design;
long-term acquisition for reasonable money with a high ROI;
high resistance to corrosion processes, rust, mildew, fungus;
the most sustainable material.
Such smooth and non-porous surfaces are easy to take care of: it is enough to wipe the dirt and contamination with a soft cloth. Metal tops do not have an unpleasant odor, can be treated with various sanitizing cleaners, solutions, and polishes. Remember the golden rule: for furniture to last for many years, it is worth taking good care of them. Experts advise thoroughly and regularly clean the surface. After washing and rinsing it with chemicals and water, don't forget to wipe the stainless steel tops dry.
At Culinary Depot, you will find a range of cutting-edge restaurant appliances that will enhance your commercial kitchen, do check them out.
What to pay attention to when picking stainless steel work tables
Working space management of professional kitchens requires a very competent approach. Here are a few features to consider when deciding on what type of commercial metal tables you want to obtain:
What type of establishment do you want to equip: the range and type of furniture will be radically different, for example, for a restaurant and a bakery. No bakery can do without a cooling rack, as well as a table with casters is an indispensable assistant in a busy restaurant kitchen, where you need to not only optimize workflows but also speed up cleaning and add mobility by purchasing a flexible table with 4 wheels.
Storage capacity: here you have to think not only about a sufficient number of working surfaces but about enough storage shelves, cabinets, racks. In case there is a lack of space, buy a stainless steel work table with an under-shelf or with drawers.
Kitchen area: think carefully about how you can use every inch of free space wisely. Picking the right equipment, you gain an opportunity to rationally organize even the smallest kitchen space. Manufacturers offer stainless steel tables of different sizes, with drop-in-sink, mounted shelving, and such accessories as cutting boards.