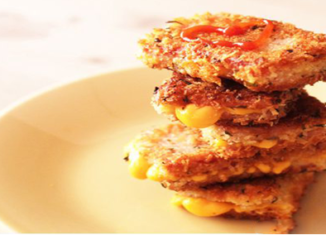 Meta: Meat is an indispensable treat on in everyday meals and also in parties. Read this post for 3 ease recipes with deli meat if these are all that you are looking for.
Deli meat, a.k.a lunch meat, cooked meat, or cold meat, is pre-cooked or cured. Most families often add it to their meals, especially big ones.
Deli meat is not only delicious but also convenient for cooking and storage. This ingredient can go with literally anything to make a perfect dish, from vegetables, salads, soups, etc. You can freeze deli meat up to 6 months and still keep it fresh. That explains why consumers tend to buy in bulks to stock it.
Today, I will introduce to you 3 recipes with deli meat so you can make a delicious meal for your family.
Make the Best Meal with Three Simple Recipes with Deli Meat
Recipe #1 – Deli meat fried with cheese
If you ever think "who would ever fry cold meat?" you might want to think again. This dish of deli meat fried with cheese will easily beat any picky eater in your family. The crispy fried meat with the greasy cheese flavor is to die for.
Ingredients
10 to 14 slices of cold meat
10 to 14 slices of cheese
150g of flour
150g of bread crumbs mixed with 15g of chopped parsley
Chili sauce, ketchup
Cooking oil
How to cook
Step 1: Place two pieces of cheese on a piece of deli meat.
Step 2: Put another piece of cold meat on top to clamp the cheese inside.
Step 3: Roll the mix into the flour to form the first coat
Step 4: For the second coat, roll the mix in step 3 into bread crumbs (which is mixed with parsley)
Step 5: Fry them in boiled cooking oil.
Step 6: When the flour coat turns yellowish and crispy, you can move it to the strainer for the oil to drain.
There you go! You can sprinkle some tomato or chili sauce to make the dish even yummier.
Recipe #2: Deli meat salad
If you are not into greasy food, you may want to try my second recipe – Deli meat salad. This is a pretty healthy dish. If your kids are such picky eaters and usually say no to vegetables, this is a great choice to whet their appetite. And more excitingly, it is pretty simple to make.
Ingredients
Deli meat: 200g
Chestnuts: 100g
Cucumber: 100g
Tomatoes: 100g
Bell peppers: 100g
Lettuce
Spices: Vinegar, sugar, salt, olive oil, and pepper.
How to cook
First, you need to cut the deli meat into long slices (from 1.5 to 2 cm is perfect). Do the same with cucumbers (get rid of the core), tomatoes, lettuce, and bell peppers.
For the sauce, you need to mix 1 spoon of vinegar, 1 spoon of sugar, 1 spoon of olive oil, and ½ spoon of pepper. Then, you spray the sauce on the mixture above and mix it well. Finally, you sprinkle chestnuts on the top. There you have a bowl of delicious deli meat salad. Easy, right?
Besides the above vegetable, you can add more or other ingredients for your favorite deli meat salad. The choices can be corns, carrots, beans, and eggs, etc.
Recipe #3: Deli meat rolls
What would you say if you could enjoy your cold meat as a snack? I decide to push up a level here with deli meat rolls. This does not sound as complicated as you think. You can totally cook it with one hand tied. (Just kidding!).
Ingredients
1 piece of pre-rolled puff pastry dough
50g of mustard
30ml of honey
15g of rosemary leaf (minced)
5g of ground pepper
6 pieces of round bacon.
300g of grated Cheddar cheese
How to cook
Step 1: Mix mustard, honey, rosemary, and ground pepper together.
Step 2: Roll puff pastry onto a cutting board.
Step 3: Apply a thin layer of the mixture in step 1 on the dough.
Step 4: Sprinkle half the cheese and then put a piece of deli meat on the cake on top.
Step 5: Sprinkle the remaining half of cheese on the deli meat
Step 6: Roll the dough horizontally. After that, wrap it in plastic food wrap and let it rest for 20 minutes.
Step 7: Use a sharp knife to cut the dough into slices, about 1.5cm thick. Then place them in the baking tray.
Step 8: To make the food more eye-catching, you can break an egg and spread it on the surface of the dough before cutting.
Step 9: Heat the oven at 190 degrees for about 10 minutes. Then bake the cake in about 15 minutes, until the coat is yellowish.
Tada! The super-delicious deli meat rolls are ready. You can dip it in mustard or chili sauce for a better taste. Just imagine hot melting cheese intertwined with spicy mustard, and the strong flavor of deli meat makes my mouth water.
Final Words
Is deli meat great? Well, it is usually placed on every family's table and in parties. There are hundreds of ways for you to cook deli meat and turn it to some delightful dish. Hopefully, my sharing of deli meat recipes will add more flavor to your daily meals.