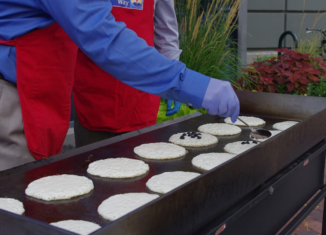 Sitting around the grill and enjoying freshly prepared food is probably one of the most relaxing and entertaining things to do during the holidays. Now that we've finally set foot into December, it's the perfect time to heat your grill and throw a feast.
While we're on the topic of grills, did you know that the type of grill you use can alleviate the quality of your food? Well, if you're going to use a traditional grill, that's fine – but if you want to take your cooking to the next level, maybe you should consider getting a griddle this year.
Here are a few reasons why you should get a grill to spice up your next family get-together or camping trip!
Finding Your Perfect Griddle Grill
Finding a premium quality griddle grill can be difficult, mainly because researching brands is very tiresome. If you are looking for the perfect griddle grill for yourself (and something within your budget), https://boatbasincafe.com/best-griddle-grill/ has a list of some of the best grills out there. 
Reasons to Buy A Griddle Grill
There are a few reasons why you might want to set aside your traditional grill and get yourself a griddle grill. The grill comes with many advantages, starting from ease of use to improving cooking skills. Without further ado, let's move on to the excellent stuff.
Easy to Maintain
Let's face it, the most challenging thing that follows after you have finished all the food is the clean-up. That's right; no one likes to clean the grill with full stomachs. Sometimes, people consider not firing up their grills every weekend to avoid the cleaning.
This is where griddles are much better compared to traditional grills. Griddles are a breeze to clean and maintain, provided you prepare them properly before cooking. As long as you evenly coat your grill in a nice layer of oil before you start cooking, you can rest easy. This technique, which spreads oil over a non-stick iron griddle, is called "Seasoning." This will prevent your griddle from accumulating rust over time and keep additional seasonings from sticking to the pan. It's a little bit more sophisticated than just pouring some oil onto the pan; you might want to learn how to season your griddle grill before you start using it if it's your first time.
Storing it isn't complicated either. You just have to keep it somewhere that'll help keep its surface flat. Also, remember to keep it away from sunlight and humidity.
Easily Transportable
Let's say that you want to take your grill out – it could be for an outdoor family occasion or perhaps a camping trip. Believe it or not, traditional grills can slow you down. Grills aren't the easiest to carry, mainly because of their size.
Griddle grills, in this case, are amazing because they exist in designs that are easily portable and have dials to let you control the heat of the grill itself. All you need then is a sufficient amount of propane to keep the food coming, and you'll be good to go.
Helps Drain Fat
Most of us don't realize this, but food coated with grease takes away from the rich flavors of the dish. Furthermore, it makes the food extremely unhealthy. You may have noticed that your pan tends to get greasy when cooking a steak for grilling chicken. Griddles can help drain the fat from the meat in this way. Many griddle grills are raised in some areas across their surface; the oils seep into the bottom, leaving only the steak.
In this way, griddles help immensely make your food healthier for everyone.
Can Be Used To Make Food In Bulk
There's only so much space available on a traditional grill. Whenever you host a large party, you will probably be hosting not only your relatives but also your friends, and neighbors. With so many hungry people, how are you possibly going to serve them everything on time?
The griddle's large surface area allows you to cook in bulk – that's right, if you wanted to, you could cook up a meal for an entire table in one go. If that isn't efficient, then I don't know what is. Not only that, but you can also start grilling other things next to it as well, so if everyone wants something different, there's nothing to worry about. This brings me to my next point – you can cook anything with a griddle!
Can be Used to Cook Anything
It does not matter if it's breakfast, lunch, brunch, or dinner – you can use your griddle grill for cooking almost anything. Because the griddle is very simple to start up, you won't have to wait too long before starting cooking.
From toasting bread to frying eggs and making burgers, you can make anything you put your mind to – and all together as well! So whether it's for your traditional egg, bacon and pancake breakfast or an elegant steak for dinner, your griddle grill has got your back.
Perfect for Any Weather
The weather can be a real buzzkill sometimes. Winds or even the moisture in the air can cause your grill to die out before the food's finished. griddle grills, however, especially the newer designs, are built to withstand the weather.
You must be thinking that it's too cold out to go grilling – think again! Because the griddle is powered by natural gas, you won't have to worry about the flame dying on you. Not only that – griddles tend to maintain their temperature regardless of the surroundings. It's not too late to throw a barbeque party. Have some faith in your griddle, and it'll help you whip up a nice hearty meal for everyone to enjoy.
Gives Your Food a Professional Touch
Whenever someone I know has tried to cook a steak, they always tend to miss out on one tiny detail – the sear marks. It's an incredibly minute detail that you might think is only attainable using some complex culinary technique but believe it or not, it's easier than you think.
If you're looking to get those perfect sear lines on your steaks, then consider getting griddles with ridges in them. Cook your steak as usual, and you are sure to have those pro-looking sear marks imprinted on your meat.
Whether it's a home-cooked meal or a restaurant one, what truly makes the food shine is the way it's plated. The plating makes the food more delicious and satisfying, both for the cook and the diner – your griddle will help give that professional, palatable touch to your food.
Lock in Delicious Flavours
Last but not least, let's talk about flavors.
Getting your food to pick up the different notes and flavors of the seasonings can be a difficult task. It's not only about what you add in alongside the proteins or vegetables; it's about adjusting the temperature and even using the right kind of cookware. This is where a griddle will come in handy. It helps you lock in all those delicious flavors.
This is thanks to the flat surface of the griddle grills – the juices cannot escape! Thus, the taste of meat (or anything you're cooking) is easily retained. There's also the bit about taking off all the grease I mentioned earlier. This plays a part in alleviating the flavor as well.
Everyone loves a smokey burger patty infused with cheese and their favorite sauce. Your griddle can help you create that smoky flavor with ease by – well, letting you smoke your patties. There are several ways you can do this on your griddle. No charcoal is needed! Just a trusty griddle grill.
To Conclude
I think the best way to summarise the usefulness of a griddle is to give you an example. Whenever you think of camping, you think of cooking food over an open flame – this isn't as simple as it seems. You not only risk overcooking your food, but you can also end up burning yourself. Since griddles are portable, easy to use, and allow you to control the heat as needed, it makes a much better option as opposed to an open flame.
You will be able to cook proper meals for yourselves, even if the weather doesn't permit it – remember how the griddle can be used in any weather? Taking everything into consideration, investing in a griddle grill is worth it.
Furthermore, Christmas is right around the corner. Rather than giving gifts that are pleasing to look at, why not invest in something that your relative or friend can put to good use? A griddle grill is a perfect present for any of your loved ones – and if they love cooking, even better. Good luck, and Happy Holidays!