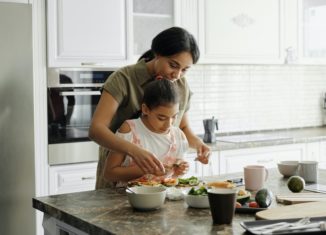 Every parent knows the pitfalls of cooking for kids! They can be fussy eaters who only like one thing, or they might have unusual tastes in food that are difficult to cater for. Then there's the concerns we have about children getting a healthy and balanced diet. It's important that growing youngsters get the nutrition they need to help them develop properly and avoid the things that are not good for them.
The problem is that kids often like the sweet and sugary items and also the fatty and unhealthy ones. In these cases it is vital to limit the unhealthy goods and make sure they get only a small amount. In the following article we will be comparing cooking for kids with buying in ready made delivered meals for them. Let's start by talking about what these ready meals are and how the system works.
What Are Meal Delivery Services?
The idea behind meal delivery services came about as a way of getting meals to those persons who were perhaps unable to cook for themselves. From there, it was recognised that such a service could be extended to serve the well and able who simply would rather have food delivered than spend time cooking.
Meal delivery services for kids are simply another version. The growth in use of online retail – especially in food and beverages – in the last year has been colossal, with the covid-19 crisis enabling those who previously had no experience of such to order from home and have goods delivered. Whereas these deliveries are for the cupboard, the meal delivery service provides ready meals suitable for kids, usually developed with the help of expert and qualified nutritionists.
Before we talk more about the benefits of such services let's make a case for cooking for kids at home.
The Benefits of Cooking for Kids
The days when daddy went out to work and mommy stayed at home to look after the kids and the home are long gone. We live in an age where both parents often need to work to make ends meet, and after a long day at work cooking a meal is the last thing you want to do. Many people work from home and do not always have the time to cook for a small child during the day. However, there are still stay at home moms, and there are the days when you are not at work when you can cook for the kids.
If you enjoy cooking it can be a fun thing to do both for and with the children. They get to learn what goes into a meal and where it comes from, and it's an important skill to get to grips with early in life. The major benefit of cooking for your kids is that you know exactly what is going into the meal. Being able to plan your kid's meals means you have control of what they are eating when at home.
But surely the home delivery services ensure they are providing quality and healthy meals? If you have a look at this website – Kids VS Meals you'll get a good idea of what some of these eservices offer, so let's talk some more now about how these services work and why they may be beneficial to you.
The Benefits of Kids Meal Deliveries
If you want your kids to keep to a certain regime, for example to avoid trans fats and other harmful ingredients, you will find the home delivery services to be interesting – and they're not just for kids! These companies all use nutritionists to devise their meal selections and usually offer a range for babies, for kids of one and older, and for older kids. They are simple to use and generally follow a format such as the following:
Log on to the website of the service you wish to use.
Choose the age category you want to buy for, or more than one.
Choose from a wide variety of available meals for a set number of days.
Select all you want and pay using the secure payment function.
Your meals will be delivered either ready to freeze or use on the date you choose.
That's a general idea of how they work but as there are many online food services available you may find differences in the routine with some. So, what are the benefits of using these solutions over cooking for kids yourself? Let's list a few so you can see how they help:
No need to cook after a tiring day at work.
Good and nutritious meals every day for all the family.
Less need for grocery shopping as all is supplied.
Fast meals ready in just a few minutes.
Varied meals for a more interesting diet.
Quality recipes delivered to your door when you need them.
Can be frozen for future use.
You choose the frequency of deliveries.
There is a great deal of choice with most of the food delivery services. Those that cater especially for kids have researched the subject and come up with meals that kids will certainly eat, will enjoy eating and will benefit from health wise. Is this the way forward for you? Let's see if we can sum this up.
Which is Best for You?
The best solution for you is the one that makes life easier, and that is certainly the kids ready meals delivery service. You get the benefit of a wealth of choice of ingredients and recipes, all created using quality and fresh ingredients, and cooked by professionals. Each meal has been created by food nutrition experts who understand what kids need and what they will eat.
Using this service does not mean you cannot cook as you are always free to do so when you want to, but it does mean you have one fewer thing to worry about as there will always be a meal ready for when the kids are hungry.