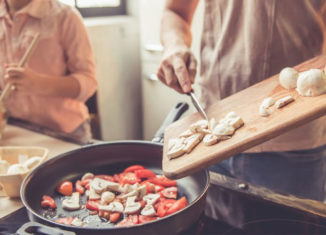 Tourism is one of the most popular industries in the world, and rightfully so, because people love to travel. And while a weekend getaway is lucrative for most people, there are also people who travel far and wide to many remote locations and foreign countries. Some dig the change in scenery, and some go for new experiences like culture and cuisine.
Cuisine is literally one of the many things which attract tourists and food connoisseurs from all over the world to one place, and to experiment with the local cuisine is to literally experience a chunk of the local lifestyle and definitely lucrative for those who want the authentic experience of visiting a place.
Food connoisseurs definitely develop a certain taste in food after which they may crave the same cuisine for some time, and it is just unrealistic for most people to travel back to a distant country, so this article will definitely help you if you want to go back to the local cuisine of a remote tourist spot without having to travel back wholly to the place.
How to Enjoy Cuisine from Distant Places Without Having to Travel
With the global pandemic, and restrictions on travel has made our life monotonous, where we could easily take trips and vacations to escape, we are finding new ways of breaking the monotony. Because of flight cut offs and all roads being closed, you can expect a blanket ban on all sorts of travelling and even stepping out. But you need not worry, as you can still easily enjoy cuisines from distant places.
1. Try Your Hand at Cooking
In the lockdown because of the pandemic, a lot of us have been whipping up old recipes and replicating local food to satiate our taste buds. But why just local food? Unleash the chef in yourself, and look up cuisines from distant places which can lift up your mood. Look up on the internet the food you can easily make, and recently with the pandemic, a lot of blogs are posting recipes where you can easily make them with just three or four ingredients which replicate the original taste.
While some ingredients are indigenous to the region where the food is originally concocted, you can easily find substitutes by doing your own research or order these ingredients online in global stores if they are not readily available at your local grocery stores. And who knows, maybe you will end up making something new and out of the ordinary that will astonish you!
2. Authentic Restaurants
All of us are acquainted to Indian restaurants abroad, or Chinese restaurants for that matter, which have become extremely popular and literally are very famous. You can easily hunt for such ethnic restaurants in your hometown, so that you can easily enjoy cuisines without travelling far. Another thing you can try is ordering food or going out to restaurants which specialize in certain cuisines.
When you feel like you are craving some of that cuisine, rather than going out, you can order food which is definitely much more hygienic. However, some of these places have authentic decor and recruit special chefs from those remote locations so that the authentic flavours of the food are replicated into it. Some restaurants also source the ingredients from the remote locations and have them delivered into the restaurant so that the very real flavour of the cuisine is replicated. This replicates the flavours of the original cuisine and you can easily access it from your home.
3. Take it back with you on your next visit
If the first two are not feasible options for you, then you must wait for your next trip to the remote location to experience the local food once again. But what would you do when you feel the same craving pervading once you get back home? While taking food back with you from your trip might not be an option for a lot of people, not many people actually know that you can actually take back the food with you using methods which are extremely easy.
You could use functional food savers which can be easily used to vacuum seal these food products. What is more, is that you can also take back those same authentic spices and other unique ingredients which are not easily found in your native land, in a vacuum sealed packet, so that you can easily whip up these recipes way back home and have them at your convenience. This is not limited to those rare spices and magic ingredients nut can also be extended to fresh vegetable native to those distant lands. Yes, you can even seal and take away fresh farm produce in addition to scrumptious fully/partly prepared foods. Technology has surely spoiled us, hasn't it?
When you vacuum seal the food products, you are basically depriving the food of oxygen, and stopping any burst of fungus or bacteria on your food, due to the lack of oxygen. This way, the food stays fresh for a prolonged amount of time, and you can easily come back home and have them within a few weeks, more if you are getting the raw ingredients like spices.
Summary
So basically, there are literally a lot of options you can take up should you be craving such local cuisines. You can either try taking back the ingredients or the food on your next visit, or you can simply source the ingredients locally and bring out the inner chef and concoct these custom-made foods for yourself. You can try finding authentic restaurants as well. However, the real fun of experiencing food is obviously in the real location, and hopefully the pandemic can lift soon so that the tourism industry is kickstarted into action again.