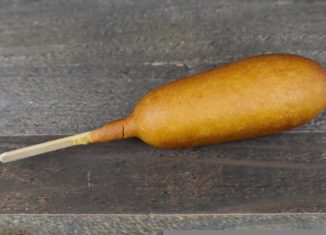 Most people look forward to rodeos because they're excited to watch or participate in fun events, hang out with friends, and enjoy some tailgating. While it's true that partaking in traditional rodeo food only tops the list for foodies, it would be a shame to miss out on the hearty lunches and tasty treats served at most rodeos. Read on to find out about just a few of the most popular traditional Rodeo foods.
1. Corn Dogs
Corn dogs are as American as apple pie, so it should come as no surprise that these tasty carnival treats can be found at most rodeos. The food selection expected at The Auburn Rodeo is pretty diverse, but no one should skip out on this classic item. Corn dogs taste even better when they're eaten at the rodeo.
2. Chicken on a Stick
Everyone loves fried chicken, but how many people have eaten chicken on a stick? It's essentially a giant chicken nugget with a stick stuck through the middle for easy eating on the go. Some versions even come with a biscuit on top for some extra tasty rodeo-day flavor.
3. Barbecued Everything
What summer event would be complete without a BBQ food truck or booth? Rodeo attendees who are looking for a hearty meal fit to fuel a bull rider on his big day don't have to settle for snacks. There's almost always plenty of barbecued turkey legs, chicken wings, and cuts of beef or pork to go around.
4. Summer Corn
Whether it's on the cob or in a cup, summer corn is a delicious treat that just doesn't taste the same when it comes from the grocery store. It's also the most likely bet for anyone looking to round out a meal with a vegetable or two, and most stands offer a wealth of toppings, from classic butter to chili powder and garlic salt. There's no excuse for people not to eat their veggies when rodeo corn is on the menu.
5. Fries on the Side
A basket of fried potatoes, whether they're standard cut with a side of ketchup or served in a more interesting way, makes a perfect complement to any barbecue dish. Just don't forget to grab a napkin or two on the way out.
6. Funnel Cake
Another almost ubiquitous summer treat, funnel cake makes as good a snack as it does a desert. Covered with powdered sugar and often available with an array of additional toppings, this deep-fried treat is a classic summer indulgence. Plus, those strawberry toppings count as fruits and veggies, right?
7. Deep Fried Oreos
While deep-fried Oreos don't have the same kind of long history as funnel cake, they're quickly becoming a staple at American rodeos, fairs, and carnivals. There's a very good reason for this tasty treat's quick ascent into snacking stardom, too. It combines America's favorite cookie with a delicious and addictive batter to create the ultimate dessert.
Rodeos Have It All
There are few things more American than a good old-fashioned rodeo, so it should come as no surprise that most attendees plan to indulge in some classic American summer treats. Whether visitors are looking for savory meat or innovatively delicious sweet treats, they'll be sure to find it at a local rodeo. Planning to spend the whole day watching events and tailgating with friends will give attendees even more chances to try out tasty dishes.