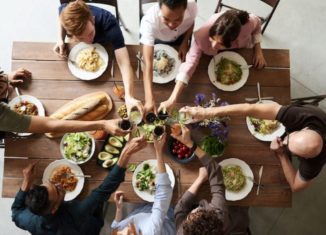 If you have thought about what you must do before you die, trying some food must have been on the list. And where is it to find the best food in the whole USA? Well, the answer is New Jersey. Anything you can ever imagine to taste, you will find there. The endless number of diners and restaurants, the diversity of the meals, and the unique experience you will get. But you must be wondering where to start and where to go. With our ultimate New Jersey bucket list for foodies, you will deal with all your dilemmas.
Talking about classics
For all the classic food lovers, New Jersey is as ready as it can be. Check out the top places with the best-prepared food of the type.
1. The sandwiches realm
If you are not about following the latest restaurant trends, and can't imagine a day without a well-made sandwich, New Jersey has plenty of places for you. Come by Fiore's or Vito's Deli, and get a perfect Italian Deli sandwich. Perfectly cut salami and mutz, with pieces of fresh lettuce, peppers, and Italian dressing. And all of that is hidden inside well-baked Italian bread. It's a crusty and chewy experience you mustn't miss.
2. A burger heaven
In a small yet cozy New Jersey burger restaurant, you will get the best burger meals in the world. White Manna in Hackensack is a place with only 12 counter seats but with a lot of customers every day. Give it a first try with a double cheeseburger, a perfect beef patty in a potato bun, enriched with a few rings of onions. You will find yourself in burger heaven with the first bite. And, it won't cost you a lot.
3. And of course, a hot dog
Back in 1928, a German immigrant moved to New Jersey and decided to try his luck opening his own business there. Years after, people wait in lines to try the best hot dogs in the area. It is a unique beef-port hot dog creation with the unavoidable mustard. People from distant lands know how to make difference. And if you are among those who are planning a long-distance move to NJ, nowadays, it is possible to reach the place in a heartbeat. You only need to make several phone calls.
For those who would like to try some more, check out Jimmy Buff's and Hot Dog Johnny's too
4. Eggs in a specific way
At Nicolo's Deli, they make so-called Italian frittata. It's a perfect combination of scrambled eggs and an omelet. Beaten eggs with some meat and vegetables fried in olive oil. It comes in so many different flavors and it will become one of your top-ranked meals once you taste it.
The seafood- ultimate New Jersey bucket list for foodies
For many people, there is no real delicious food list if it doesn't contain any type of seafood. Well, as you can guess, New Jersey won't fail here either.
1. The unusual dish
If you are looking for something you have never tried before, you should visit Lorena's New Jersey. They have fantastic crêpe filled with crabmeat, morel, or some other catch of the day, with fresh herbs and a little oil. People who have tried it claim they have never eaten anything that tasty and yet that simple.
2. Magic from Drew's Bayshore Bistro
Here comes a story about the Voodoo Shrimp appetizer. A magical dish that once was ordered for both a start and a dessert. And what is the secret? Juicy shrimp, tomatoes, and its majesty sauce. Once in a life dish experience. But, if you come to New Jersey to stay, this may be your everyday. Moreover, if you are already planning your move, experts from All Season Movers suggest getting the right help might be crucial.
3. A Montclair Samba
No, we are not talking about an advert for dancing classes. On the contrary, here this is a classy restaurant in New Jersey. A decent member of the ultimate New Jersey bucket list for foodies. However, this is not a specific place only because of its delicious menu and attractive interior. Samba is a unique eating spot that is certified as a gluten-free restaurant. Seafood specialties are served with seasonal vegetables and are safe for everyone with gluten intolerance issues.
4. We kill it we grill it
This interesting and catchy motto is what the Hooked Up seafood dining place is famous for. They offer you an ideal chance to enjoy your meal by the dock. The meals are served on paper plates and at the nice red picnic tables. You cannon imagine more summer-like eating experiences than this. And when it comes to the food, it is always fresh and perfectly delicious.
To sum up, it up- the sweet tooth
Sweet lovers and dessert chefs do not need to worry. We didn't forget to mention our favorite dishes.
Palazzone 1960 bakery will be a paradise for all those who like to try sweets. Try their cannoli, rum baba, or tiramisu. Ask for the daily specials, and don't forget to learn Italian before that. This is the language their staff like to use often.
Apart from that, do not miss the incredible desserts at Curious Doughnuts in Hoboken, the perfect ice cream experience at Kohr's Frozen Custard, or croissants, sticky buns, and other pastries at Balthazar Bakery in Englewood.
When you hear the words delicious, tasty, and diverse the first association should be New Jersey. If you decide to check this out, follow this ultimate New Jersey bucket list for foodies and you won't miss a thing. Their dining spots and restaurants will offer not only the best food but the most comfortable overall eating experience. Just get ready to try them all.