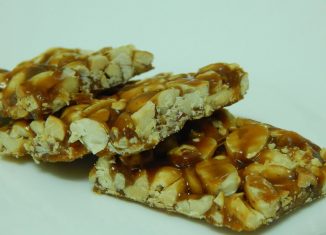 I am looking for options to make nut bars/energy bars that have no sugar(not even the replacement ones) at home. If you're Indian you might be already aware of [chikki](https://en.wikipedia.org/wiki/Chikki), I am want something similar to that.
* I will make it with a combination of oats/peanuts/almonds and other nuts.
* I will add raisins,dates or other dry fruits in milder quantities to make it a bit sweeter.
* Will probably throw in some Whey or other sort of protein powder.
* I do not want to use either Sugar/jaggery or any other replacements.
* I want to the bar to be solid(can be chewy and not necessarily crunchy) at room temperature.
Most of the recipes I looked online use unsalted butter/peanut butter as binding agent for the dry items in the bar. This is good so far only if you refrigerate it. Are there any options to keep it solid which makes it easier to carry around and doesn't become slimy or sticky.
**Edit:** Think of this as a diabetic friendly bar with very low Glycemic load.