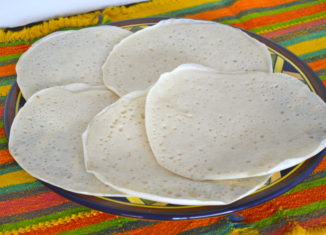 Indian breads are a wide variety of flatbreads and crêpes which are an integral part of Indian cuisine. Their variation reflects the diversity of Indian culture and food habits.
Most flat breads from northern India are unleavened and made primarily from milled flour, usually atta or maida, and water. Some flatbreads, especially paratha, may be stuffed with vegetables and layered with either ghee or butter. Most of them also make use of the yeast spores in the atmosphere for fermentation.
1. Appam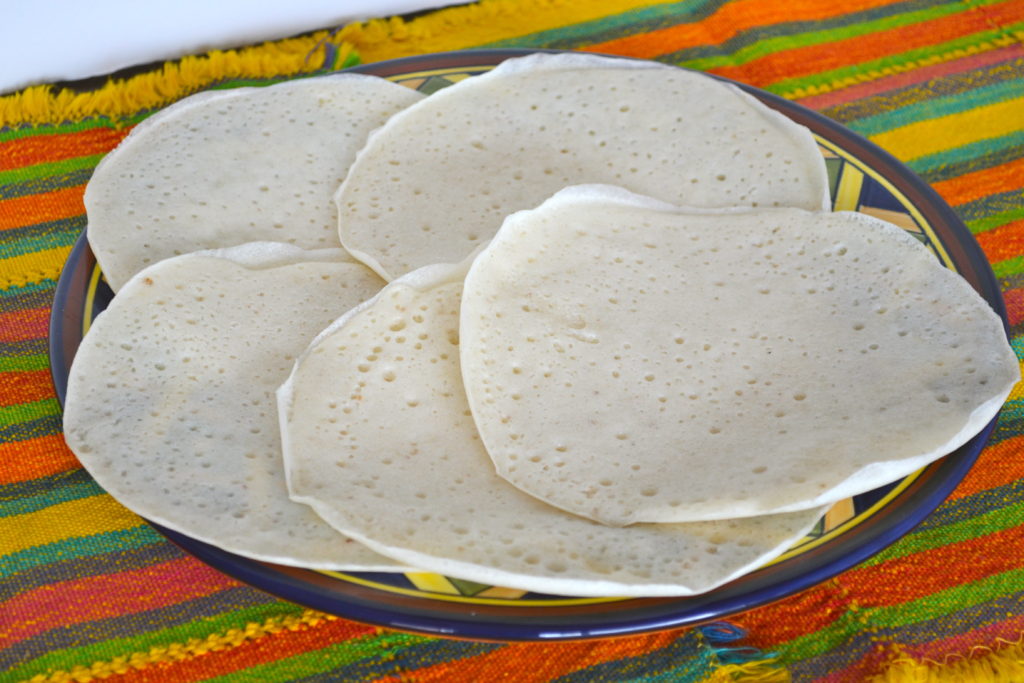 Appam is a type of pancake made with fermented rice batter and coconut milk. It is a common food in Kerala, Tamil Nadu and Sri Lanka. It is eaten most frequently for breakfast or dinner. Variations of this bread are : Plain Appam, Palappam, Kallappam, Egg hoppers, Honey hoppers, Idiyappam, Achappam, Kuzhalappam, Neyyappam, Pesaha appam, Vattayappam, Kandarappam, Kue apem.
2. Bhatura
Bhatoora (also known as Batoora, Bhatura, Batura, Pathora or Tamil puri) is a fluffy deep-fried leavened bread from the Indian Subcontinent. Variations include aloo bhatura (bhatura filled with potato) and paneer bhatura (bhatura filled with cottage cheese). It is often eaten with chickpea curry, chole or channe, making the traditional dish chole bhature.
3. Chapati / Roti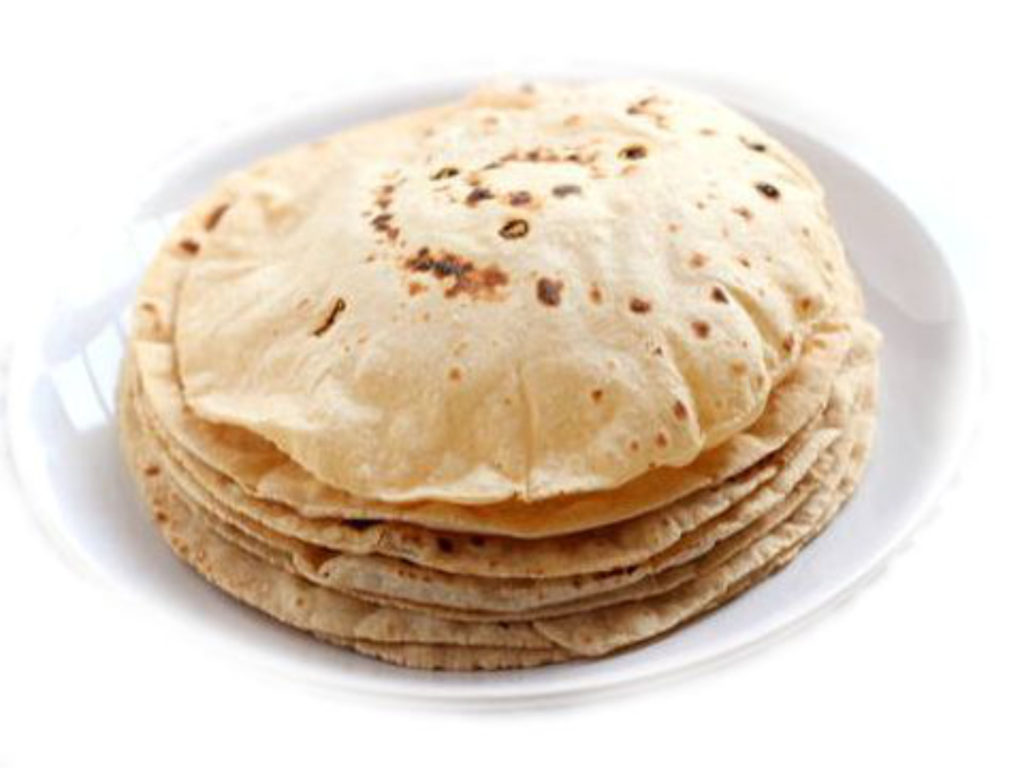 Chapati (alternatively spelled chapatti, chappati, chapathi, or chappathi), also known as roti, safati, shabaati and (in the Maldives) roshi, is an unleavened flatbread from the Indian Subcontinent. Chapati is made of whole wheat flour known as Atta, salt and water, and is cooked on a tava (flat skillet).
The word chapat means "slap", which describes the traditional method of forming rounds of thin dough by slapping the dough between the wetted palms of the hands. With each slap, the round of dough is rotated.
There are many regional varieties of chapati in India including Paneer chapati, Radish or Mullangi chapati or Vegetable stuffed chapati.
4. Dosa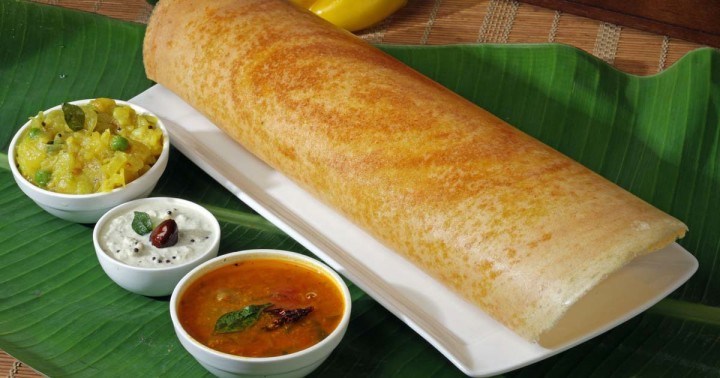 Dosa is a type of pancake from the Indian subcontinent, made from a fermented batter. It is somewhat similar to a crepe in appearance. Its main ingredients are rice and black gram. Dosa is a typical part of the South Indian diet and popular all over the Indian subcontinent. Traditionally, Dosa is served hot along with sambar, stuffing of potatoes or paneer and chutney. It can be consumed with idli podi as well.
Types of dosa :
Masala dosa, paneer dosa, palak dosa, Mini soya dosa, Pesarattu (Green Dosa), light white dosa, Mysore Masala Dose, Onion Rava Dosa, Ragi Wheat Dosa, Rava dosa, Benne Dose, Neer dosa.
5. Luchi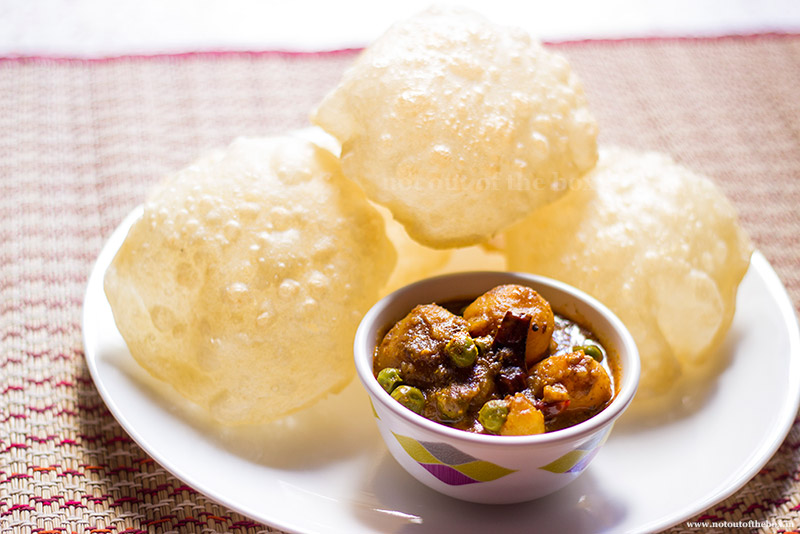 Luchi is a deep-fried flatbread made of wheat flour that is typical of Bengali, Assamese, Maithili and Oriya cuisine. In order to make luchis, a dough is prepared by mixing fine maida flour with water and a spoonful of ghee, which is then divided into small balls. These balls are flattened using a rolling pin and individually deep-fried in cooking oil or ghee. A typical luchi will measure 4-5 inches in diameter. They are usually served with curries or gravies.
Luchi that is stuffed is called kochuri
6. Parotta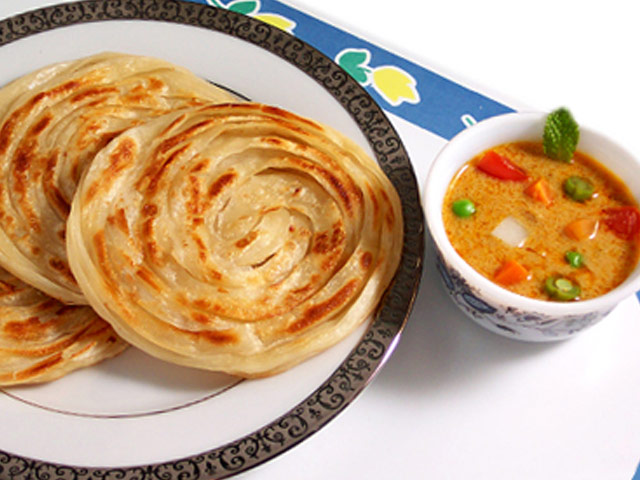 A parotta, porotta or barotta is a layered flatbread made from maida flour, originating from Southern India. It became a common street food in southern India, especially in Kerala, Tamil Nadu and the neighboring country Sri Lanka. It is prepared by kneading maida, egg (in some recipes), oil or ghee and water. The dough is beaten into thin layers and later forming a round spiralled into a ball using these thin layers. The ball is rolled flat and roasted.
Types of parotta : roti canai, Poricha Parotta, Coin Parotta, Poricha ParottaKerala/Malabar Parotta, Veechu Parotta, Ceylon Parotta, Madurai Parotta.
7. Kulchas with choley'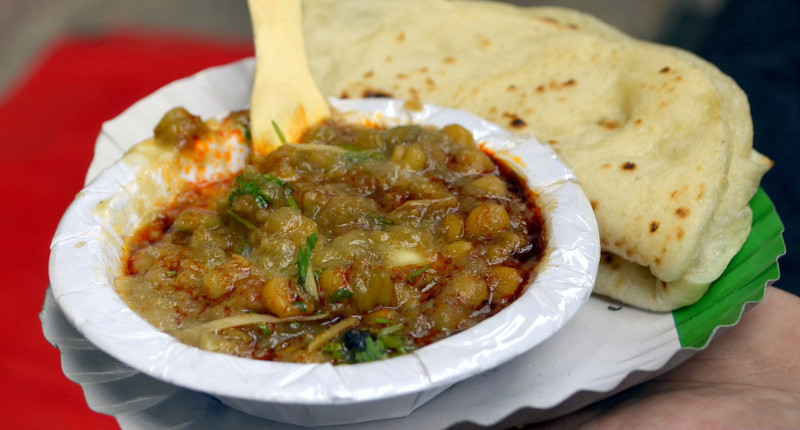 Kulcha is a type of mildly leavened flatbread that originated in the Indian subcontinent. It is a variation of Naan. Kulcha is a essentially a Punjabi dish, invented as a local version of the naan. . It is then eaten with any Indian curry. In particular, a spicy chickpea curry known as chole is the dish of choice for being eaten with kulcha.
8. Naan
Naan is a leavened, oven-baked flatbread found in the cuisines of the Middle East, Central Asia and South Asia.
Naan is cooked in a tandoor, from which tandoori cooking takes its name. This distinguishes it from roti, which is usually cooked on a flat or slightly concave iron griddle called a tava. Modern recipes sometimes substitute baking powder for the yeast. Milk or yogurt may also be used to impart distinct tastes to the naan. Milk used instead of water will, as it does for ordinary bread, yield a softer dough
9. Papadum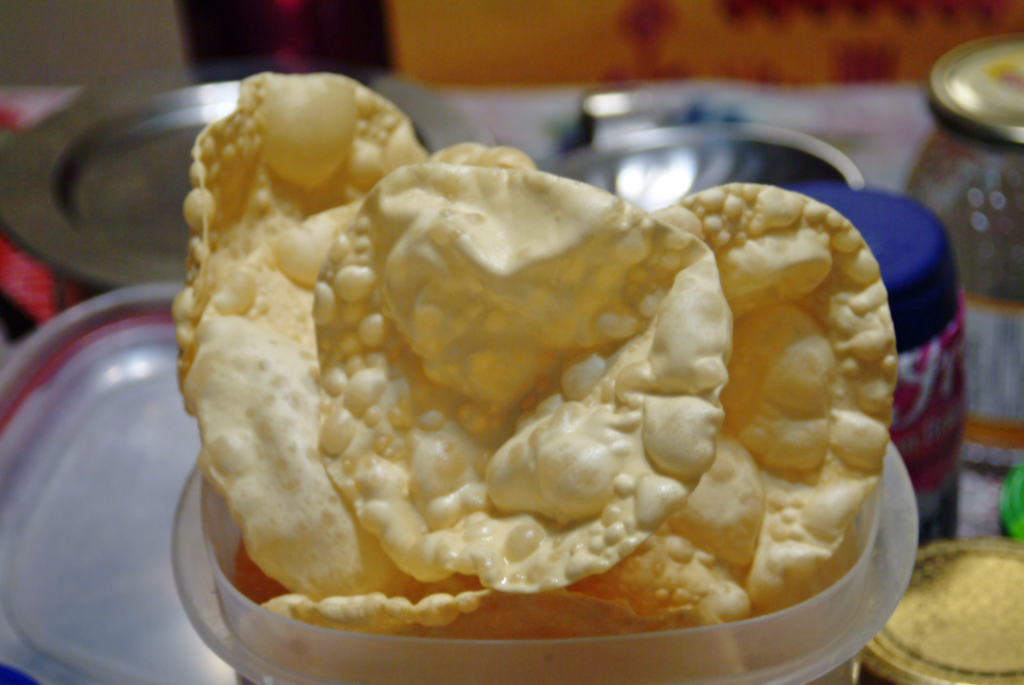 A papadum is a thin, crisp, disc-shaped food from the Indian subcontinent; typically based on a seasoned dough usually made from peeled black gram flour (urad flour), either fried or cooked with dry heat (usually flipping it over an open flame). Flours made from other sources such as lentils, chickpeas, rice, tapioca, or potato can be used. Papadums are typically served as an accompaniment to a meal in India, Bangladesh, Nepal, and Sri Lanka or as an appetizer or snack, sometimes with toppings such as chopped onions, chopped carrots, chutneys or other dips, and condiments. In Pakistan, these are made of rice and often used as a snack vs meal accompaniment. In certain parts of India, papadums which have been dried but not cooked are used in curries and vegetable dishes.
10. Paratha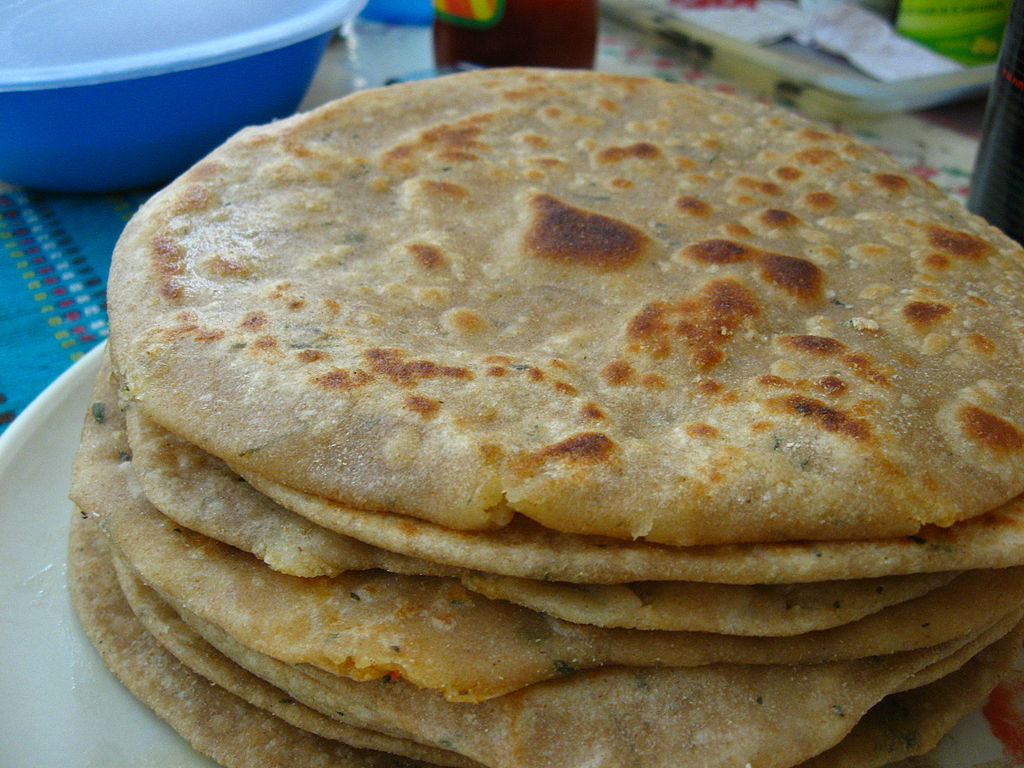 A paratha is a flatbread that originated in the Indian subcontinent. It is still prevalent throughout Pakistan, India, Nepal and Bangladesh, where wheat is grown and is the traditional staple of the area. Paratha is an amalgamation of the words parat and atta which literally means layers of cooked dough.
Parathas are one of the most popular unleavened flatbreads in the India part of the Indian Subcontinent and they are made by baking or cooking whole wheat dough on a tava, and finishing off with shallow frying. Parathas are thicker and more substantial than chapatis/rotis and this is either because, in the case of a plain paratha, they have been layered by coating with ghee or oil and folding repeatedly (much like the method used for puff pastry or some types of Turkish börek) using a laminated dough technique; or else because food ingredients such as mixed vegetables have been mixed in with the dough, such as potato and/or cauliflower, green beans and carrots.
11. Puri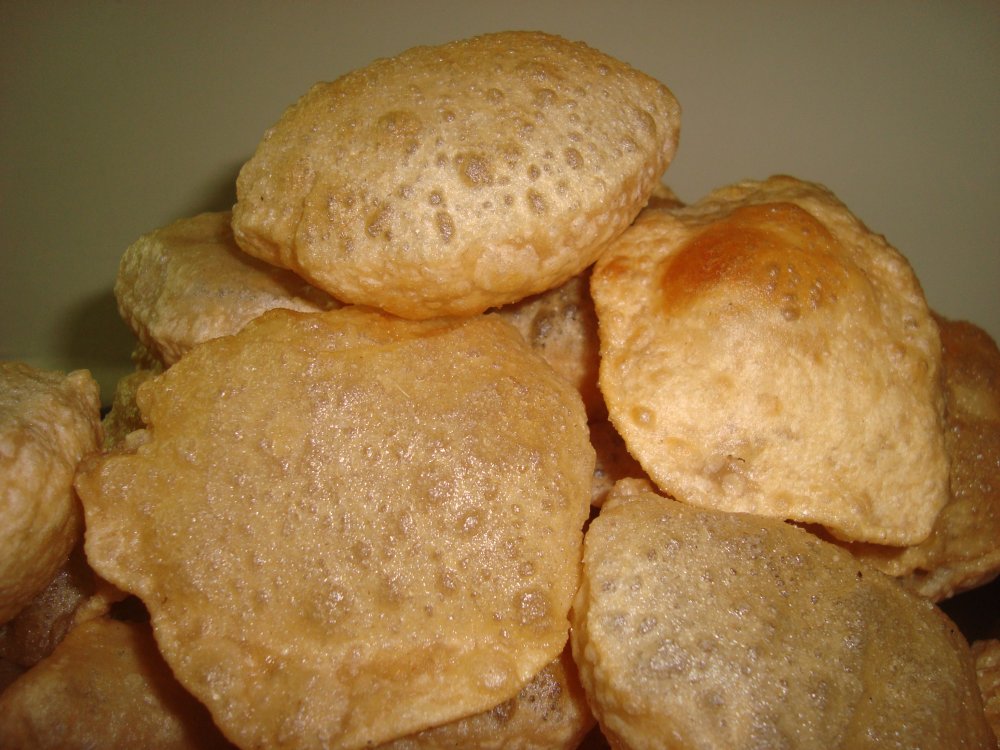 Poori (also spelled puri) is an unleavened deep-fried bread, originating from the Indian subcontinent. It is eaten for breakfast or as a snack or light meal. It is usually served with a savory curry or bhaji, as in Puri bhaji, but may also be eaten with sweet dishes. Puri is most commonly served at breakfast. It is also served at special or ceremonial functions as part of ceremonial rituals along with other vegetarian food offered in prayer as prasadam.
12. Jolada rotti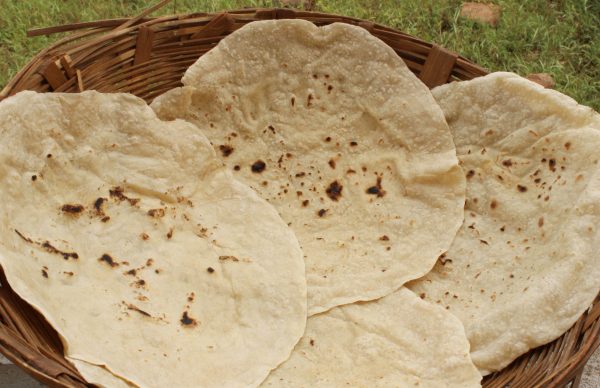 Jolada rotti is an unleavened Indian bread made out of jowar (sorghum), originating from North Karnataka. It is coarser than a roti. It can be either soft or hard in texture, compared to a khakhra or cracker with respect to hardness. The name literally translates into sorghum bread.
Pathiri
Puran Poli
Rumali Roti
More at :https://en.wikipedia.org/wiki/List_of_Indian_breads