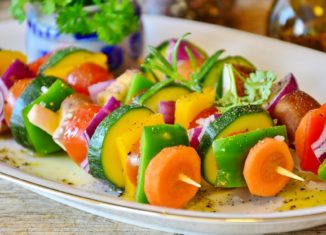 Vegetarianism is definitely fashionable, especially among the younger generation. For example, the wedding of Sir Paul McCartney was just vegetarian: all dishes were prepared exclusively from organic ingredients. In fact, if you approach the menu correctly, a banquet without meat can be very tasty, satisfying and varied. Here are some practical tips on how to organize a delicious festive table from the vegan menu.
There are two formats for vegetarian weddings:
Classic vegetarian table;
A table for vegans ("strict" vegetarians who also do not eat milk and eggs);
Traditional banquet with a separate table for non-meat eaters.
Even if the newlyweds believe that their vegetarian table will be rich in delicious and varied dishes, it is still necessary to notify the guests about the vegan format. You need to start with the design of the invitation. They must necessarily indicate that there will be no meat or fish dishes on the tables.
If you are looking for yummy and healthy vegan treats, visit My Raw Joy's tasty website! There you will find nutritious cookies, nut butters, healthy chips, truffles, spreads, choco marbles and raw chocolate bars. All you need to snack healthy with a gourmet taste!
Many organizers of such weddings recommend sending "electronic invitations" to guests, in which there will be a page with a sample menu. The colorful photos will depict delicious and beautiful dishes that will dispel the myth that a table without meat and fish is scarce.
If the majority of your guests are vegetarians, but you still plan to make a table for meat-eaters, include this point in the invitation as well.
Banquets in the non-meat style are very popular today. The lack of meat on the table is masked by virtuoso adding spices and delicious sauces to dishes.
The vegan banquet menu does not allow dishes with butter, cheese, sour cream, eggs on the table. Such a table is limited exclusively to healthy vegetables, fruits and cereals.
Today almost every restaurant includes vegetarian dishes on the menu. And not only salads but also delicious snacks, pastries and desserts.
It is very useful to learn from the experience of people who have already organized such celebrations. There are a large number of forums on the network where vegetarians share their experiences.
Here is a list of dishes that have a chance to take their place in your wedding menu. From cold appetizers, you can give preference to cold rolls with herbs, tofu cheese and olives, eggplant rolls with nuts, vegetable canapes, ratatouille tartlets, tomatoes stuffed with feta cheese and basil.
From salads, you can safely choose the classic "Caesar" without meat, Greek, spring roll with a vegetable mix. You can add pickles, as well as cheese rolls, vegetable kebabs, pancakes with lean filling, vegetables in batter. From the hot dishes in the vegetarian menu, julienne with mushrooms, peppers stuffed with rice, mushrooms with nut sauce, potatoes in all their forms (gratin, baked, stewed, grilled, potato cutlets, etc.).
All fans of healthy food will love vegetable casseroles with a crispy cheese crust, pilaf, cabbage rolls with rice, as well as cheese patties with peanut sauce. Having tried at least 3-4 dish options, guests will remain well-fed and satisfied.
Not all vegetarians follow a "non-alcoholic diet". Some still allow themselves to drink wine or something stronger, especially on such a day. If the wedding is planned non-alcoholic, then in this case, you need to enlist the support of the bartender. He should really surprise the guests by offering extraordinary cocktails. For example, a rainbow mix, classic juices, spicy punches, chilled fruit and herbal teas, non-alcoholic beer and non-alcoholic champagne.
Making a vegetarian cake without eggs and cow's milk is not a big problem today. Confectioners have learned to replace eggs with crushed flaxseeds, use dyes with the addition of vegetable and fruit extracts. Virtuosos of the culinary arts today easily bake pancakes, muffins, pies, cookies, and even key pops and macarons for vegans.
Experts on organizing vegetarian banquets say that the guests of the evening, not accustomed to vegan food, in the morning gratefully call the newlyweds, noting the absence of heaviness in the stomach and a hangover. And this means that the holiday was a success!