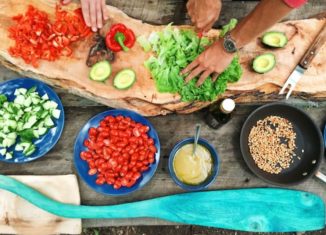 Top 5 Styles for an Outdoor Kitchen
If you're looking to make the most out of your outdoor space and create a cozy yet stylish gathering area, then an outdoor kitchen is just what you need! An outdoor kitchen increases the useable living space of your home and provides a great place for entertaining guests or simply relaxing on beautiful days. Whether it's through cooking with an outside gas grill, serving scrumptious meals from prep stations and bars, or lounging in an inviting seating arrangement—this blog will explore the top 5 styles for creating an outdoor kitchen that suits your taste! From luxury designs perfect for hosting large gatherings to smaller more intimate spaces better suited for workweek dinners – no matter what style you're going after these ideas will get you started on transforming your backyard into one luxurious hot spot sure to bring family and friends together in style.
Traditional Kitchens
When stepping into a traditional kitchen, one can't help but feel a comforting sense of nostalgia. And what better way to bring that charm outdoors than with an outdoor kitchen that boasts classic details such as brickwork, wood paneling, and natural stone? The warm, earthy tones of these materials create a cozy and inviting atmosphere that is perfect for entertaining guests or simply enjoying a delicious meal with family. Not only is a traditional outdoor kitchen incredibly practical, but it also lends an element of timeless elegance to any backyard. So, whether you're preparing a summer barbecue or a wintertime feast, a traditional outdoor kitchen is the perfect addition to any home.
Mediterranean Kitchens
Step into a Mediterranean kitchen and be transported to a world of rustic elegance and modern charm. With a perfect blend of bold colors and beautiful tile work, the space exudes a warmth and character unmatched by other styles of décor. But what really sets this kitchen apart is the addition of an outside gas grill, creating an inviting atmosphere whether you're preparing a meal for family or hosting a summertime soirée. From the rich aroma of roasting meats to the sizzle of fresh vegetables, the Mediterranean kitchen is a feast for the senses and the perfect space for cooking up memories that will last a lifetime.
Contemporary Kitchens
Contemporary kitchens have taken design to a whole new level. With sleek and minimalist designs, they give you the perfect amount of space and functionality. Featuring high-tech appliances like flat-screen TVs and built-in speakers, you'll create an environment fit for your senses. The clean lines and monochromatic color schemes provide an aesthetic that is both fashionable and functional. The beauty of these kitchens is that you can custom build them to suit your preferences with a wide range of styles and color palettes. With contemporary kitchens, you can now enjoy the latest technologies while entertaining friends and family in a stylish and modern space.
Rustic Kitchens
Rustic kitchens are becoming increasingly popular for their ability to create a warm and inviting atmosphere. With the use of wood beams, stone accents, and rough textures, these kitchens evoke a sense of coziness and comfort that you can't find in more modern designs. The natural materials used in rustic kitchens also add a touch of authenticity and personality, making them truly unique spaces. Whether you prefer a more traditional cabin feel or a more contemporary take, a rustic kitchen is a perfect way to add character and charm to your home. So why not bring a little bit of the outdoors inside and create a space that feels like a cozy retreat?
Luxury Kitchens
The ultimate luxury for any food lover would be the ability to cook outdoors with all the amenities of an indoor kitchen. With top-of-the-line appliances like refrigerators, wine coolers, pizza ovens, and outside gas grill, an outdoor kitchen can rival any indoor space. Imagine sipping a cold drink from your outdoor fridge while the gas grill sizzles your favorite steak to perfection. You can even impress your guests with homemade wood-fired pizzas from your outdoor oven. Create a luxurious outdoor kitchen and make your backyard the place to be for any occasion.
An outdoor kitchen with the right style can take your backyard to a new level. From traditional kitchens featuring brickwork and natural stone to contemporary designs with flat-screen TVs and built-in speakers, there's something for everyone. For a truly unique look, rustic kitchens offer wood beams and stone accents, while luxury options feature top-of-the-line equipment such as refrigerators, wine coolers, a pizza oven, and an outside gas grill. There are lots of options to choose from so don't be afraid to experiment with different styles—your dream outdoor kitchen may be closer than you think!