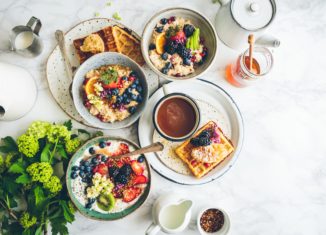 Introduction
Food has turned of art! As a result, you can find different kinds of food blogs to read, which will suit any taste. So, here's my picky list of best Food Blogs that are aimed at providing their readers with some healthy recipes.
Budget-friendly blogs
Eating Richly
Don't get fooled by the title of this blog. This blog is held by parents, Eric and Diana Johnson. Basically, their ideas are designed to create special family moments through interesting recipes at an affordable price. So, you will find some of the creative, cute, tasty, family-friendly, and very affordable recipe options that your kids will adore.
Real Food Real Deals
This blog is somewhat similar to the first entry on our list. It is held by a regular mom who decided to go away from highly processed foods and other junk options. Her recipes are characterized by several things: inexpensiveness, rich flavor, ease, and, most importantly, healthiness. The author takes well-known, familiar recipes and adds a healthy twist to them, so this blog is perfect for those who are far from experiments in the kitchen.
Budget Bytes
This food blogger is behind a large library of different recipes that don't require any considerable financial sacrifices. The website itself is very convenient and features different categories of healthy recipes for everyone. You're into one-pot or vegetarian things? Well, you can find those things at Budget Bytes. Even more, I personally adore the author's meal prep tutorials.
Vegan/vegetarian blogs
Grateful Grazer
Oh, this one is marvelous. You would think that the author hired a professional essay writing service for USA students Studyclerk to come up with all the scientifically backed up information in this healthy food blog. It has all the ingredients for a great blog: awesome photos of food, research-based articles about nutrition, as well as great vegan and vegetarian recipes.
Whitney E. RD
This food blogger is a reporter turned registered dietitian nutritionist. So, you can already expect Whitney's content to be clearly presented, informative, and factual. Her blog is about sharing experience regarding vegan and vegetarian food lifestyle, which is becoming more popular with each passing year. Even more, I have to point out that her recipes are kid-friendly, so the value of this blog skyrockets!
With Food + Love
This entry on the list of food blogs to read is for those who value creativity in their plant-based diet. Sherrie Castellano provides a variety of flavor-rich and healthy recipes that are coupled with the gourmet-quality presentation. If you want to impress your friends, this is a healthy food blog for you. Even more, she gives advice on various chronic conditions and how to deal with them, especially if they are affecting your diet.
Nutrition for sports
No Meat Athlete
This entry is similar to the previous section because of the vegan and vegetarian target audience. The blog itself actually aimed at athletes and people who have an active lifestyle. This is especially important for vegetarians and vegans, considering the fact that a diet for an athlete is different from that of other people. Therefore, this healthy food blog is a destination for vegetarian-based nutrition athletes.
Fit Bottomed Girls
Now, this one is very interesting and quite narrowly targeted. Basically, this food blog is held by fitness pros who are advocating for an adequate approach to things such as nutrition and fitness, thus going along the healthy roadmap rather than "exhaust yourself to get slimmer in 10 days." I think that this is one of the best Food Blogs for those who want to get fit because it teaches you to love your body and not be distracted by unrealistic Hollywood expectations.
Fitful Focus
Yet another inspiring fitness entry in my list that was created by a woman. Nicole turned her life around in 2012, got fit, and stayed focused. That's what her blog is about. The list of entries includes vegan-friendly and gluten-free recipes, workouts, and motivational articles. Trust me, it is worth subscribing to.
Healthy foodie stuff
The Fit Foodie
As the name suggests, that's a foodie blog. What would you expect? The most obvious answer is – lots of exotic yet crazy food stuff and aesthetic photos. Wrong, well partially. That's one of the best Food Blogs for foodies who love living a healthy life. It combines great photos, cool recipes, and articles about nutrition!
The Forest Feast
Another foodie gold mine. The blog was created by Erin Gleeson, a food photographer. She was inspired to begin it after moving to the west coast after witnessing the local seasonal nature and different types of food. So, this blog will provide you with beautiful, inspiring, healthy, and interesting recipes that do not require too much time and effort.
The Domestic Man
The final entry in my list is a blog that was created by the writer Russ Crandall, who had suffered from some health conditions that led him to a radical change in diet. The blog itself is very interesting as the author provides different recipes from cultural and historical perspectives. Quite a unique take, I would say.
Conclusion
Food is one of the most important basic needs of any human, so it is required to keep in mind what you consume. That is why I hope that this list of healthy food blogs will provide you with useful information and aesthetic pleasure!