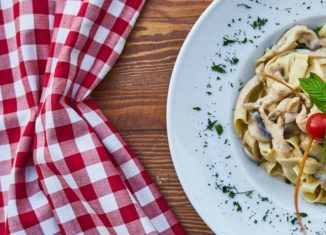 Adult life can be hectic enough when one considers just how much time and thought a regular day at work might take. However, there's also the question of what to do when it's time for dinner each night. While it can be tempting to just go out somewhere or have some food delivered, there are tasty meals you can make as a prelude to a relaxing evening in, and they do not require excessive preparation.
Shrimp Scampi
Do you have unexpected guests dropping by for a bite to eat? If you planned a small gathering at the last minute instead of going out, you'll want to throw something together that doesn't take a lot of time yet still looks elegant in its presentation. Shrimp scampi fits this bill perfectly. Although there are many recipes for this dish out there, you can find a few that only take about 10 minutes to prepare effectively. In addition, throw some rice under the shrimp for a nice presentation that is sure to impress your guests.
Tuna Carbonara
Some of the best meals you can make for a night in are the ones that use ingredients for which you usually won't need to make any special trips to the store. A nice tuna carbonara is one such idea, and you probably won't need to spend more than 20 minutes preparing it. You can often use it with ingredients just around the house like canned tuna, pasta, and any fresh vegetables that you like. Seafood and pasta always go well with the alcohol of your choice, like wine or beer. For tuna carbonara, you can pair it with a nice beer of your choice to top things off and make the whole ensemble come together.
Stuffed Chicken and Spinach
If you're okay with some slightly longer prep time, you can't go wrong with a good recipe for stuffed chicken. One that adds something like spinach to the mix makes the whole presentation look good and adds a zesty taste at the same time. In many cases, you'll only need 30 minutes or so to get the chicken ready, which is still a fairly economical block of time for many people on a weeknight. You can cook stuffed chicken right in a skillet with some lemon sauce for flavor.
Monte Cristo Sandwiches
The name may sound fancy, but you don't have to worry about standing over a stove all evening with this dish. All you have to do is pick a couple of your favorite meats from your local deli and combine them with some varieties of cheeses that you enjoy. You can put everything together, dip the sandwiches in batter, and add pulverized cereal as the final, crispy touch before grilling the whole thing.
Braised Short Ribs
Who doesn't love eating short ribs for dinner? Braised ribs are one of the easiest ways to prepare this delicious dish. You can opt for braising them in red wine, seasoned beef broth, or any other liquid that you think would work with your side dishes. Braised ribs are impressive because they seem like they would take a lot of time and work to make, but they are surprisingly simple. Cook them in a dutch oven for a few hours to have a perfect, tender, flavorful dinner.
Many of these meals could be especially useful to you when you're dealing with a weeknight. These days are typically busier than your average weekend, and making dinner is just one more thing to add to the list before you get some time to yourself. Try some combinations of these meals for an easy plan, and add your own touches to make each one a unique culinary experience.