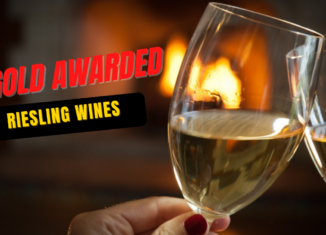 An aromatic white wine grape variety, Riesling is a native to Germany. The common characteristics of the wine include a light body and aromas of citrus, stone fruit, white flowers, and petrol. The naturally high acidity of Riesling makes it one of the most popular grape varieties used to produce late harvest wines. It usually offers an enjoyable crisp taste while maintaining a juicy finish.
Here are 5 gold award-winning wines for their luscious taste, soothing aromas, refined texture and remarkable flavours. You must try them all and say cheers to the new year with new spirits.
Geoff Merrill Dancing Queen Riesling 2021 Clare Valley
This very light straw coloured wine with subtle green hues is a refreshing treat to the eyes and the palate. The aroma of this wine is delicate and fragrant with fresh lemon, lime, lavender, rose petal and green apple. The palate displays a vivid, zesty acid line right from the start to finish. The flavours of ripe Tahitian lime come forward and warm into granny smith apple and pineapple. You can serve this wine with coffin bay oysters, steamed scallops or garlic prawns. A gold winner for a reason.
Risky Business Luxe Riesling 2019 Mt Barker
Handmade from single vineyard fruit in a very small batch, this gold and silver awarded wine flaunts a pale lemon colour with green hues. It is sure to mesmerise you with vibrant aromatics of zesty lime and honeysuckle on the nose. The mouth-filling sweetness it offers can be sensed on the palate with flavours of lemon, lime and apple blossom balanced perfectly by bright acidity. The finish is dry and exhibits great length. It is best enjoyed while young. You can find it on Just Wines and enjoy it with spicy Asian cuisine.
Massena Stone Garden Riesling 2019 Barossa Valley
This gold award winner has a subtle lime leaf, lemongrass and white blossoms combined with lemon sherbet to give a bright and complex aroma. The enticing flavours of Meyer lemon are shared with grapefruit and lemon pith astringency along with a textural element not always associated with Australian Riesling. The natural acidity gives verve and energy, whilst the slate stone minerality will leave you asking for more.
Lawsons Dry Hill Estate Riesling 2015 Marlborough
A white coloured wine emanating lime and apple aromas with some delicate floral notes on the nose. The lime characters along with lemon replicate on the palate with peach and honeycomb in the background. The fresh and crisp acidity helps to highlight the wine's wonderful minerality. This gold award winner has its unique taste because the grapes for this Riesling are harvested at dawn, gently pressed and then the juice is transferred to stainless steel tanks and fermented at a cool temperature.
Enjoy this complex white wine with grilled fish and a simple salad.
Rhythm Stick Red Robin Riesling 2019 Clare Valley
A gold award winner, this exquisite Red Robin Riesling showcases a pale straw colour. The nose is clean and refreshing, exhibiting lifted aromas of lemon blossom and Clare lime. The full-bodied palate is brimming with sweet pear and lemon citrus flavours supported by a refreshing acid balance. The climax is lengthy, dry and fruity. With a decade-long cellaring potential, this delicious white wine pairs well with spicy foods, chicken, crustaceans, or grilled King George Whiting.