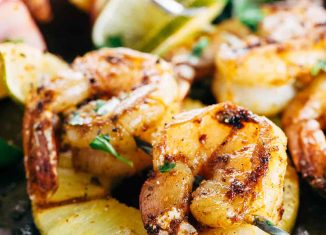 Coconut Marinated Shrimp with Pineapple Topping
2017-05-08 21:04:17
Ingredients
1/2 cup coconut milk

2 tablespoons lime juice, divided

1 tablespoon low sodium soy sauce

1 tablespoon brown sugar substitute

20 large shrimp, peeled and deveined

1/8 teaspoon black pepper

1 (20 ounce) can of crushed pineapple in its own juice, drained well

1 jalapeno pepper, seeded and chopped very fine

1 small red bell pepper, cored, seeded and diced
Add ingredients to shopping list
If you don't have Buy Me a Pie! app installed you'll see the list with ingredients right after downloading it
Instructions
Use a shallow bowl that can be covered tightly and place the coconut milk into the bowl.
Add 1 tablespoon lime juice and the soy sauce. Stir to combine ingredients.
Add the brown sugar substitute and stir well until the sugar has completely dissolved.
Add the shrimp and toss to coat evenly. Add the pepper and stir well.
Cover and refrigerate at least 1 hour.
This can be left to marinate overnight if you prefer.
Place the drained pineapple in a mixing bowl.
Add both types of peppers and stir together.
Add 1 tablespoon of lime juice and stir well.
Cover bowl and place in the refrigerator until ready to use.
Remove the shrimp from the marinade.
Place 5 shrimp on a water soaked bamboo skewer. Continue until all the shrimp are used.
Heat grill to medium heat.
Place the skewers on the heated grill.
Grill for 4 minutes then turn.
Continue gilling an additional 3 minutes or until the shrimp is cooked through.
Remove the shrimp from the skewers and place on a large platter.
Cover with the salsa before serving.
Print
Food you should try https://foodyoushouldtry.com/