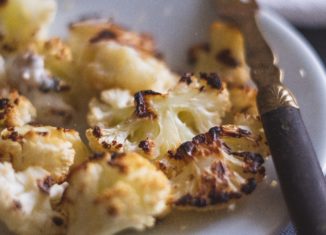 These beautiful cauliflower and tofu kebabs are great for a BBQ or just popped into the oven or on a grill.
Everyone will love them, and the tofu is packed full of flavor thanks to the delicious marinade!
This recipe makes between 6 and 8 skewers.
Ingredients for the marinade
1 cup plain yogurt (plant-based, if you prefer. Just be sure it is a thick yogurt)
2 cloves garlic, minced or pressed
1 teaspoon fresh ginger, finely minced
Juice of one lemon (about 2 tablespoons)
1 teaspoon cumin seeds
4 whole cardamom pods
1 teaspoon black peppercorns
1/2 cup raw cashews
1 teaspoon salt, or to taste
2 teaspoons oil
Ingredients for the skewers
8 oz firm tofu, cut into one-inch cubes
Half a head cauliflower, cut into florets
1 small red onion, cut into wedges
Slices of lemon (optional, for serving)
Fresh cilantro or fresh chives (optional, for serving)
Method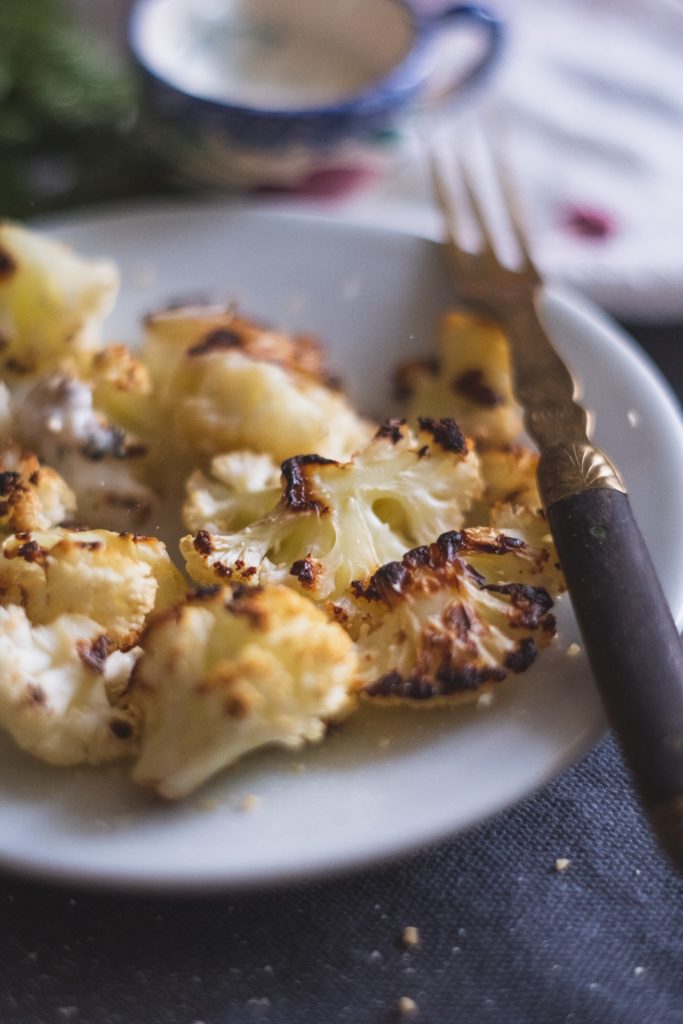 If you want to use skewers made of wood, soak them for at least 30 minutes in water while preparing the food.
Press your tofu well to remove any excess water. Pressing your tofu will ensure that it will hold together better when on the skewers. Soaked tofu also soaks up marinade better (and is, therefore, more flavorful). You can try a tofu press like this one https://tofubud.com/products/tofu-press or press the tofu between two plates (put a weight on the top plate).
To make the marinade, first combine the yogurt, garlic, ginger, and lemon juice in a large mixing bowl. Use a wire whisk for best results.
In a skillet, toast the cumin and cardamom on low heat for a few minutes. You'll know they're done when they are darker and smell delicious.
Pop the spices in a blender along with the peppercorns and raw cashews, and pulverize till you obtain a powder. (You can also do this in a coffee grinder or food processor.)
Add the spice powder to the yogurt mixture and stir to combine well.
Now you are ready to marinate the cauliflower and tofu. Put the tofu cubes and cauliflower florets in the marinade and combine carefully. You want everything to be evenly coated.
Cover the mixing bowl with some plastic wrap and let marinate for at least 30 minutes at room temperature. Alternatively, if you have time, put the bowl in the fridge overnight so that the veggies and tofu can soak up the flavors of the marinade.
Put your BBQ or griddle on to heat while you make the skewers. Assemble the skewers by alternating tofu cubes, cauliflower florets, and red onion slices.
Once the grill is hot, cook the skewers for 25 to 30 minutes, turning every few minutes till the marinade has dried. You want the tofu and cauliflower to be slightly charred in some spots. The cauliflower should be tender without burning. If the skewers are turning black too quickly, turn down the heat.
When you are ready to serve, squeeze some fresh lemon juice over each skewer. Top with the minced fresh cilantro or chives, and enjoy!
Cauliflower and tofu kebabs FAQs
What can I serve with my kebabs?
Here are some ideas of what to serve on the side:
Freshly warmed nan bread
Basmati or another type of cooked rice
A spicy tomato chutney
Tzatziki or other yogurt-based sauce
Coleslaw
Spinach salad
Baked beans
What substitutions can I use?
If you wish, you can use almonds instead of cashews in the marinade.
You could use soy yogurt, oat yogurt, or coconut yogurt for the yogurt (which you can make yourself.)
If you don't want to use tofu, you could use cubed chicken breasts.
What if I don't have a grill?
A large skillet will also work for this recipe.
Do I have to use firm tofu?
Soft tofu – or silken tofu – won't work for this recipe as it will fall apart on the skewers. Extra-firm tofu could work, but it won't soak up the marinade as well as pressed firm tofu.
However, you could give sprouted tofu a go or some five-spice tofu (available in Chinese supermarkets).
How do I keep the leftover skewers?
If you have any skewers left over, they will keep up to 3 days in the refrigerator or three months in the freezer in an airtight container.
Some people even freeze and then thaw their tofu before cooking, as this process gives the tofu a chewier texture closer to meat. If you choose to do this, drain the tofu, slice it, and put it in an airtight container or bag. When you're ready to use your tofu, let it thaw in the refrigerator and then press out the excess liquid before marinating.