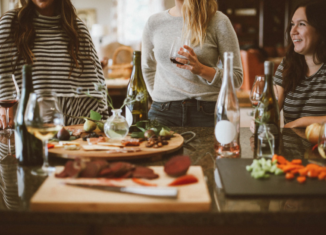 Every good host knows that the right wine pairings can elevate a dinner party to the next level. However, the task of figuring out which combination will compliment your meal best can be tricky. If you find yourself struggling to pick out the perfect pairing, then you've come to the right place. This simple guide will give you a quick rundown of the basics to help you wow the guests at your next dinner party.
White Wine Pairings
White wines are an elegant choice, and they go well with lighter dishes instead of rich, fatty meals. They can be excellent with a salad or with a seafood or chicken dish, but they're less likely to be paired with something like beef or pork.
Sauvignon Blanc and Pinot Grigio are dry white wines that pair best with mild-flavored fish and vegetables. For fish with a more pronounced flavor, soft or hard cheeses, and starches, the best choice is a rich white wine such as Chardonnay or Marsanne.
Red Wine Pairings
Red wines go well with heavier foods or those prepared with stronger flavors. Smoked, roasted, and grilled meats go particularly well with red wines, as do mushroom and tomato dishes.
Pair a menu that includes red or cured meat, hard cheeses, and fewer starches with bold red wines like Cabernet Sauvignon or Malbec. When adding white meat and roasted vegetables to your meal, you should opt for a medium red wine such as Merlot or Zinfandel. Look for a light red wine, such as Pinot Noir or Gamay, as an alternative to white wine when serving fish instead of beef or pork.
Italian Sweet Wine Pairings
If you're feeling a little adventurous or are stuck in a pairing rut, you should consider serving an Italian sweet wine or another sweet wine for your next dinner party.
Whether enhancing the sweet components of a dish, toning down the heat of a spicy meal, or creating sweet-and-salty flavor combinations, sweet wines offer more variety than most hosts realize. Served alone or paired with a treat, this delectable beverage also serves as a great dessert option to end your meal.
Sparkling Wine
If your menu includes a lot of variety or if you're not quite sure which selection will best suit your meal, sparkling wine is your safest option. As every dinner host's secret weapon, a bottle of Champagne or Prosecco pairs well with a variety of flavor combinations and profiles. Due to its effervescent nature, this wine acts as a palate cleanser, which means you truly can't go wrong with this versatile (not to mention classy) option.
Now that you know the basics and are a budding sommelier, you should be ready to wow the guests at your next dinner party. Keep in mind that your pairings are ultimately up to you, so make selections that best suit your taste and don't forget to enjoy.