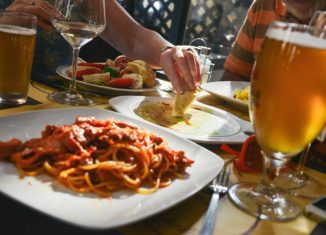 Going on a date night can be a great way to devote quality time to your partner. One crucial element to any successful date night is the right ambiance, which often starts with the perfect meal. Whether you'd prefer to cook in your kitchen or dine out, here are six ideas for creative meals that are sure to set the perfect mood for a perfect night.

Enjoy an Italian-Themed Dinner

Why not try an Italian-themed dinner featuring classic Italian flavors for a romantic date night? Start with some bruschetta and segue into a delicious homemade pasta dish. Pair the meal with a lovely bottle of red wine, recommended by Chocolate Professor's guide to wine.

Add a few antipasti from the local deli, such as cured meats, pickled vegetables, and fine cheese. With these elements in place, you're guaranteed an unforgettable evening.

Share Crepes and Escargot

Give your date night a romantic French twist by serving classic French dishes like crepes and escargot, followed by a glass of sparkling champagne. Finish the meal with homemade crepes filled with fresh fruit or a decadent tiramisu to make the night even more special.

The sweet dessert and bubbly combination will set the mood for an enjoyable evening. Enjoy the classic flavors of France as you spend quality time together.

Delicious Mexican Cuisine

Spice up your regular date night with a unique and flavorful Mexican-inspired dinner. Start the evening by preparing mouth-watering tacos filled with your favorite ingredients, and maybe some cheesy queso and black beans for that extra kick of flavor. Remember the homemade guacamole. As you're cooking together, sip some freshly made margaritas to start the party.

Once you've indulged in tacos and enjoyed the fiesta-like atmosphere, continue the night with some games or a romantic stroll in your backyard to end on a sweet note. Delectable tacos and festive drinks can surely set the perfect mood to make this date night one to remember!

Spice Up with Thai Delicacies

Turn up the heat on your next date night with a delicious Thai meal. Pad Thai, an iconic noodle dish made with rice noodles and flavorful sauce, is the perfect way to add spice to your evening. For a more adventurous experience, try Tom Yum Soup, an aromatic blend of lemon grass, lime juice, and mushrooms that will transport you to the fragrant markets of Thailand.

Finally, add some sweetness with Mango Sticky Rice, or enjoy a couple's cooking class making fresh spring rolls at home.

Enjoy Raw Seafood

Enjoy raw seafood as part of Japanese sushi soirée. Start the evening with an appetizer of salmon tartare and seafood dynamite while enjoying conversation over glasses of cold citrus sake. Continue the night with classic nigiri sushi, like squid, tuna, and unagi, paired perfectly with signature spicy maki rolls.

As you linger on dessert—an assortment of various mochi balls covered in a light dusting of powdered sugar—indulge in another glass of sake to round out this incredible date night dinner experience.

End with Decadent Desserts

Why not try delicious desserts to end the night? Chocolate fondue and crème Brulee are two popular options that will bring out the romance in your evening. Not only are they pleasing, but they also provide a sweetness that complements any dinner menu, no matter your choice. For an extra indulgent treat, you can pair these desserts with a special glass of champagne or wine for an extra touch of romantic perfection.

Explore Date Night Dinner Ideas
Why not try one of these recipes if you're looking for ideas to liven up the next date night? Each dish is designed to set the mood and help you have a fun evening. Whatever combination you choose, these food ideas will guarantee an unforgettable evening together.