Greece is a country unlike any other. It's the birthplace of democracy and the Western World and is one of the most historic countries in Europe. From the capital city of Athens to the whitewashed houses of Santorini, Mykonos and Paros, there are so many beautiful locations, each with its own charm and magic.
Each year millions of travelers from all over the world visit Greece to enjoy it's glorious weather, beautiful crystal clear seas and beaches, visit the many different archaeological sites and museums, and to sample it's delicious cuisine.
Greek food is amongst the tastiest you will ever sample, and the Mediterranean diet is famous throughout the world for being one of the healthiest and tastiest. You can find a ton of great recipes to try out Greek cuisine by simply going a search online and visiting a website. In this article you'll read about some of the most popular dishes from the Greek kitchen, as well as a few that you might never heard of.
Tzatziki
Let's start with something that is synonymous to Greece when you go and dine out. Tzatziki is a delicious dip made with Greek yogurt, cucumber and garlic. It is a perfect dip for all types of food, as well as being a vital part of what makes the souvlaki (Greek kebab) so tasty. Tzatziki is extremely easy to make and only takes a minute or to. If you are planning to grill some meat, this is a great side dish to have on the table.
Saganaki
Another quick to prepare but delicious dish is saganaki, or Greek fried cheese. It's a very popular appetizer, and very tasty, with a golden brown shell and soft juicy cheese inside. It is usually topped with a few squeezes of fresh lemon for an additional kick. It's quick to prepare and cook, and simply delicious to eat.
Greek Salad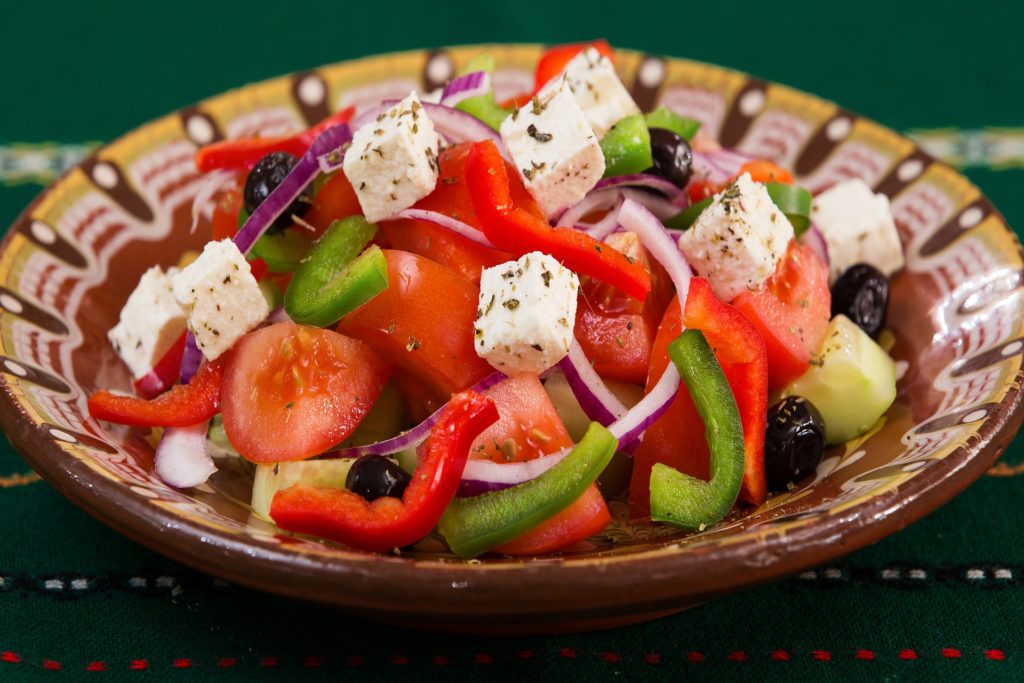 There are many different types of salad that you can enjoy, but nothing is quite as refreshing as a Greek salad, or horiatiki (countryside) salad. It consists of tomatoes, cucumber, green pepper, feta, olive, and covered in vinegar, olive oil and oregano. One of the things you'll have noticed about a Greek salad is that it never has any lettuce.
Fried Courgettes and Eggplants
Another delicious starter that you can prepare in just a few minutes are crispy fried courgettes or aubergines (eggplants). You simply slice the courgettes into strips, and let them fry for a few minutes until they have a crunchy crispy shell.
You then serve them with a side dish of tzatziki, so that you can dip them in. It is an appetizer that is extremely popular and which you'll find at most Greek taverns, and is a super easy dish to prepare yourself at home.
Moussaka
This is one of the classic Greek dishes, and is something that every visitor to Greece will have sampled during their holidays. It is a very filling and tasty dish that is made from eggplant, béchamel cheese sauce and mince meat. It is something that does need a little preparation time.
You will slice the eggplant into circular flat pieces, and place them in layers with the mince meat sauce bonding between them. Some people also like to include a variety of other vegetables with their moussaka such as potatoes, peppers and mushrooms. You can add whichever you enjoy, but you must have the main part using eggplant.
Though this dish will take a while to prepare and cook, the great thing about it is that you can put any leftovers in the fridge, and then reheat it up again the next day.
It's a very heavy and filling dish, and is often best suited to those cold winter days where you want to have something warm inside you. You can eat it in the summer, but if it's too hot, you might find it a little too heavy and filling. However, it is one of the most famous dishes in Greek cuisine, and something that you really need to try.
Pastitisio
Along with Moussaka, this is another of the most famous dishes in Greek cuisine. It's a baked pasta dish with a meat sauce and a rich creamy sauce on top. It is made with tubular pasta, with the meat sauce poured on, and then new layers of pasta added. It is then covered with a creamy cheese sauce and placed to bake.
This won't take you as long to prepare as moussaka, but you will still need to spend some time preparing it before putting it in to cook. In addition to the meat sauce, you could also add some additional ingredients or vegetables if you prefer. Just use your imagination and see where you end up.
Pastitisio is a very popular dish with Greeks and one that is lighter than moussaka so can be enjoyed throughout the year.
Lamb Kleftiko
A number of the most popular Greek dishes are meat dishes, and lamb kleftiko is another of the most popular. It is a delicious dish of lamb that is slowly cooked in parchment paper along with potatoes and a selection of vegetables.
A lot of people will prepare this dish with a wine sauce that is full of herbs and seasoning. This unique cooking process of using the parchment paper locks in all the flavours and aromas, resulting in extremely juicy and soft pieces of lamb that simply melt in your mouth.
Souvlaki
Another of the most popular Greek foods is the famous souvlaki. This is the Greek kebab, which can come in a variety of styles. Some souvlaki is served on the skewer and can be either pork or chicken. Other souvlaki is sliced pieces of meat that is served inside a pita bread along with tomatoes, onions and tzatziki sauce. This type of souvlaki is known as a gyros.
The souvlaki is great for a snack or your dinner. It's usually accompanied with a portion of fried chips, a Greek salad and either a few cold beers or wine. If you've visited Greece in the past, then you are bound to have sampled a souvlaki.
Greek cuisine is one of the most varied and richest in the world. It has so many styles and tastes and is suitable for everyone. Whether you enjoy grilled meat, fresh fish and seafood, or prefer the vegetarian and vegan options, your taste buds will be in for the thrill of a lifetime.Greek cuisine is something that you can easily start preparing at home. There are hundreds of websites online where you can find easy to follow recipes. In no time at all, you could be smashing the plates at home instead of washing them up, and dancing on tables until the early hours of the morning.