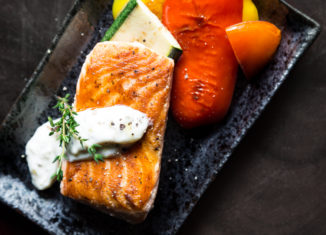 Like other Scandinavian nations, Sweden is famed for its fish dishes, but there are many different flavors, recipes, and delicacies to sample. Additionally, you can also try the Swedish nicotine snus, which is a top-quality snus and is a must if you're interested in exploring the ancient Swedish history of the 15th century.

Swedish food is exceptional – to be relished one delectable meal at a time. Here are the top six Swedish dishes you must try, especially if you're in Sweden.
Authentic Swedish Dishes You Must Try
1. Korv stroganoff
Despite sharing a name with the traditional Russian beef dish, korv stroganoff is an entirely different experience for a meal. There are some similarities, such as the spiciness of the paprika-seasoned sauce, the cream, and the onions, but that's about it.
Instead of beef, this meal employs the Swedish falukorv (a variety of smoked sausage), diced tomatoes, a scoop of tomato puree, and a pinch of chili. A final swirl of single cream adds velvety richness, and it's served better over a mound of steaming, fluffy rice.
2. Smörgåstårta
If you enjoy cake and sandwiches, you'll enjoy this sandwich cake delicacy. After layers of bread have created the structure, which is often filled with either prawns or eggs in mayo, the entire thing is topped with grated cheese flavored with lemon juice and then adorned.
And this is when something starts to get interesting. Fish roe, tomato slices organized in star shapes, cucumber strips, and olives and herbs might all play a role and embellish the upper layer. The result is a showpiece worthy of a centerpiece.

3. Flygande Jakob
This meal is a curry casserole with a few modifications for the more daring cook. The main element is chicken – so far, so good. Garam masala and a splash of chili sauce give heat, while milk and cream contribute richness. Things go a little wild when bacon is used as a salty, crispy garnish.
The salted peanuts are then crushed and mixed before serving. The actual surprise ingredient? Bananas are cut and tossed into the chicken curry. Sweet, creamy, fruity, salty, spicy – this recipe has a little of just about everything.
You must also try Swedish snus, a prevalent tobacco product used in Sweden and Norway.
4. Jansson's Temptation
Jansson's frestelse (Jansson's temptation) is a Christmas tradition best characterized as a gratin-style buttery potato-and-sprats casserole. The delicacy can be enjoyed anytime, although Swedes prefer it during the holiday season.
If you're curious about the unusual name, it's claimed to be nicknamed after a prominent Swedish opera singer and epicurean, Pelle Janzon.
5. Gravlax with dill potatoes
Gravlax (dill-cured salmon) has moved throughout Sweden to adorn tables worldwide today. It's usually accompanied by a mustard sauce that has French origins. A mainstay on the classic smörgåsbord, gravlax is finely diced and typically served with chilled potatoes and dill. It's terrific.
6. Pickled herring
Since the Middle Ages, herring fishing has been a primary industry in Sweden. Today, the pickled herring caught by Swedish fishermen is the centerpiece of the smörgsbord, the traditional Swedish spread that includes meatballs, small sausages called prinskorv, and cured salmon.
Pickled herring takes many flavors – dill, mustard, onion, garlic – and is commonly offered with sour cream, potatoes, and sometimes even boiled eggs.
In conclusion, all of these foods are worth trying if you want to taste Swedish cuisine.