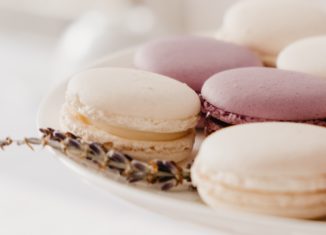 Small, pillowy and delicate, Macarons are probably the most famous and recognizable French dessert. This sweet comes in many tastes, but what's even more attractive to consumers is their colorful aesthetics that makes everyone who grabs one feel like French royalty. However, macarons weren't always so lux and glam. Here are a few things to know about this "humble" dessert.
Macaron vs. Macaroon
Just to make things clear, macarons and macaroons should never be mixed up, yet they do because of their similar name. Macaroons are tasty yet not so presentable small balls of coconut, often dipped in chocolate. On the other hand, macarons are more elegant little treats made with two cookies with some buttercream filling in between. The cookie is traditionally made with meringue and almond flour. Now that we have the name confusion out of the way, it's time to learn a little bit about macaron's history.
Macarons are old
Macarons are not a modern invention. They first appeared in Europe back in the Middle Ages. During that time, macarons were just humble little cookies made of almonds, egg whites and sugar, very crunchy on the outside yet soft on the inside. The French usually like to take all the credit for the macaron, but this dessert is actually Italian. Historians think that Catherine de Medici brought them with her to France in the 16th century. In Italy, the maccherone was produced in Venetian monasteries since the 8th century and it was known as the 'priest's bellybutton' due to its round shape.
However, French really do have their hands in the creation of the macaron, since they popularized this confection. The first-ever written recipe of macarons came to light in the 17th century France, but since then, many new varieties emerged.
Macarons we know and love today
The macarons of today look very different than the original cookie. Modern macarons, two meringue cookies with filling in between, were invented in Paris in the 1830s. Ladurée introduced the world to the Macaron Parisien a little bit later and the rest is history. This famous company started by Louis-Ernest Ladurée is still the most famous producer of this treat.
Modernization of the macaron
With modern technology come modern macarons. Today, you can find amazing macaron cookie sandwiches all around the world from England and Turkey to Saudi Arabia and Japan. Even Americans are obsessed with this European treat, so you can find quality macarons in bakeries that specialize in French desserts such as Bonpastry based in Southern California. And don't think these out-of-Europe macarons are of low-quality—they are just as tasty and attractive as their French relatives!
Mass production
In 2007, French McDonald's started selling cheap and less-gourmet versions of the macaron. Harrod's in London started selling this treat from specialized stands, while Starbucks invested in limited-edition macarons. However, most famous shops still have the original Ladurée brand mark, but today you can find them outside of Paris as well.
The first flavors
Original macaron flavors were usually almond, but pistachio, vanilla, chocolate, lemon and blueberry were also present and beloved. At the beginning of the 21st century, confectioners even started mixing flavors of the cookie and filling which resulted in interesting flavor bursts. Today, however, you can find macarons in all flavors imaginable as this little cookie goes through many imaginative and skillful hands. There are even salty and savory variations with salted caramel and bacon jam.
Macarons are historically gluten-free
Good news, gluten-free sweet lovers—macarons are a perfect indulgence for you. They are one of the few desserts that are originally gluten-free since they contain very little ingredients besides almonds, eggs and sugar.
It has its own day
In 2005, a famous French confectionary house called Pierre Hermé pronounced March the 20th the official Macaron Day. So next year, make sure to come prepared and grab a box of these cookie sandwiches and participate in the celebration of the deliciously sweet macaron!
Macarons are truly unique and perfectly glamorous little treats, so no matter if you're on a diet or trying to cut sugar, there's no way you can resist grabbing one (or five) of these colorful cookies. Now that you know more about their history, they will taste even more delicious!