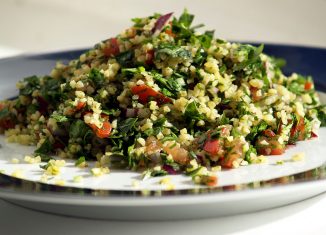 Lebanese foods and food customs in Lebanon:
Lebanese cuisine is usually Mediterranean cuisine. Most traditional Lebanese dishes are very simple ,and for making these delicious foods they use cereals ,beans and vegetables most of the time . Sometimes the people in Lebanon used from a food ingredient such as chickpeas in different ways and in a variety of foods . In Lebanese foods use ingredients like yogurt ,cheese ,cucumber,eggplant ,chickpeas,whole grains such as almonds and pistachios and also tomatoes and sesame . The very artistic food mixed and then we can make many varied foods by using them . Parsley and mint are also used as much as onions,garlic and lemons . Lebanese dishes are usually spicy . In fact ,Lebanese chefs tend to focus spices and freshness of foods rather than types of sauces .
It is interesting to know,Lebanese rarely use animal fats in their diet and have limited their use of butter and cream to just a few desserts. bird meat is also preferred to red meat . Lebanese coastal people prefer the lamb and the mountainous area will choose goat meat . Rarely you do find Lebanese food that lacks olive oil ,garlic and lemon juice. Most Lebanese dishes are also made by barbecuing ,roasting or with olive oil .
Lebanese food :
Lebanese usually serve some appetizers before the main meal . Each of these snacks put into plates and called meza . The Lebanese meza is made from two tasty salads called Tabbuleh Fatush , Hummus (a mixture of chickpeas ,curds and olive oik ),Baba ghanoush (something like eggplant)and also kibbeh ,Dolma and so on . Baklava ,rice pudding and pastry called "Um Ali " are also used as desserts in Lebanon. (Um Ali is a kind of jams made from coconut ,raisins and milk ). Appetizers are usually serves without knife and fork .
After meze ,the main dish is served ,which is mainly kebab . Along with kebab ,serving rice in not common ,but fried potatoes,curds and most importantly yogurt are common in Lebanese table . But one of the very bad habits of Lebanese is that they generally smoke hookah after meals .
Olives is one of the items that must be existed at breakfast, lunch and dinner . That is ,even if you have not prepared any food for your gust but the olive must be on the table . The Lebanese olive (green or black ) is a bit bitter but it is very tasty .
Lebanese cuisine is always a favorite of tourists visiting Lebanon. Recently,Lebanese restaurants have grown in western countries,indicating that Lebanese cuisine is welcomed by Westerners . Generally,Lebanese cuisine is a blend of European cuisine with Eastern flavors that has a major role in modern Arab cuisine. Lebanese cuisine is nowadays a symbol of Arab cuisine in the international community.
Lebanese food Lebanese Rice Pudding:
Ingredients:
1 quart whole milk
3/4 cup rice
1 cup sugar 2 to 3 Tablespoons vanilla
Spoonful of orange marmalade (optional)
Procedure:
Cook the rice according to package direction .
When rice is cooked ,add the sugar and milk and mix well
Continue cooking over medium heat for 3 to 4 more minutes.
Remove the pot from the stove .Add 2 to 3 Tablespoons of vanilla and mix well .
Serve topped with a spoonful of orange marmalade.
Lebanese food ,Tabbouleh:
Ingredients:
3/4 cup cracked wheat ,finely ground
2 cups fresh tomatoes,diced
2 tablespoons dried mint
1 or 2 bunches of parsley ,cut fine
3/4 cup green onions,thinly sliced
Juice of one lemon
1/4 cup olive oil
Salt and pepper to taste
Procedure :
In a bowl ,cover cracked wheat with warm water and let stand about 15 minutes. Drain thoroughly .
Mix tomatoes,mint ,parsley ,onions,lemon juice,olive oil,and salt and pepper in a separated bowl .
Add the drained wheat and mix well.
Add more lemon juice and olive oil,if needed .Refrigerate at least 1 hour .
Serve in a bowl ,or on a bed of lettuce leaves ,with pita bread cut into triangles .