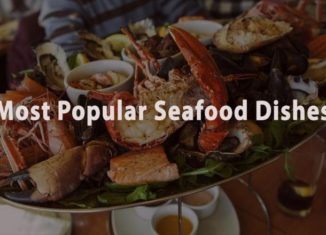 Fish is one of the most liked seafood options. Not only it is delectable but has a number of health benefits too like Vitamin D, Omega 3 fatty acids and proteins. If you are a fitness freak and looking for some finger-lickin' good recipes of different types of fishes, we got them for you here!
Lemon Red Snapper with Herbed Butter
American Red snapper is one of the most popular fishes among Americans because of its adaptability to all kinds of taste and seasonings. The fish is firm with moist flesh and a sweet mild taste.
Ingredients:
Lemons 2
Red snapper fillets 4
Salt ¼ teaspoon
Black pepper ¼ teaspoon
Paprika ¼ teaspoon
Chopped fresh herbs 1 ½ teaspoon
Softened butter 2 tablespoon
Cooking spray
Method
Preheat oven to 425°.
Cut one of the lemons into 8 slices.
Grate the other lemon to get lemon rind.
Coat the baking tray with a cooking spray and spread them on the sheet.
Place the fillets over the lemon slices and sprinkle all the dry ingredients on it.
Bake in the preheated oven for 13 minutes or until done.
Mix together butter, lemon rind and herbs in a bowl.
Once done, place the fillets individually in plates and pour this mixture over them.
Garnish according to your desire.
Eye pleasing and moth watering Lemon Red Snapper with Herbed Butter is ready!
Snapper with citrus tomato sauce
American snapper is a fish with a mild nutty taste thus it goes great with all mild, sour or spicy flavors. Let's tell you one such hit recipe which is going to make your guests ask for more!
Ingredients
American red snapper 1 pound
Salt and Fresh black pepper To taste
Crushed red pepper ½ teaspoon
Garlic 2 cloves
Lemon zest 1 tablespoon
Olives ½ cup
Diced tomatoes 1 can
Onion chopped 1 medium
Olive oil 2 tablespoon
Fresh dill, Fresh chives and fresh parsley chopped 2 tablespoon
Method
Firstly season the fish well with salt n pepper.
Now add a little bit of olive oil in the skillet and put the fish when the oil is moderately hot.
Cook till the fish gets a light brown color on both sides. Make sure not to overdo this step.
Take out the fish and transfer to a plate.
Next, let's prepare the sauce.
In the same pan, add the remaining oil and chopped onions.
Add garlic along with crushed red pepper and cook for no more than 30 seconds.
Now stir in the lemon zest, tomatoes and olives into the pan.
Bring it to a simmer and cook covered for 5 minutes.
Add in the herbs and the fish into the pan and cook it until completely done.
Take out in the dish and top with lemon wedges and fresh herbs.
Drool-worthy snapper with citrus tomato sauce is ready.
Corvina ceviche with sweet potatoes
Corvina ceviche is a very popular dish of Crovina fish. This recipe is how exactly a great ceviche should be; crunchy, savory, sweet and rich!
Ingredients
Diced skinless Corvina fillet 1 pound
Peeled and diced sweet potatoes 1/3 pound
Maple syrup ¾ cup
Lime juice ½ cup
Celery juice ¼ cup
Salt 1 tablespoon
Jarred spicy yellow pepper paste (Aji Amarillo paste) 2 tablespoons
Finely chopped celery, cilantro, red onion 1 cup
Method
Let's first make the candied potatoes by putting the sweet potatoes and the maple syrup in ¾ cup water and bring it to a boil.
Reduce the flame but let it cook until the potatoes are soft yet hold their shape.
Take the potatoes out once done and let them cool.
Put the wedges back in the syrup till we prepare the fish.
Now add all the remaining ingredients including the Corvina in a bowl and combine well.
Transfer the ceviche to a shallow plate and serve with a side of candies sweet potatoes and garnish with cilantro.
Serve this Peruvian delicacy instantly.
Bangamary fish curry
Bangamary fish curry is a favorite food among Guyanese people and why shouldn't it be? It is just so tasty!
Ingredients
Bangamary fish 1 pound
Curry powder 1 ½ teaspoon
Roasted ground cumin 1 teaspoon
1 ½ teaspoon all spice powder
Red chillies whole 2
Salt to taste
Pepper to taste
Garlic 5 cloves
Onion chopped ½ medium
Tomato chopped 1 medium
Thyme and scallion 1 cup
Flour to coat
Method
Start the procedure by making fillets of the fish and soaking them in Lemon water for a few minutes.
Season the fish with salt and pepper and put aside.
Next, chop together garlic, thyme and red chillies together until well combined.
Dip the seasoned fish in the flour and fry until done properly.
Next mix together all spice powder, cumin powder, curry powder and the garlic mix we prepared. Add some water and make a paste.
In a pan, heat oil, add scallions and onions and sauté until soft.
Add the paste and tomatoes and cook covered for 5 minutes.
Lastly add the fish to it and enough water to make the curry.
Serve immediately and enjoy hot.
All these recipes are great for fish cravings or any Sunday brunch with your friends. Try out yourself to find out how delicious they are!