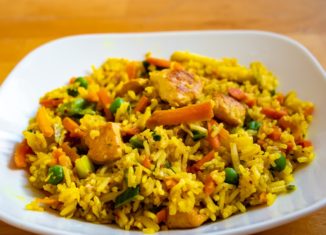 Rice is one of the most important cereals in the human diet. It's an excellent source of vitamins and minerals such as iron, calcium, vitamin D, fiber, niacin, thiamine, and riboflavin. All of these vitamins are essentials in the body's metabolism, immune system strength, and general body function. Rice is a dish full of properties and health benefits, that means the staple food for more than half the world's population and it's probably the most appreciated cereal for its well-balanced properties.
A really versatile staple food
These are just a few of the countless reasons you cannot dismiss it in your diet. Thanks to all these qualities, rice can be the star in a lot of recipes that can be served as a single dish, accompanied by vegetables or legumes to complement it nutritionally. This can be done by using it, for example, in vegetable fillings such as zucchini, eggplant and baked peppers, or in risottos and paellas.
Rice can be cooked with garlic, onion, celery or aromatic plants such as bay leaf or coriander. Saffron or turmeric help dye it yellow. To give it an eastern touch, seasoning it with curry or some finely cut shiitake is more than enough. It's also excellent as a garnish, for which its presence can be increased by shaping it with a mold greased in oil and sprinkling it green with chopped chives or parsley.
Many people often think that cooking rice might be a very complicated task, but as you can see, there are so many ways to prepare this incredible food, and so many other ingredients you can mix it with in order to get the best of it without spending much of your time. Among the long list of easy and quick rice recipes you can find on the Internet, here are the easiest, quickest and, of course, the most delicious ones for you to make and enjoy in the company of your loved ones.
Instant pot chicken and rice
Whenever you don't feel like either cooking or cleaning after a long hard day (which can be really annoying for any person), one of the best options for you to choose is the instant pot chicken and rice which is so easy to make, since the instant pot will help you in cooking.
Ingredients:
3 skinless and boneless chicken breasts or thighs.
Some veggies like onion, carrot, minced garlic and frozen peas.
Parmesan cheese.
Olive oil.
Rice.
Water or broth.
Seasonings.
It is recommended to have all the main ingredients (chicken and veggies) ready before cooking since the sautéing part of the preparation moves really quick.
Preparation:
Preheat the Instant Pot by selecting the Sauté function.
Add some oil and veggies and wait for around 4 minutes.
Season the chicken with some salt and pepper, add the water or broth and stir in all the ingredients.
Close the lid and set to the manufacturer instructions.
Using an instant pot means preparing an easy meal in less time and cleaning up less afterward.
Rice with tomato sauce, egg and green plantain
The classic one, known as "Cuban Rice", is a very famous recipe in many countries and one you may have eaten once or twice before. It must be made clear that this dish is originally from Spain even though Cuba is mentioned in its name.
Ingredients:
200 g of white rice.
Homemade fried tomato.
A plantain.
2 eggs.
Salt.
1 garlic.
1 Bay leaf.
Instructions:
Peel the banana and brown it in a pan with a little butter.
Cook the rice in salted water. Once the rice is done, you have to sauté it with a bit of olive oil and garlic.
Regarding the fried tomato, although you can use the typical one. If you have the opportunity to make it homemade, much better.
Fry the two eggs in plenty of hot oil.
Finally, it's served with a cup and we make a little "mountain", and we accompany it with two fried eggs and a banana. cover it with homemade fried tomato and eat with a good piece of bread, if possible.
There are many variations of these recipes, but whichever you choose to prepare you will surely get a delicious dish in record time.