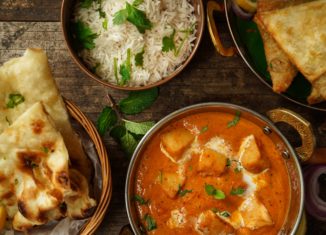 Indian cuisine is renowned for its excellence. Many of the country's dishes and menus are inspired by its culture and heritage. Although India has a variety of unique cuisines, these five traditional Indian dishes are sure to please even the most discerning palate:
Vada pav
In India, vada pav has been around for decades, mostly because it is quick and easy to make. These dumplings made of dough, potato or chickpea flour, spices, and vegetables, like cauliflower or peas, are deep-fried. In Maharashtra, these two ingredients are combined to make a delicious vegetarian burger with a crisp crust.
Paratha
Parathas originated on the Indian subcontinent in the sixteenth century. The name likely derives from the Sanskrit word "atta," which means layers of cooked dough. This flatbread is made by mixing wheat flour with clarified butter to achieve a sweet and savory combination
Dal makhani
Dal is a staple dish of Indian cuisine, made from split pulses that have been soaked and boiled. It is usually served with rice, but there are many diverse types of dal, including dal makhani, which is cooked with spices, red chilies, and mustard seeds before being blended. Although it is quite difficult to prepare and takes time to cook, the result is worth the effort. However, if you don't want to cook Chaat at home—which is understandable because it's sometimes hard to create this spiced, complex, and flavorful dish—then order it from an Indian food meal delivery service.
Chaat
Chaat is popular street food in India that's made with many spicy ingredients that work well together. You can eat this popular snack in many different ways, including with the traditional Indian crunchy cracker, called papadum.
Masala dosa
Dosas are a traditional South Indian dish that date back to the Vedic period. They are typically made with fermented rice and lentil batter. You can either cook the mixture in ghee or add cooked lentils and rice to thicken the batter. The dosa is sometimes compared to a pancake, crepe, or omelet.
Discover These Delicious Dishes
India's food scene has a rich history of regional specialties and fusion cuisine, a country renowned for its impressive and rich culinary history. You're in for a treat if you've never tried these dishes. You can follow recipes online to make them at home or order them from an Indian restaurant. Once you try a few of these dishes, it won't take you long to realize why India has a reputation around the world for being a land of diverse cuisines.