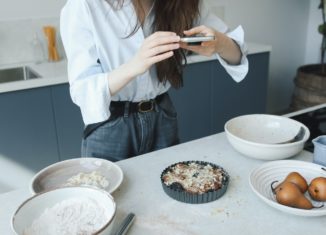 Whether you're just a foodie interested in documenting your learning experiences or you're already an experienced chef with a ton of recipes to share, a food blog can be a great way to express yourself in the most creative way and also make money with it. Being successful in the popular world of food blogging can be challenging, so you need to ensure that you've made the necessary steps to prepare your food blog. So, if you're wondering how to run a successful food blog, here are some tips to help you launch your food blog today.
Choose a niche and an effective domain name
Due to the vast number of food blogs on the Internet, it's essential to choose a specific niche. It will be used to aid you in creating your marketing campaign and in defining your target audience. You can pick from endless options of niches, from cheap cooking, home cooking, and foods from certain areas to foods prepared in a certain way. Although free blogging platforms are a great way to get started, to give your blog more authority, it's essential to invest in your own domain name and a hosting plan. When choosing a name for your food blog, keep it descriptive, memorable, short, and easy to remember and spell. Since you're building a personal website, consider using your own name as your domain name. So, get creative and choose the .me domain to help you build a unique online identity. In terms of hosting, you will be okay with shared hosting, at least in the beginning. You can visit hostadvice to find the best hosts for such a solution.
Be clear and consistent
By having a clear and sleek website design that's easy to read and navigate, you avoid unnecessary clutter which draws away from the content you create on your blog. If food blogging is your primary source of income, then you can't really avoid advertising. Do try to avoid the ads popping out or place them off to the side of your blog, as it can ruin the readers' experience. When it comes to consistency, nothing can lose your target audience faster than inactivity. Whether you'll be adding posts once a day, every week, or once every other week, you mustn't let your blog seem abandoned. The key to growing your target audience is to set a regular posting schedule. It would be best to add a post once a week or more and stick to that schedule.
Pick your food blog theme and include detailed recipes
Whether you choose a WordPress theme or you have your blog custom-designed, it's essential for it to match your ideas with your design. Also, keep in mind that the content you publish, such as your recipes, should be explained in detail and easy to follow. If it's possible, you should include detailed step-by-step images, so your audience could get visual cues in addition to the text.
Include food photos
People are visual eaters and, as such, they can't taste, smell, or touch the recipes you're posting. For that reason, eye-catching photos are essential when it comes to running a food blog. Keep in mind that you should include photos of already made dishes that are tempting and aesthetically pleasing. Also, consider preparing the appropriate lighting and investing in a quality camera, which will make all the difference when taking compelling photos. This way, you'll surely attract readers to your food blog.
Promote your food blog
Your food blog can have the perfect ideas, but if no one knows about it, you'll never grow your audience. So, you need to start sharing your posts on social media networks, as it'll help you attract an audience and build a relationship with your target readers.