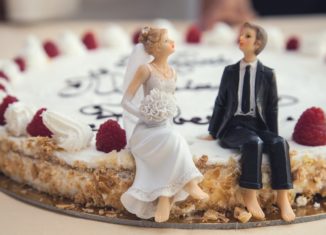 Any great wedding includes food worth talking about, and aside from any sit-down meals, many couples opt to provide yummy, inspired snacks' to keep their guests happy and well-fed.
In recent times, instead of offering up traditional cocktail party Hors D'oeuvres, many wedding parties are opting for a trendy alternative, arranging 'snack stations' with inspired themes. Wedding food stations can be dotted around the venue, allowing guests to mill about, trying each scrummy offering as they enjoy themselves.
There are many inspired wedding snack station ideas to choose from and plenty to help keep your choices in line with the overall theme and style of the wedding reception. Here are nine great ideas for wedding snack stations.
1. Sushi station
Sushi has become an extremely popular snack in recent years, so it's not uncommon to find a sushi station at any modern wedding. In addition to all of the most popular choices, such as California rolls, teriyaki varieties, shrimp, or vegetable tempura rolls, you could even have a sushi chef in attendance ready to whip up any custom requests.
2. Cheese board station
Who doesn't love a cheese board? A cheese and charcuterie station is a great way to provide a range of flavors to suit most tastes, and is a fairly easy station to put together, as it requires no cooking.
Of course, you'll need a selection of various cheeses, including soft and creamy brie and camembert, aged blue cheeses, and other sharp and interesting flavors. From there, add a range of flavors and textures with a variety of meats, such as prosciutto, ham, and salami, and then finish with a range of premium sauces (such as quince paste, mustards, etc.), olives, dried fruits, chutney, nuts, and plenty of breads and crackers to enjoy it all with.
3. Popcorn station
Popcorn is one of those age-old snacks that is suddenly having a brand new hay day, with a plethora of delicious flavors, both savory and sweet, some subtle, others bold.
Popcorn is such a versatile snack, making it a great choice for a wedding, as it is so easy to provide something for everyone. Guests can try a wide range of flavors, such as classic butter or caramel, to savory varieties like pickle, salt and vinegar, cheese – even the most apt of them all, wedding cake flavored popcorn!
4. Fried potatoes station
This is a great option for a cost-effective way to fill your guest's tummies with something yummy. Potatoes are another really versatile food, from potato chips, french fries, hash browns, and Spanish potatoes (baby potatoes baked with a salty skin), to a variety of toppings and dipping sauces. Gravy, blue cheese dipping sauce, garlic aioli, curry sauce; so many flavors to choose from.
5. Pretzel bar
Pretzels are similar to popcorn in their versatility, as they suit either sweet or savory accompaniments well. A great pretzel bar will feature plenty of sauce options, such as melted cheese, chipotle, mustards, and Nutella, to please all palettes.
6. Mediterranean bar
Mediterranean snack cuisine is a wonderfully charming, richly flavored snack choice, similar to a charcuterie board but with more variety. Think hummus, taramasalata, a variety of olives, baba ganoush, sun-dried tomatoes, dipping breads, and tapenades – Mediterranean foods are healthy and packed with flavor.
7. Asian food station
Another cuisine that offers up a vast selection of delicacies is Asian food. Depending on which country or countries your menu focuses on, you can ensure there is plenty of variety, as well as dishes that range from mild to spicy (make sure hot and spicy dishes are labeled clearly).Plenty of bite-sized dishes to choose from across Chinese, Japanese, and South Korean cuisine, such as dumplings, shrimp toast, spring rolls, and satay skewers.
8. Ice cream bar
An ice cream bar makes for a delicious wedding treat, and can even be used as an alternative to a traditional wedding cake. When it comes to ice cream toppings, you can be as traditional or adventurous as you like – syrups, nuts, fruit, sprinkles, or you could take inspiration from the ice creameries that smash up sweets and candy bars and mix them in with the ice cream flavor of your choice.
9. Kids snack station
They say there's a big kid inside all of us, so why not bring this childlike energy to life in the form of a wedding snack station? A kid's food-inspired snack station could either have all the traditional favorites of a children's birthday party as they are usually served, or you could ramp it up a notch. There are many food decorations, dyes, and more that could transform kiddy snacks into something decadent – pearlescent sprinkles (on cookies and cupcakes), edible gold foil-decorated donuts, a rich chocolate fondue; the opportunities are endless and so much fun.
Final thoughts
With a little creativity, snack stations can be a fantastic way to give your wedding guests some delicious treats, with a little something for everyone. They can also be decorated to match in with the theme of the wedding, turning any cuisine or treat into a fitting addition to your special event.