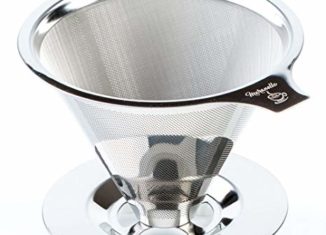 Pour over and drip caffeine beverages are made with the help of filters. Too often people focus solely on the most conspicuous things, like the quality of the beans or equipment, forgetting that coffee filters are also very important. Keurig's automatic makers also use filters, and it's up to you to choose the best one.
French Presses also utilize coffee filters, but in these products, filters are usually built-in, made from stainless steel. While this can come in handy, because you don't have to change coffee filters all the time on your French press, it is also a bad thing. Trying out new coffee filters and finding the ones that suit you the most is one of the biggest joys of brewing the perfect cup of java.
First of all, there are two types of coffee filters:
1. One-use coffee filters (disposable single-serve)
2. Reusable coffee filters
Secondly, they come in many shapes and sizes such as:
1. Basket
2. Cone
3. Disc
Usually, coffee filters are made from paper, hemp, plastic, metal, and other materials.
Metal coffee filters are usually made from stainless steel, as this type of metal is one of the most durable ones. Generally speaking, these products are a long-term solution- they will last for a long time. On the other hand, metal filters, while being extremely sturdy and robust, stop the sediments and residues thanks to tiny holes. These holes are small, but they cannot stop all the grounds, especially when you use extra fine grind type.
On the other hand, paper and hemp filters don't have holes. Although you'll have to change them every once in a while, they are extremely efficient at stopping excessive grounds. At least when they don't tear. The fine texture and structure of paper and hemp is an extremely good filter, arguably better than steel with tiny holes (which is the essence of steel filters).
So, the choice is yours: either you'll buy a steel filter that you can utilize for an indefinite amount of time, or you'll buy a set of paper filters which have to be changed after each use.
Some manufacturers emphasize the fact that their metal coffee filters are environment-friendly. While this might be the case, companies that sell paper coffee filters accentuate the fact that their products are biodegradable, which is also true. In other words, there are no simple answers. Both options (metal and paper) are eco-friendly and efficient. Products made from metal are usually more expensive.
Because it's practically impossible to choose between the two, we'll choose the 2 best coffee filters from each category (paper and metal)
Best Paper Coffee Filters Duo
Brew Rite Coffee Filter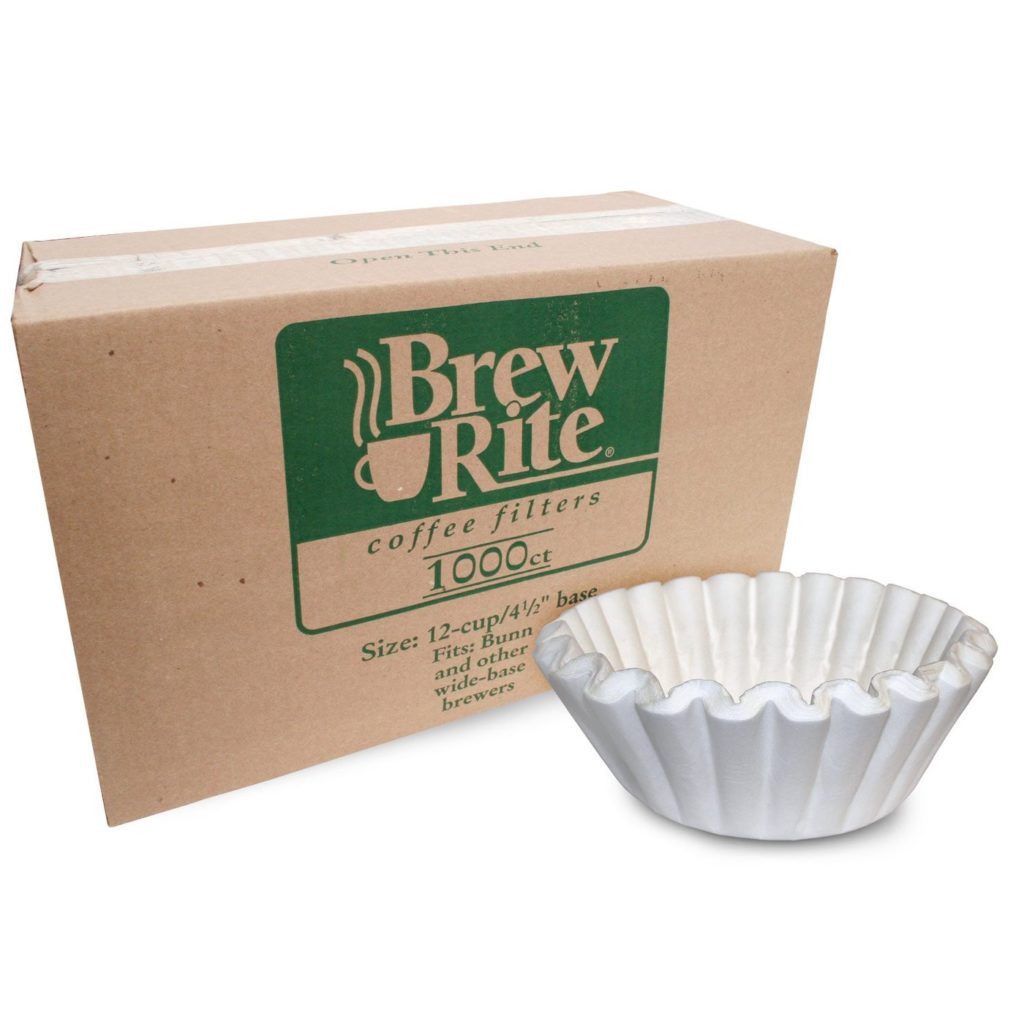 We think that these are some of the best coffee filters on the market for two reasons: there are no complications with this product. It is made from classic white paper. Secondly, Brew Rite's offer is more than generous- you'll receive 700 filters for only $10.33 (0.01 per count).
So not only will this product come in handy in your barista craftsmanship, but you'll also get one of the best bangs for your buck!
As these are simple paper products, they are completely biodegradable and environment-safe. Polar bears and Siberian tigers can be in peace when they know that you're using products that are ecologically safe and non-threatening.
Pros and Cons
| | |
| --- | --- |
| Pros | Cons |
| Affordable | Every now and then you'll come across a badly made filter. But that's kind of okay as there's 700 of them. |
| You'll get a lot of filters- you'll even forget the last time you bought your favorite Brew Rite Coffee Filters | More fragile than most other coffee filters |
| | |
| | |
Chemex Classic Coffee Filters, Squares, 100 ct – Exclusive Packaging
This is a "fancy" variant of disposable filters, but they are worth it. Cutting-edge technology has been used in the process of making Chemex products. For instance, these filters have a special fiber that will stop grounds or bitter elements.
Of course, this comes with a price. Chemex Classic is 7x more expensive than Brew Rita coffee filter, but, on the other hand, Chemex products are 20 to 30% thicker than the competition, hence a better efficiency. Because they are thicker, it is even harder for excessive grounds and sediments to get through and spoil your favorite caffeinated drink.
This product compensates for the biggest flaw of metal coffee filters. Special thick Chemex structure is extremely efficient in stopping everything that might spoil your beverage's flavor.
Pros and Cons
| | |
| --- | --- |
| Pros | Cons |
| Extremely efficient | Expensive (considering that you'll only receive 100 filters) |
| 20% to 30% thicker than the competition | |
| | |
| | |
Best Metal Coffee Filters Duo
GoldTone Brand Reusable
We've decided that this is one of the best coffee filters because of its revolutionary design and interesting cone structure. Most stainless steel products have larger holes that let more sediments and residues through, but GoldTone Reusable, thanks to its ingenious design, solved this problem. Precisely manufactured in the US, this is a real long-term solution!
This product is extremely easy to clean which is extremely important for reusable products. You don't want to end up with a coffee filter that you have to clean for hours.
Gold-Tone will fit most makers and models.
Pros and Cons
| | |
| --- | --- |
| Pros | Cons |
| Affordable- less expensive than most reusable coffee filters | Might be less efficient than paper alternatives |
| Smart design | Hard to clean |
| | |
| | |
Maranello Caffé Steel Reusable Coffee Filter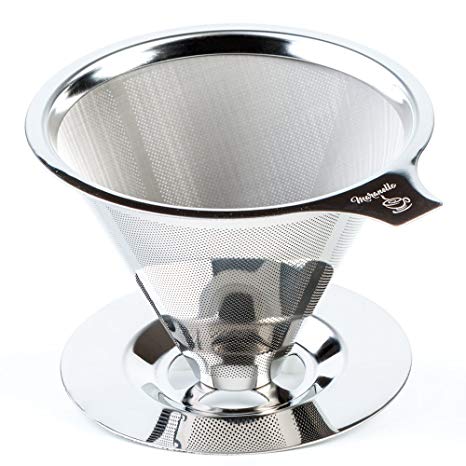 One of the best things about this Maranello is the Lifetime Warranty, and 90 days, money-back guarantee with no questions asked. It has the so-called flow-through design, which is made thanks to cutting edge, laser technology. This design consists of an outer filter and an inner mesh layer. According to the manufacturer (Maranello), this design will result in the most ideal beverage with an optimal amount of coffee oils and other essential ingredients.
Great for people who like long-term solutions. Reusable coffee filters will save your time if you look at it from this perspective: just think how many times you'd have to buy your set of dispensable coffee filters. You cannot even count this, even if you buy in bulk. In other words, you'll lose a lot of your valuable time. Well, this doesn't happen with reusable, stainless steel coffee filters.
Pros and Cons
| | |
| --- | --- |
| Pros | Cons |
| Lifetime warranty | |
| 90 days money back no questions asked guarantee | |
| | |
| | |
Conclusion
We hope that you didn't "filter" all the information we gave you in this text, as it will come in handy in your quest for the perfect cup of java.
The filter is the underdog in the world of coffee-brewing. Everyone turns their focus towards the most conspicuous aspects, like the type of blend, coffee beans, roast, and coffee-brewing technique. But even if you get all these aspects right, your coffee will have a vile taste and even worse scent, if you utilize a bad set of filters. This is why we encourage you to take some time to find the products that work the best for you, you'll see it's worth it!
Cheers!
| | | |
| --- | --- | --- |
| Melitta Natural Brown Basket Coffee Filters | B01GNRYFRM Thanks to textured paper, all sediments will be trapped and won't enter your java. Best used with electric drip coffee makers, and will fit most 8-12 makers. Will not tear easily, resistant to damages. Made from natural unbleached paper. | $10.03 (200) Amazon rating- 4.7 |
| GoldTone Brand Reusable | B01N6IXG63 This is a rare "made in the USA" product in this list. Made specifically for Cuisinart machines, it will also work for some home improvisations (especially pour-overs). It's easy to clean and reusable. | $5.99 (1 reusable product) Amazon rating- 4.3 (This product is listed as "Amazon's choice") |
| Cafellissimo Paperless | B01DSDWTYA This cone coffee filter will work with all kinds of grounds and roasts. Metal filters usually let result in stronger, more powerful flavors and scents. This one is made from stainless steel with a reinforced steel mesh that will last a long time. The bottom base is also rather sturdy and won't break under pressure. This coffee filter is also very lightweight and compact, so you can carry it around while on vacations. | $15.94 (1 stainless steel product) Amazon rating- 4.1 |
| Disposable, for Use in Keurig Brewers | B00BUFJBQS These are disposable coffee filters, used exclusively with Keurig brewers. They are simple to use- there is no mess, no cleaning, and absolutely no worries about residues finding their way into your drink. If you like K-Cup products, then these filters are the right choice for you! | $14.95 (300) Amazon rating- 3.9 |
| Brew Rite Coffee Filter | B000XP3298 These are classic white paper coffee filters. No complications, fancy technologies, gimmicks, etc. Just filters, as it should be. | $10.20 Amazon rating- 4.5 (700 counts) |
| Chemex Classic Coffee Filters | B000N4W2SG These products come in exclusive packaging, and they are 20 to 30% thicker than the competition (according to the manufacturer- Chemex). They are folded to make it more convenient for you to use them. Most java makers that use cone-shaped filters are compatible with Chemex products, so you'll have no problems with using them. No health risks are involved, these coffee filters are completely safe to use. | $11.61 (100 counts) Amazon rating- 4.4 |
| Slow Drip Coffee Filter Metal Cone by Ol' Blue – | B07DKFLCYY If you remember Caffellisimo stainless steel filter, well, this one is almost the same, albeit a bit cheaper. With this product, you'll be able to brew your daily dose of caffeine like a professional barista. Who knows, you can even become one! | $13.99 (1 metal coffee filter) Amazon rating- 4.0 |
| White Disc Coffee Filter | B01MF9UIM9 This is the first disc product on our list. It will fit all percolating makers. These products are made from pulp paper which was previously cleansed by oxygen. Sediments and ground coffee will most surely be kept out of your beverage. | $8.20 (100 count) Amazon rating- 4.3 |
| Coffee Filters – by California Containers | B01JBTPHS0 Completely made from unbleached, 100% natural paper, these filters don't pose a health risk. These baskets are rather big- 9.75" in diameter when flat. The most important thing- they won't disintegrate after they get into contact with water. A semi-permeable surface has microscopic pores that let the liquid through while stopping all the sediments and residues. | $11.49 (200 counts) Amazon rating- 4.1 |
| Reusable #4 Cone Permanent Coffee Filter Fit for Ninja Cuisinart Hamilton Beach | B07Q2W2C44 Another stainless steel product on our list. According to the manufacturer, using a durable, non-disposable coffee filter is an environmentally friendly way of doing things, and, of course, a sure way to brew impeccable beverages. This product comes with a warranty, so if you encounter any problems don't hesitate to call customer service and explain your problem. | $12.86 (1 permanent metal product) Amazon rating- 4.3 |
| OXO BREW Unbleached | B01MSJBR9V These natural filters are unbleached and are chlorine-free. Also, no additives were used in the manufacturing process. Best when used with pour-over coffee makers. | $7.60 (100 counts) Amazon rating- 4.6 |
| Ekobrew | B072Z6ZZ9Q Another product used with Keurig makers. As we've mentioned already, K-Cups become more and more popular, as they are easy to use, practical, and efficient. Ekobrew reusable filters are made from paper, and they can be used for several cups. This product is completely biodegradable, so you'll also be environmentally friendly. | $4.96 (100 counts) Amazon rating- 4.0 |
| Maranello Caffé | B01CRBVUTE Thanks to a 4-inch base, that will fit almost all mugs, cups, and other water holders. While it can be used for a single cup, this filter will help you brew up to 4 cups at once! You'll get a lifetime guarantee with this product, so you don't have to worry about anything. This filter has a dual filter system which means that your coffee will have even fewer sediments and residues. | $16.99 (1 steel article) Amazon rating- 4.4 |
| EZ-Cup Filters by Perfect Pod | B008I42AUS These filters work best when used with single cup brewers. They can be used with EZ and EZ-cup 2.0. These cups are sold separately, so you'll have to pay a bit more to get that perfect cup of your favorite caffeinated drink. Note that these filters cannot be used with Keurig 2.0 or similar makers. | $28.99 (300) Amazon rating- 4.6 |
| AeroPress, White | B005UPSLX8 This product is made in the USA, which is, of course, a big plus. They should be used with the Aerobie AeroPress maker, and it won't be compatible with other makers. Thanks to a micro-filter structure, all sediments and residues will be eliminated. | $10.75 (700) Amazon rating- 4.4 |