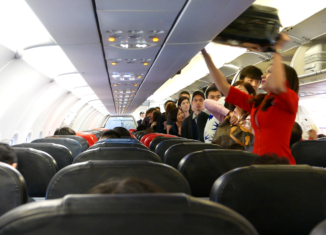 As long as you go abroad, to find a friend or a family member, it is normal to bring some food with you in several different occasion as if you want to bring food you may miss or if you have specific nutrition plan to follow or you have your kids with you. In the same way, when you go back home, you usually do it with some typical product of the country we have just visited. Ham, cheese, wine, liqueurs, chocolate, … but have you wondered if you can bring food on board or if you can bring food in your hand baggage? In this article, we see the legislation in force concerning the transport of food by air. But, first of all, is it possible to bring food on a plane?
In order to know if you can bring food in the air or in your hand baggage, you must check the current legislation in the country of origin and destination. If you are traveling within the European Union, there are no restrictions on the transport of food on board. It is possible to fly with products of animal origin since the countries of the community follow the same health rules. In any case, you must pay attention to the liquid substances within the permitted limits and check the dimensions and weight accepted by your airline and the European Union airports. These liquids may be transported on board if contained in individual containers of a capacity not exceeding 100 milliliters or equivalent, to be transported in a transparent plastic bag not exceeding 1 liter, separately from the hand baggage.
Can you bring food on the plane? The following products are allowed:
Powdered milk, homogenized, food necessary for medical reasons up to 2 kg.
Gutted fresh fish, preserves, crustaceans and other seafood up to 20 kg. These restrictions do not apply to fisheries products from Iceland or the Faeroe Islands.
Honey up to 2 kg.
Olives stuffed with fish.
Extracts and concentrates of meat.
Broths for soups and flavorings packaged for the final consumer.
Any other food product that does not contain meat and milk and also has a content of eggs or fisheries products of less than 50%.
We advise you if you are traveling from or to a non-EU country, to consult the legislation concerning the introduction of food products. To avoid the illegal trade, some countries follow very strict legislation for the transport of food on board and the exit of certain foods. Others forbid the entry of certain foods to prevent the spread of certain diseases or for religious reasons.
Check on the airport website and in the Embassy of the country of destination if you can bring food in your hand baggage, restrictions on weight, quantity, presentation, and packaging. These are the restrictions on the transport of food by the plane of the most common travel destinations. Please note some rules may change over time and each country adopt a specific legislation and each airline some particular restrictions so before heading to the airport please check the info out to avoid last-minute unpleasant surprises !
For example, The United States maintains the same policy concerning the transportation of liquids in the European Union. In general, processed products may be introduced into the country, but must be declared beforehand: coffee, honey, chocolate, non-cream cheese, spices, canned fish. Failure to declare can result in fines and penalties. It is not allowed to bring food on board when it comes to cheese from countries affected by the foot-and-mouth disease, meat, milk, eggs, poultry, and by-products, which are prohibited or limited, depending on the types of diseases that occur in the country of origin. It is allowed to partially bring fruit and vegetables, depending on its origin. As for alcohol, travelers over the age of 21 can carry one liter of alcohol per person, in case of larger amounts a fee will have to be paid. Muslim countries do not allow the entry of any processed product with pork, such as ham. In practice, the ham suffers from various limitations in countries such as Argentina, Mexico, Brazil, and China, where it is allowed only if sliced ​​and vacuum-packed. If you travel to Cuba it is forbidden to share certain foods in an airplane, for example, lobster, prohibited in any form and representation. From Russia, it is forbidden to leave with more than 250 grams of caviar and 1 liter of vodka per person.