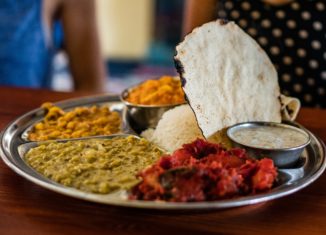 India is an amalgamation of different cultures and beholds speciality in numerous fields. India's famous dishes range from Litti chokha, Vada Pav, Puchka, Jhalmuri, and ends in rasgulla and mishti doi (sweet curd). One can find the dishes available in every nook and corner of the country. People now have been savouring these dishes all across the globe. The flavours these dishes offer is impeccable. But, if you think these are the only limited street foods India has got to offer, then just behold and check out some of the strange and offbeat dishes you never heard before.

Baby Shark Curry
India is often called the land of cuisines of the royals. The dishes served, such as Biryani, Kebabs, Curries, chutneys, tandoori chicken, are relished all across the world. But, if you want to try something new, then you may have the rare and expensive Goan dish made with baby sharks.
Frog legs
If you happen to be at Goa or Sikkim, you should try the delicacies made with frog legs. This delicacy is a part of Goan and Sikkim cuisine since forever. Besides being lip-smacking in taste, it also holds medicinal benefits as well. It beholds great value to the Lepchas community in Sikkim.
Phan Pyut
Apart from ravishing about non-vegetarian dishes, the list also counts on a vegetarian dish as well. A bizarre food made out of rotten potato is something one can hardly imagine. But, this dish is considered to be the most savoured one. It tops the chart of being the weirdest food on the list. But people do enjoy it, and they have no qualms on having the rotten potatoes as the main ingredient.
Sorpotel (Chouricos)
A pork lover should include this dish in their checklist. It is yet another Goan cuisine, which gets included as one of the weirdest food available in India. It is made with pigs offal, which in simple terms, is the pig's internal organ and entrails. Like many other delicacies in Goa, this dish also has got Portuguese written all over it.
Jadoh
Meghalaya offers numerous bizarre street food. Jadoh is one of the famous dishes which consists of rice cooked with the blood and entrails either of pig or chicken. It tastes like your regular pulao but is cooked with blood and intestines.
Bhang pakora
At the onset of the spring around Shivratri and Holi, the demand for this dish soars. Cannabis leaves are used to make these lip-smacking fritters.
Bheja fry
In India, people often refer to 'Bheja fry' phrase to describe how frustrated one has become after a certain responsibility has been bestowed on them. But little do people know that there's a dish with the same name. It is made out of lamb's brain. It is easily available in Hyderabad and Lucknow, though also popular in other parts of the country.
Onion ka Halwa
It is made by frying onions in butter and cooking it in slow heat with milk. The aroma and the sugar added to it provides it an edge in comparison to other sweet dishes. It has a heavenly taste.
Daulat ki chaat
The ones anticipating if Delhi has anything else to offer apart from Kebab, Parathas, and Momos, then he should look up for Daulat ki Chaat usually available during the winters. It is often referred to as God's own street food, and it is a dessert made by whisking the milk for hours, which is served with pistachios and mawa.
Haldi ka halwa
Haldi ka halwa is available during the initial month of January when Makar Sankranti is around the corner. As the name suggests, it is made from turmeric and is considered beneficial for health as well. It ensures immunity to the body and helps to fight cold. You can get the best quality turmeric from amazon pantry.
A foodie while exploring the dishes of India would include all these dishes into their checklist, but the commoners shouldn't be left behind. On visiting the various states, one should try looking for these bizarre cuisines and eat them in the best way possible. If you can't vistit India, you can also go to your local grocery shop and buy frozen Indian food – it will also be very tasty!