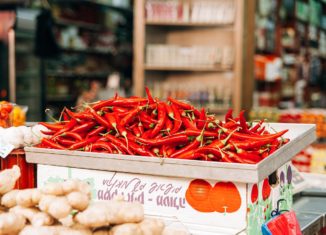 Spices have been known to offer the body several benefits. For one, research has shown that the capsaicin in chili peppers lowers the risk of getting cancer. Spicy food speeds up metabolism, reduces inflammation, offers antioxidants, and a lot more. How about reaping such benefits with someone you care for on a hot date? We have got you covered with some of the best spicy meals the both of you will greatly enjoy.
Whether in a restaurant or at home, these date night meals will get your hearts racing.
Kung pao chicken
This is a classic chicken dish that is originally from Sichuan Province, which is a region in China. Here, the cuisine is particularly known for its spicy and bold flavors. These are a result of the recipe's use of chili peppers and garlic. You will find this famous dish in almost every popular Chinese restaurant.
There is a westernized version of the recipe that contains diced and marinated chicken which is stir-fried together with chopped vegetables of one's liking; red or green bell peppers, carrots, celery, water chestnuts e.t.c, oyster sauce, rice wine, hoisin sauce, and a preferable amount of chili peppers for the hotness. Feel free to accompany this spicy chicken with your favorite main and side dish, but you will never go wrong with rice.
Penne all'Arrabbiata
Pasta lovers, we got you covered. "all'Arrabiata" is an Italian word that literally means "angry style." This pasta dish was fittingly named because of its spicy sauce that is put together using red hot chili peppers, tomatoes, and garlic. It is finished by sprinkling the pasta's top with fresh and nicely chopped parsley.
This dish is very easy to put together and therefore, it is ideal for those date nights that you might just be feeling a little tired or when you are in a last-minute rush. If you do not have your date in a restaurant, whip it up fast at home and impress your date. Don't forget some wine for a full Italian experience.
Stir-fried Beef with Broccoli
As the name implies, this is a stir fry beef recipe. The recipe is prepared using a lean sirloin steak, chopped broccoli, and carrots as the main ingredients. All these ingredients are tossed together in a pan and spices are added accordingly for the desired spiciness. Adding in oyster sauce is key for a slightly sweet flavor. You can add in a chili garlic sauce for an extra spicy kick. The dish is best served sizzling hot. You can accompany the dish with rice or, alternatively, it can be paired with stir fry noodles.
Achiote Chicken Tacos
Impress the person you care for with these powerful punches of flavor and spice. Tacos are a favorite for almost everybody and these Mexican delights can be enjoyed at any time of the day. This recipe filling is made from a combination and full blend of various spices; oregano, black pepper, garlic, allspice, cinnamon, garlic, and Achiote paste.
Achiote paste, also known as recado rojo is the center of these flavorful tacos. To balance out the intense spices of the chicken, serve the tacos with a cold pineapple salsa sprinkled with cilantro. This is the perfect combination of spices and sweetness.
Spicy and Sweet Prawns
Kick start your date with this excellent starter option packed with umami flavors. If you like a balanced combination of spicy and sweet, this one is for you. This prawn recipe is made using chili oil, oyster sauce, and dark soy sauce. All these ingredients come together to create a smoky meal with a sweet and sticky glaze. What makes it even better is that, apart from having the meal as a starter, you can pair your prawns with a delicious main dish such as jasmine rice, another flavorful dish.
Spicy meals are an actual delight with several benefits. The meals mentioned here are some of our favorites for a date to remember. For those who love spicy food, be it from chili peppers or actual spices, any of the recipes mentioned here will turn up the temperatures for you and your date. Make the next one the spiciest yet!