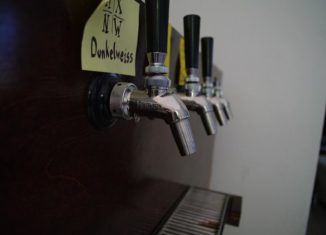 There have been many interesting developments in the world of beverages in recent years, especially where equipment for storage and cooling is concerned. But what if you wanted to not just store and cool a keg of beer but also dispense it from the same piece of equipment? That's what a kegerator does, and there are many different types that you can buy.
At Iron Mountain Refrigeration, leading suppliers of commercial cooling equipment, you'll find many examples of kegerators and refrigeration equipment that will suit your bar, so let's talk a little more about what a kegerator does, how it does it, and why you might need one.
What is a Kegerator?
The concept of the kegerator is actually a surprisingly simple one. In effect, it's a refrigerator designed to take a keg that also involves the pressurization needed to store and dispense a drink. These devices are now widespread in commercial bars and are growing in popularity.
The kegerator is another example of how refrigeration techniques are becoming more efficient and eco-friendly. Now that we know, this area of commerce and industry has played a large part in the destruction of the ozone layer and in global warming.
Kegerators are not restricted to ales and lagers as there are examples that can be used for wine, and these are also becoming more popular. Let's try and explain in simple terms how the kegerator works.
How Does a Kegerator Work?
The kegerator resembles a refrigerator. It will be big enough to house a single keg of a specific size. The inside of the kegerator will be fundamentally empty except for the connections that need to go between the keg and the dispenser.
Once a keg is inside, the refrigeration is switched on to keep it cool. The keg is also pressurized using a co2 canister as you would pressurize a keg in a bar cellar. This has two advantages: it keeps the contents constantly cool and – as they are under pressure – will extend the life of the keg.
For a standard keg of ale, for example, inside a kegerator, it may last as long as two months. This is perfect for bars that are used solely for occasions and also for those that stock beer in large size kegs. Many early kegerators are simply converted fridges. Now, you can buy bespoke examples that come with space for numerous kegs and are also specially fitted with the dispensing system.
Dispensing is by way of the standard method of the line being pressurized with the same co2 that is pressurizing the keg. This allows for efficient and simple dispensing of cooled drinks without the need for expensive flash coolers that are unreliable and bulky. Should you fit a kegerator? Let's wrap things up by looking at some instances where the kegerator would be of great benefit.
Should I Install a Kegerator?
Whether you run a bar that is used only occasionally or one that has a constant custom, the kegerator is of interest to you. They are reliable and keep the keg cool, so if your bar is in a hot location, this will be a welcome bonus in terms of keeping things cool for your customers. Furthermore, new refrigerant laws specify the refrigerants you can use, and the kegerator will comply with these every time, so you remain within the laws and regulations.
We advise you to take a closer look at kegerators and what they are used for as you might find you need more than one to meet your business needs, so start searching now and learn all you can about these clever devices.