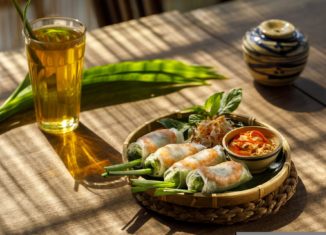 There are dozens of Vietnamese recipes that can give you the taste of Vietnam without having to step out of the house. Whether you are an adventurous eater or not, you should definitely cook these dishes to get an amazing burst of flavors.
Many of you may already be familiar with the popular Vietnamese recipes and most of them are available at Vietnamese restaurants. That's just not it, you will find many delicious noodle dishes, savory stews, and unique desserts in Vietnamese cuisine to rev up your appetite.
7 Vietnamese Recipes to Make Today
Vietnamese recipes do not rely much on dairy products and oil but are heavy on spice seasonings.
We have rounded up 7 Vietnamese dishes to broaden your cooking knowledge.
Pho
Starting our list with the popular, well-loved Vietnamese recipe, Pho, it is a staple food in restaurants and households.
This classic noodle soup is a combination of many ingredients such as beef broth, ginger, fish sauce, onion, and a couple of aromatic spices.
It can be customized by adding any condiments you want. Make it from the scratch for a perfect, drool-worthy taste.
Banh Mi
This simple Vietnamese sandwich features a soft, airy baguette stuffed with meat, pickled vegetables, herbs, and seasoning. Countless variants of this recipe have emerged over the years in Vietnam and other countries.
Banh Mi sandwich is made vegetarian-friendly with zesty marinated tofu filling.
This dish packs a punch as pickled vegetables impart signature sweet and tangy flavor, mayo adds delicious richness, sriracha for extra heat, and cilantro for a perfect finish.
Spring Rolls
This Vietnamese appetizer goes by different names like Goi Cuon, summer rolls, fresh spring roll, salad roll, and rice paper roll.
This easy-to-make recipe features shrimp, cucumber, carrot, vermicelli noodles, mint, and lettuce packed in transparent rice paper.
Veggies can be added instead of shrimp. Get a premade rice wrapper, soak it in water, and wrap all the ingredients in it.
Cha Phe Trung
This Vietnamese egg coffee evolved as a solution to the milk shortage in 1946. It is easy to whip up in just a few minutes, the creamy concoction is made by beating an egg yolk with sweetened condensed milk.
Vietnamese Crepes
Banh Xeo is a savory Vietnamese crepes popular in different regions of the country. The crispy crepes are made with rice flour, turmeric powder, and coconut milk.
The bright, yellow crepes are stuffed with pork, shrimp, and bean sprouts and served with lime juice-fish sauce dipping sauce.
Three-Color Dessert
Che Ba Mau or tri-colored Vietnamese dessert is a perfect summertime treat. The colorful dessert has layers of red beans, mung beans, pandan jelly, and coconut sauce.
Fridge the ingredients and top it with crushed ice at the time of serving, utilize a spoon to mix all the layers, and enjoy.
Banana Tapioca Pudding
This warm, creamy dessert for winter is made with coconut milk, bananas, tapioca pearls, and salted peanuts.
No fancy equipment is required to make this thick and creamy dessert, you only need a saucepan and the main ingredients.