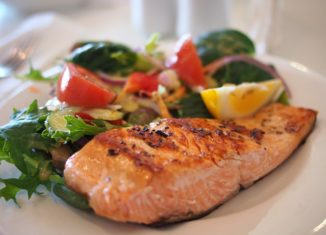 Grilled Salmon Teriyaki with Charred Pineapple Salsa
Serves 4- 6 people
3 tablespoons teriyaki Sauce
1/2 pineapple, grilled wedges
4 salmon fillets, skin on or off
1/4 cup cilantro or parsley, chopped
1/2 lime, juiced
Directions:
Grill pineapple wedges on medium-high heat on an oiled grill on both sides. Cut grilled pineapple into small pieces.
In a bowl, put pineapple pieces. Add chopped cilantro or parsley and the lime juice and stir.
Brush salmon fillets with teriyaki sauce of your choice. Put the brushed teriyaki side face down on the grill.
Grill the salmon for 6- 8 minutes per side on the bbq grill.
Heat the remaining teriyaki sauce in a small pot on the grill. Remove salmon fillets from the grill and onto a clean plate. Drizzle with extra teriyaki sauce.
Grilled Salmon Pasta Salad with Garlic, Capers, Dill, and Parsley
4 salmon fillets, without skin
1 (16-oz) package bowtie, penne, or spiral pasta
1 bunch parsley, chopped
¼ cup dill sprigs
¼ cup capers, minced
¼ cup olive oil
1 lemon, zested and juiced
2 teaspoons Dijon mustard
Sea salt and freshly ground pepper, to taste
Directions:
In a large pot, bring water to a boil. Add a package of pasta and cook according to package directions or until your liking. Ideally, pasta should be firm and have some chew, known by Italians as "al dente" or, literally translated, "to the tooth". The pasta should have some chew to it. Drain the pasta. Put in a bowl and allow to cool in the fridge. Stir the pasta in the fridge periodically for it to cool faster.
Put chopped capers, parsley, and dill with olive oil and lemon juice and zest in a bowl. Lemons can be zested with a microplane, the small part of a cheese grater, a zester, or by peeling the yellow part(no white pith—it's bitter) and mincing. Add a dollop of mustard. Slowly drizzle and whisk in the olive oil.
Grill Salmon fillets on medium heat for around 6 minutes on each side or until firm.
Remove the salmon and put it on a plate.
Remove the pasta from the fridge. Add the dill/caper/parsley vinaigrette. Flake the salmon with fingers or a fork into small chunks into the pasta salad.
Grilled Salmon, Tomato, and Zucchini on Rosemary Stem Skewers
Serves 4- 6 people
12 rosemary Stems, all leaves removed, except for on the top
4 salmon fillets, without skin, cut into 1-inch cubes
1-pint cherry tomatoes, whole
1 zucchini, with peel, cut into wedges
1/4 cup chopped rosemary
1 lemon juiced
1 cup olive oil
1 teaspoon of sea salt
1 teaspoon freshly ground black pepper
Directions:
In a medium bowl, mix olive oil, rosemary, thyme, and lemon juice
Marinate the salmon cubes, a pint of tomatoes, and zucchini wedges in the mixture.
Skewer one raw salmon cube onto each rosemary stem. Note: rosemary stems should only have left on the very tips, the rest should be removed. Then skewer a cherry tomato, then a zucchini wedge on each stem, and repeat until the stems are full.
Make sure that the grill is oiled. Cook skewers on medium heat turning to cook each side. Tomatoes and zucchini should get a little charred and the salmon should cook through.