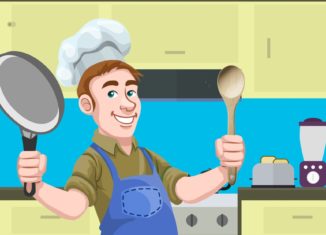 If you want to become a better cook, you have to be organized and focused, as well as keep working on your behavior in the kitchen. So, here are a few tips that will help you spice up your cooking skills quickly and turn you into an amazing cook before you know it!
Keep practicing
Cooking isn't easy and the only way to improve your cooking skills is by practicing. Every single day, try to cook at least one proper meal, and don't be afraid to use different recipes. This might sound like the most boring and ineffective tip in the world, but this is the only way to get better at cooking and become satisfied with your cooking skills.
Of course, you can look into other ideas that will help you become an even better cook – from various cookbooks to different food-related games you can on your computer or mobile phone. These will help you work on your focus and make you understand why creating a plan is so crucial when it comes to cooking, and the effect of these games could surprise you!
Read the recipe carefully
If you decide to stick to recipes and stop trying to be creative and imaginative with your recipes, there's one thing you need to remember: read the recipe carefully! Do what it says and don't try to be smart. If you're trying to improvise with your recipes, you'll end up creating a mess and coming up with meals nobody is going to eat.
Following the recipe means knowing a few basic things about cooking. This means you have to know all your measures and tools, as well as keep your utensils, pots, and pans nearby. Wasting time searching for things around your kitchen isn't just tiring, but it's also a way to ruin your meal and remain a lousy cook.
Update your utensils every once in a while
Cooking with the same old stuff you've been using for ages might be an effective way to get some great meals, but it's also boring. It doesn't matter how much time you spend in the kitchen every single day because using the same tools over and over again is horrible. That's why updating your utensils from time to time is a must.
Think of this as an investment in your cooking and a way to get better than ever, but also keep in mind that not all utensils on the market are good enough for you. Therefore, stick to the reliable choices only, and check out the offer at Shoppster to see some of the things you might like. Stick to high-quality materials and reliable manufacturers only, and you'll do wonders for your cooking, which is something your friends and family are going to notice as well!
Get some new appliances
Once you've updated your utensils, it's time to do the same thing with your appliances. There are so many ways why you should do that – from introducing new colors and shapes into the kitchen to making your cooking easier and tastier. What's great is that the number of appliances you can choose from is constantly rising, so making the right choice shouldn't be too hard.
In addition to finding useful appliances, you should also look for those that will make your cooking process easier. These include your electric grills, blenders, cookers, and other appliances that should help you stay in the kitchen less than before without compromising on the results.
Have fun
In the end, you should remember that cooking is supposed to be fun – even though you're doing it every day, it's still fun to do something great for your loved ones and introduce a sense of happiness into their lives. That's why you need to create a better mood in your kitchen and keep having as much fun as possible.
Luckily, doing that is easy – put on some music, use colorful tones when repainting the walls, and spend your time in the kitchen with someone you love. Your partner and your children could turn out to be the best cooking company and the best sous-chefs in the world. Additionally, if you're cooking with your kids, you're also teaching them valuable lessons and boosting their creativity, so there are lots of reasons why this is such a good idea.
Becoming a better cook is simply – just take it easy, have a great time, and enjoy the food you're creating. This will help your meals get even better, and that's a great way to show your loved ones how much you care for them!