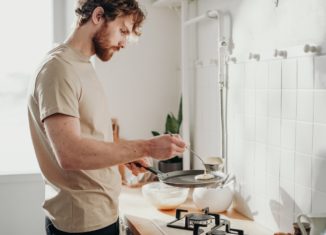 No matter if you love to cook elaborate meals or just use your kitchen for food storage and coffee making, this room is one of the most useful ones in the whole house. Therefore, it needs to be practical to improve usability and comfort. If you're facing a small kitchen remodel in the future, here are a few tips for creating a practical kitchen:
Examine your needs and habits
Before you start taking down walls or ordering stuff online, stop and examine your cooking habits and needs. The most important thing is that you can use your kitchen comfortably and for many things. Consider how you usually use different kitchen areas. For instance, if you cook every day, make sure your food prop area is in the middle of the action and showered in natural light. If you tend to buy in bulk, a big pantry and cupboard with different shelves and compartments are a must for you.
Consider your layout
If you're blessed with a large kitchen, you can experiment with layouts and always end up with a functional space, but smaller kitchen owners need to be smart. Ideally, an L or a U shape kitchen design will allow you to utilize all the corners and other unused spaces. This layout surrounds you with cabinets while giving you plenty of space to comfortably use your kitchen. No matter what layout you choose, make sure to keep the food area close to your sink to minimize unnecessary movements while whipping out masterpieces while cooking.
Hide clutter
A practical kitchen is a neat kitchen, so make sure to regularly remove clutter and maximize your workspace. Things like a mixer, juicer or waffle maker are useful, but not every day, so make sure to dedicate a cabinet where you can stash them until needed. You can easily find online homewares for the kitchen and combine them with practical serving and storing options. Pull out shelves are very useful for this because you can easily utilize all the storage space and reach all items. To prevent regular piling up of clutter, make sure to provide plenty of electrical plugs, so you don't have to pile up gadgets all in one place.
Place your appliances
No kitchen is complete or remotely functional and practical without kitchen appliances such as the refrigerator, dishwasher, stove, oven and microwave. The best place for the fridge is between the pantry and the work area. The vertical placement of the oven and microwave is also very practical for all cooking tasks. For small kitchens, designers usually opt for built-in appliances that match the color of the rest of the kitchen.
Boost counter space
Counter space is necessary for successful food preparation and cleanliness. Also, everyone loves eating in the kitchen. Even if you don't have enough space to add an island or a breakfast nook, you can still boost work surfaces with an American style bar. Other options for increasing workspace or adding a small eating space are folding tables, pull-out tables and cantilevered tables with metal feet. If you're into innovations, a drawer with a table for two is a great solution for your lifestyle.
Create a coffee or cereal station
While not many people prepare four-course meals, most of us use our kitchens to make coffee or whip out a quick bowl of cereals. To make this activity more practical, add a built-in coffee unit and some extra counter space next to it. If that's not possible for your kitchen layout, a freestanding cart will do the trick. You can do the same with different cereals and cereal bowls and always be just a few steps away from a perfect breakfast or snack. This addition is so practical that even kids can use it.
A kitchen is the new heart of the home so make sure it gets plenty of love. With this new and improved design, you can create a space that's functional, practical, comfortable and cozy for all house members.