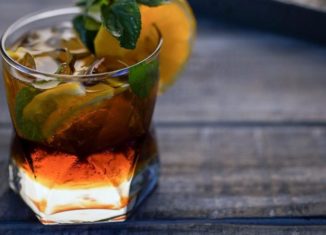 Making cocktails is not rocket science and with a bit of practice, you too could start making cocktails at home. It might come as a surprise that some of the most affordable cocktails can be found in liquor stores near you or get them when you buy alcohol online delivery.
Instead of spending a fortune this festive season, why not make cocktails at home and invite a couple of friends or family. Here is a list of ten easy and simple cocktails you can make at home.
Mint Julep
Ingredients:
50ml whiskey (or rum)
Two teaspoons caster sugar (you could replace it with regular sugar or Gomme syrup)
Four mint sprigs
Some crushed ice
Soda water (optional)
Copyright: Unsplash | License: COO Public Domain

Method:
Mix the crushed ice, mint sprigs, and caster sugar
Massage the mixture gently using a spoon
The caster will sugar help to bring out the flavor of the mint
If you are breaking or crush the mint, they will end up having a sour taste. This is why you have to fold and stir gently
Pour in 25ml of rum, some more crushed ice and continue the 'massage'
Fill the glass with ice, add in the second 25ml of rum and finally add a dash of soda (optional)
The Vesper
Ingredients:
2 ounces gin
5 ounces vodka
25 ounces Lillet Blonde
Lemon peel for garnishing
Method:
Mix all the ingredients and shake over ice before straining into a glass
Garnish with lemon peel
White Russian
Ingredients:
1.75 ounces vodka
1 ounces cream or whole milk
75 ounces coffee liqueur
Method:
Put some ice cubes into an old fashioned glass and fill to the brim
Add the coffee liqueur and vodka
Float the whole milk or cream on top and stir
Aperol Spritz
Ingredients:
3 ounces Prosecco
2 ounces Aperol
1-ounce soda water
An orange wedge for garnish
Method:
Build over a glass to the brim with ice cubes
Top it up with soda water
Garnish with the orange wedge
Sidecar
Ingredients:
Cognac or brandy
Orange liqueur or Cointreau
Lemon juice
Method:
Twist the rim of your coupe on a plate of sugar, so that is attached to the glass's rim
Mix all the ingredients in a cocktail shaker with some ice and shake until adequately chilled
Strain into the sugar-rimmed coupe and garnish with the orange peel
Gimlet
Ingredients:
Gin or vodka
Rose's lime juice (or freshly squeezed lime juice)
Method:
Mix the ingredients and shake well with cracked ice
Strain into a chilled cocktail glass
Old Fashioned
Ingredients:
1.5 ounces bourbon
2 or 3 dashes of Angostura bitters
A sugar cube
An orange slice for garnish
Method:
Put sugar cube into an Old Fashioned glass and soak with the bitters
Muddle until it's dissolved
You can add a few drops of water if necessary
Add a large ice cube and bourbon
Garnish with an orange slice and cherry
Moscow Mule
Ingredients
1.5 ounces vodka
4 ounces ginger beer
25 ounces lime juice
Lime wedge for garnish
Method
Add vodka, ginger beer in an ice-filled copper mug
Pour in the lime juice, stir, and use the lime wedge as a garnish
Serve
Raspberry Gin
Ingredients:
300g raspberries
100g sugar
700ml bottle of gin
Copyright: Unsplash | License: COO Public Domain
Method
Tip the raspberries and add sugar into a 1.5 liter sterilized jar
Pour over the gin, seal the jar airtight and carefully swirl around to dissolve all the sugar
Store in a cool place and swirl the jar at least once per day for one week
After 2 or 3 weeks, strain the gin using a sieve
Pour the gin into small bottles, and label
The gin will maintain a vibrant pink color for a few months and will be drinkable for at least a year
Use the boozy raspberries to make cocktails
Sloe Gin Cocktail
Ingredients:
50ml sloe gin
25ml gin
25ml lemon juice
2 tsp sugar syrup
Crushed ice or ice cubes
Method:
Mix the gin, sloe gin, lemon juice, crushed ice and the sugar syrup in a cocktail shaker
Shake and strain into a glass with ice cubes
Serve immediately
Conclusion
Most people would rather sit at a bar and order a stream of cocktails. However, knowing how to whip up different cocktails will make you a star at your office party at the end of the year. With that said, it will take time to get the perfect mix for your taste buds.