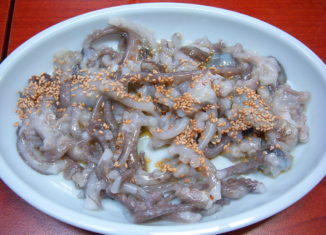 1. Casu marzu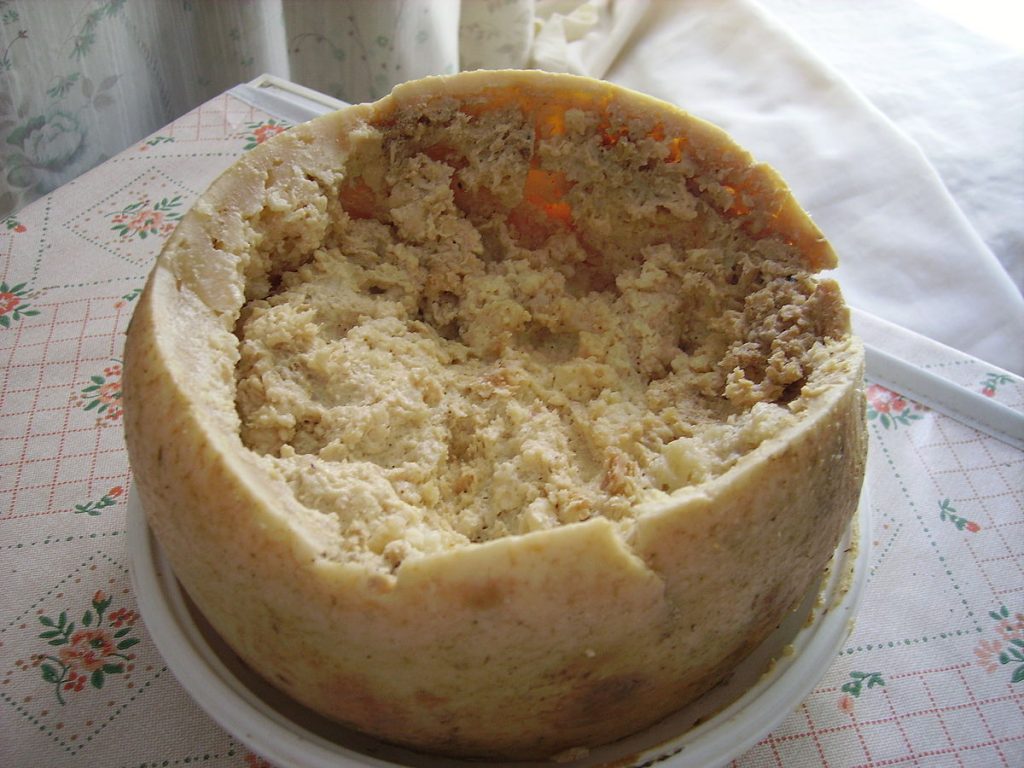 Casu marzu, also called casu modde, casu cundídu and casu fràzigu in Sardinian), literally 'rotten/putrid cheese', is a traditional Sardinian sheep milk cheese that contains live insect larvae (maggots). A similar cheese, casgiu merzu, is found in Corsica.
Derived from pecorino, casu marzu goes above and beyond typical fermentation to a stage of decomposition, brought about by the digestive action of the larvae of the cheese fly Piophila casei. These larvae are deliberately introduced to the cheese, promoting an advanced level of fermentation and breaking down of the cheese's fats. The texture of the cheese becomes very soft, with some liquid (called lagrima, Sardinian for "teardrop") seeping out. The larvae themselves appear as translucent white worms, about 8 mm (0.3 in) long.
2. Balut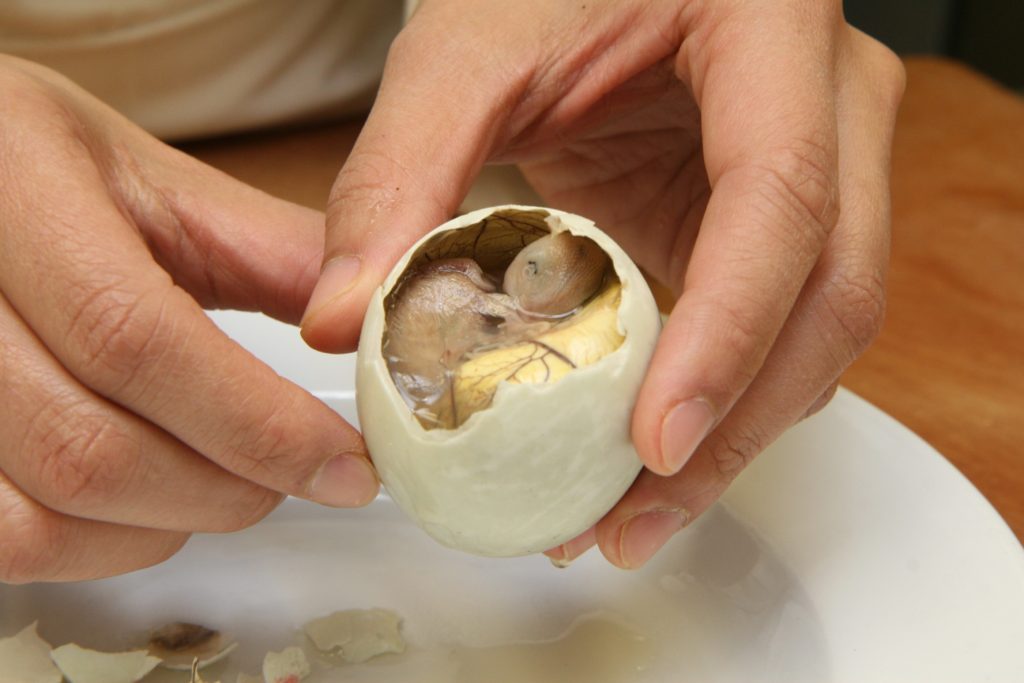 Balut is a developing bird embryo (usually a duck) that is boiled and eaten from the shell. It originated from and is commonly sold as street food in the Philippines. Often served with beer, balut is popular in Southeast Asian countries, such as Laos, Cambodia, Thailand and Vietnam. The Tagalog and Malay word balot means "wrapped". The length of incubation before the egg is cooked is a matter of local preference, but generally ranges between 14 and 21 days. The eating of balut is controversial due to religious, animal welfare, and human health concerns.
3. Hákarl
Kæstur hákarl is a national dish of Iceland consisting of a Greenland shark (Somniosus microcephalus) or other sleeper shark which has been cured with a particular fermentation process and hung to dry for four to five months. Kæstur hákarl has a strong ammonia-rich smell and fishy taste. Kæstur hákarl is readily available in Icelandic stores and is eaten year-round, but is also served as part of a þorramatur, a selection of traditional Icelandic food served at þorrablót in midwinter.
4. Baby Mice Wine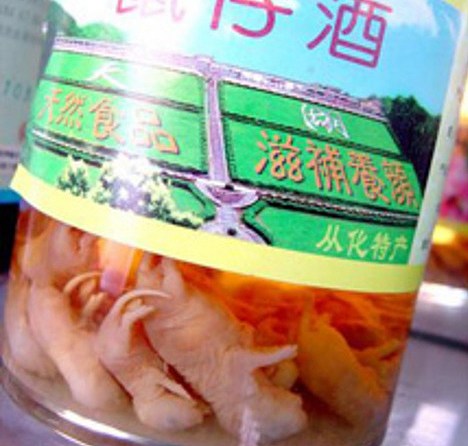 Wine with marinated dead baby mice. It is very often said to the 'cure-all' medicine. Very popular in China and Korea.
5. San-nakji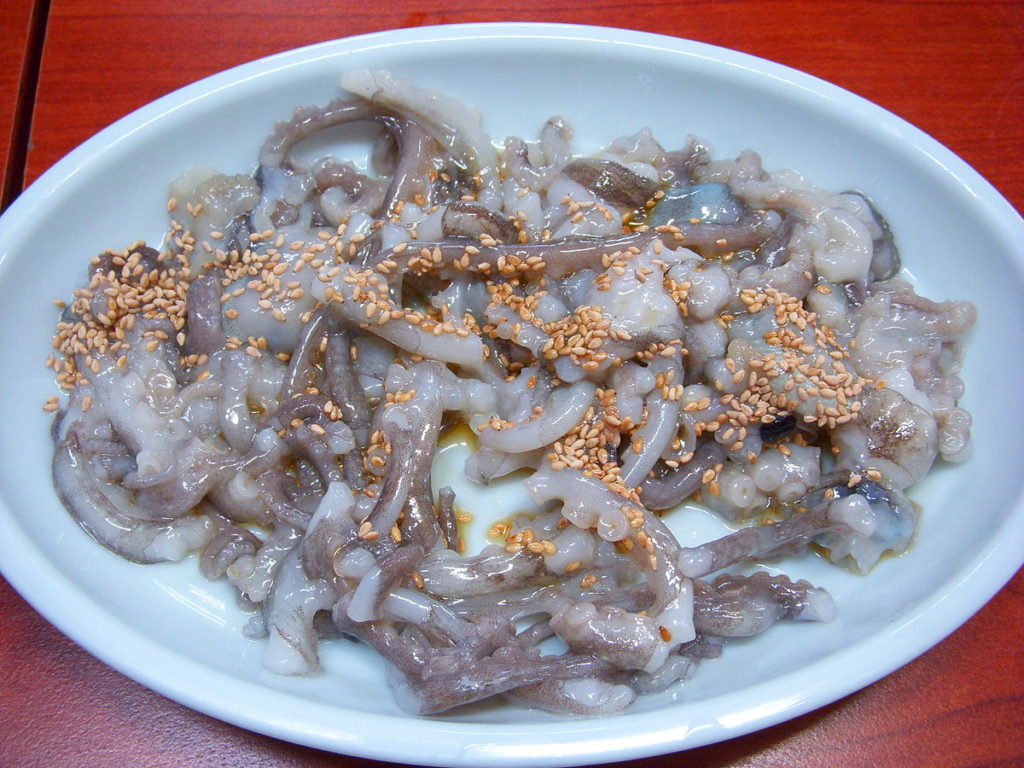 San-nakji (산낙지) is a variety of hoe (raw dish) made with long arm octopus (Octopus minor), a small octopus species called nakji in Korean and is sometimes translated into "baby octopus" due to its relatively small size compared to the giant octopus. The octopuses are most commonly killed before being cut into small pieces and served, with the nerve activity in the octopus' tentacles making the pieces move posthumously on the plate whilst served. The octopus' highly complex nervous system, with two-third of its neurons localised in the nerve cords of its arms, lets the octopus show a variety of reflex actions that persist even when they have no input from the brain. Less commonly, a live octopus is eaten whole. The dish is sprinkled with sesame oil and toasted sesame seeds.
Because the suction cups on the arm pieces are still active when the dish is served, special care should be taken when eating sannakji. The active suction cups can cause swallowed pieces of arm to stick to the mouth or throat. This can also present a choking hazard for some people, particularly if they are intoxicated.
6. Khash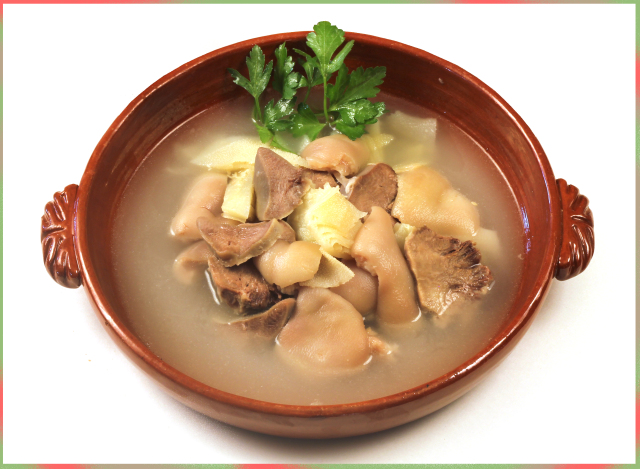 Khash (or pacha, kalle-pache or kakaj šürpi) refers to a dish of boiled cow or sheep parts, which might include the head, feet, and stomach (tripe). It is a traditional dish in Afghanistan, Albania, Armenia, Azerbaijan, Bosnia and Herzegovina, Bulgaria, Georgia, Greece, Iran, Iraq, Mongolia, and Turkey.
Khash is a purist meal with great parsimony in ingredients. The feet are depilated, cleaned, kept in cold water in order to get rid of bad smell, and boiled in water all night long, until the water has become a thick broth and the meat has separated from the bones. No salt or spices are added during the boiling process. The dish is served hot. One may add salt, garlic, lemon juice, or vinegar according to one's taste. Dried lavash is often crumbled into the broth to add substance. Khash is generally served with a variety of other foods, such as hot green and yellow peppers, pickles, radishes, cheese, and fresh greens such as cress. The meal is almost always accompanied by vodka (preferably mulberry vodka) and mineral water.
7. Mopane Worms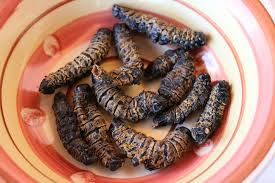 Dried mopane worms can be eaten raw as a crisp snack; however, in Botswana people tend not to eat the head. Alternatively, mopane worms can be soaked to rehydrate, before being fried until they are crunchy, or cooked with onion, tomatoes and spices and then served with pap or sadza. The flesh is yellow, and the gut may still contain fragments of dried leaf, which is not harmful to humans. The taste of dried leaves, if not removed, is somewhat reminiscent of tea leaves. Dried mopane worms are frequently canned/packaged in tomato sauce or chili sauce to enhance the flavor.
8. Shark Fin Soup
Shark fin soup (or shark's fin soup) is a traditional soup or stewed dish found in Chinese cuisine and Vietnamese cuisine. The shark fins provide texture, while the taste comes from the other soup ingredients. It is commonly served at special occasions such as weddings and banquets, or as a luxury item in Chinese culture.
Shark fins used in the soup are the cartilaginous dorsal, pectoral and caudal fins. These are regularly harvested by a process known as shark finning, which takes only the fins and discards the carcass, alive or dead. Overfishing poses a major threat to the world's shark populations.
9. Surstromming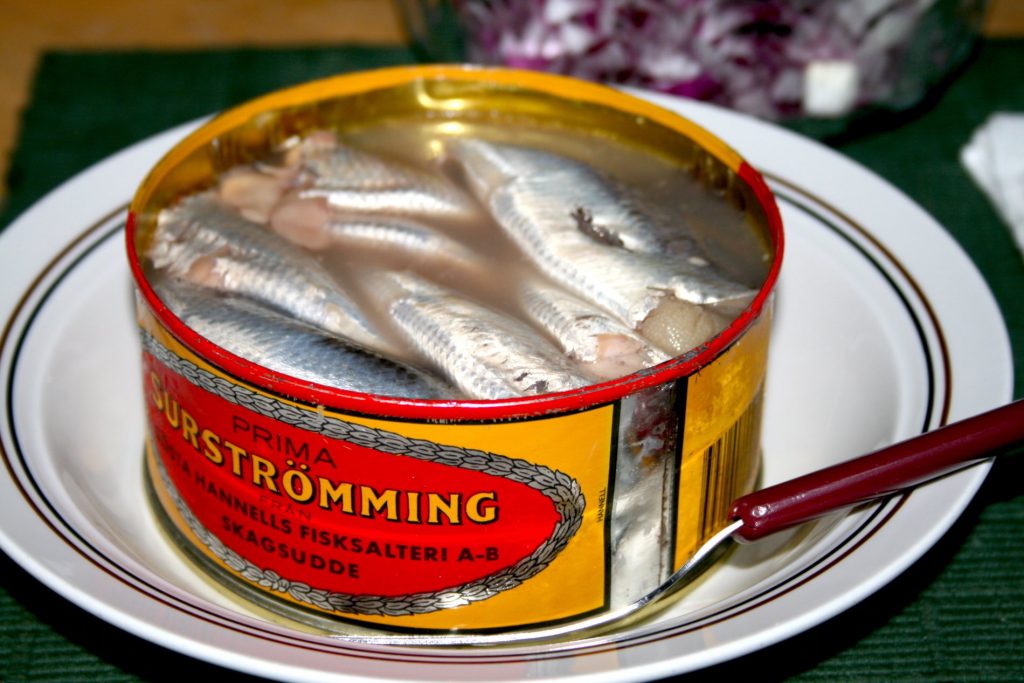 Surströmming is a lightly-salted fermented Baltic Sea herring. The Baltic herring, known as strömming in Swedish, is smaller than the Atlantic herring, found in the North Sea. Traditionally, the definition of strömming is "herring fished in the brackish waters of the Baltic north of the Kalmar Strait". The herring used for surströmming are caught just prior to spawning. During a production of surströmming, just enough salt is used to prevent the raw herring from rotting. A fermentation process of at least six months gives the fish a characteristic strong smell and somewhat acidic taste. According to a Japanese study, a newly opened can of surströmming has one of the most putrid food smells in the world, stronger than similarly fermented fish dishes such as the Korean hongeohoe or Japanese kusaya.
10. Lutefisk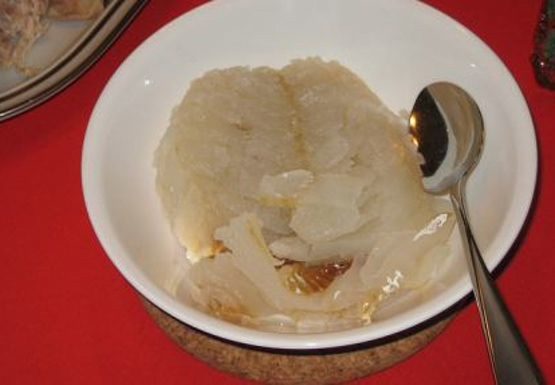 Lutefisk or lutfisk is a traditional dish of some Nordic countries. It is traditionally part of the Norwegian julebord and Swedish julbord. It is made from aged stockfish (air-dried whitefish) or dried/salted whitefish (klippfisk) and lye (lut). It is gelatinous in texture. Its name literally means "lye fish".
Lutefisk is dried whitefish (normally cod, but ling and burbot are also used) treated with lye. The first step is soaking the stockfish in cold water for five to six days (with the water changed daily). The saturated stockfish is then soaked in an unchanged solution of cold water and lye for an additional two days. The fish swells during this soaking, and its protein content decreases by more than 50 percent, producing a jelly-like consistency. When this treatment is finished, the fish (saturated with lye) is caustic, with a pH of 11–12. To make the fish edible, a final treatment of yet another four to six days of soaking in cold water (also changed daily) is needed. Eventually, the lutefisk is ready to be cooked.
11. Hasma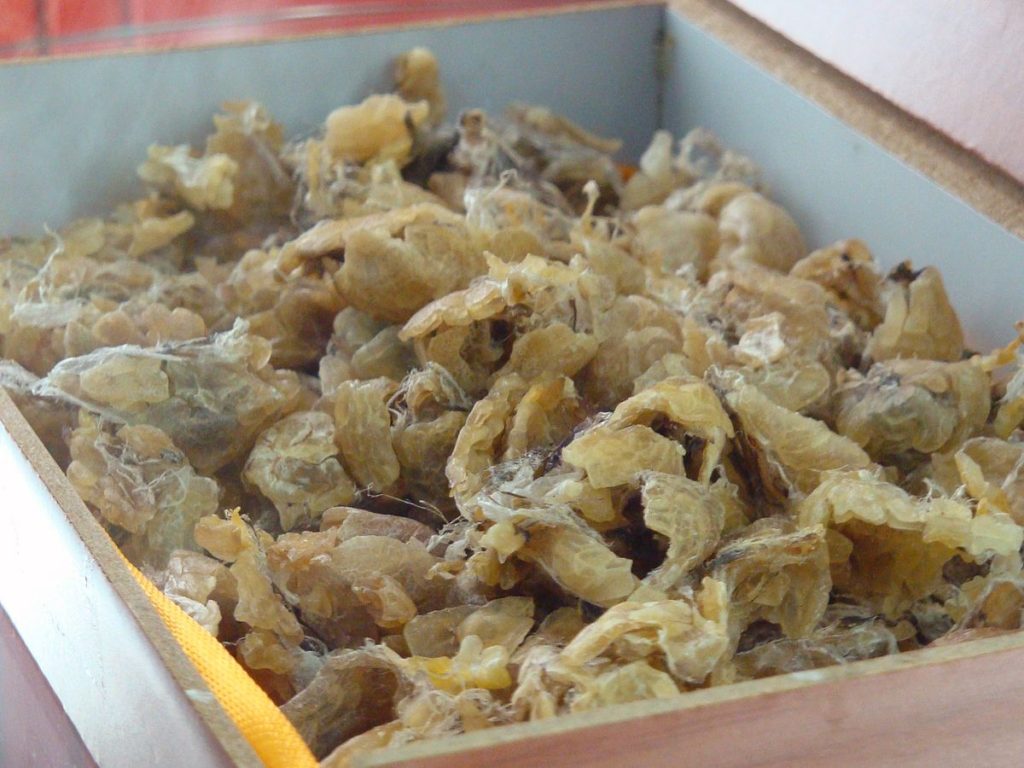 Hasma (Harsmar, Hashima) is a Chinese and widely Central Asian dessert ingredient made from the dried fatty tissue found near the fallopian tubes of true frogs, typically the Asiatic Grass Frog (Rana chensinensis). Because of its whitish appearance, Hasma is often mistakenly described as "snow frog fat". Hasma is sold dried as irregular flat pieces and flakes ranging from 1–2 cm in length and 1–5 mm in thickness. Individual pieces are yellowish-white in colour with a matte lustre, whose surface may be covered with off-white pellicles. When rehydrated, dried hasma can expand up to 10-15 times in size. asma serves the role of providing texture to tong sui, or sweet soups, as well as increasing the perceived luxuriousness of the soup. These soups are usually flavoured with rock sugar. For the uninitiated, this relatively accessible eating experience belies the exotic sounding nature of the dessert. Hasma is widely featured in dessert dishes in high class restaurants in Hong Kong.
12. Shiokara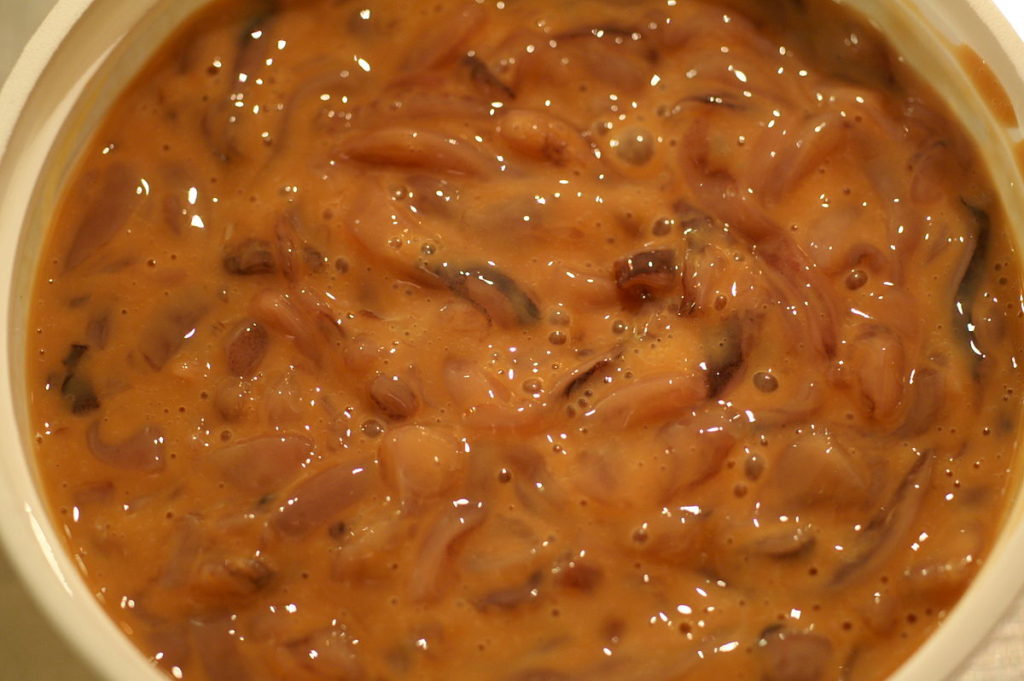 Shiokara (塩辛) is a food in Japanese cuisine made from various marine animals that consists of small pieces of meat in a brown viscous paste of the animal's heavily salted, fermented viscera. The raw viscera are mixed with about 10% salt, 30% malted rice, packed in a closed container, and fermented for up to a month. Shiokara is sold in glass or plastic containers. The flavor is similar in saltiness and fishiness to that of European cured anchovies, but with a different texture. One of the best-known chinmi ("rare tastes"), it is quite strong and is considered something of an acquired taste even for the native Japanese palate. One method of enjoying it is to consume the serving at one gulp and to follow it with a shot of straight whisky. Some bars in Japan specialize in shiokara.