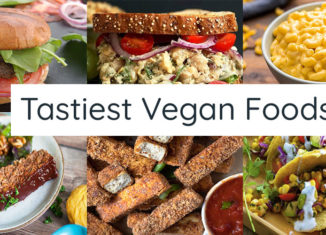 Veganism can prove to be more than just a lifestyle choice; it is very beneficial for people who want to follow healthy-eating. In some research, having a well-planned vegan diet has been directly linked to have lowered high blood pressure, cholesterol, and abated heart disease, diabetes and even cancer! So, there is every reason to change to veganism, and it includes positive benefits for the environment and earth as well, and is also a rich nutrient-loaded diet.
A common misconception is that vegan food mostly consists of salads and what is predominantly termed as "rabbit food", but this is absolutely not the truth! Vegan food is extremely versatile and comes with tons of options which can mimic the taste of traditional non-vegetarian food, and some have extremely unique tastes which are simply unputdownable. To think that vegan cuisine is limited is therefore a wrong judgement. For more on this with some legit encouragement, I highly recommend you to seek Tully of VegansFirst.com. The online resource that they've put together is nothing short of a one-stop solution for all your queries and myths regarding transitioning to an entirely plant-based diet.
Moving with the topic at hand, here are some of the most delectable vegan alternatives to traditional animal-based recipes that might help you reinforce your consideration to actually go cruelty-free with your diet and subsequently your lifestyle. 
Also, Vegan food doesn't have to be expensive, check out this guide on how to eat vegan on a budget
Tastiest Vegan Foods
1. The 'Lamb' Burger
If you're transitioning to a vegan diet, you probably would think that burgers are unimaginable without meat, but the 'Lamb' Burger will give your original meaty burgers a run for their money. This consists of ground lentils, mushrooms, and a gluten-free oat base which tastes exactly like your regular Big Mac and will substitute it from the moment you taste this.
2. Chickpea 'Tuna' Salad Sandwich
Tuna has a seafood taste, which is replicated in this sandwich with chickpeas. On top of that, this is sprinkled with seaweed flakes to give that rich, flavourful taste of the sea. It is something which is very easy to make and tastes exactly like your normal tuna sandwich, except that the chickpeas are extremely protein-rich and is therefore a much healthier alternative. It is also extremely filling and can be customized according to your preferences.
3. Baked Eggplant Fries
A major plus of a vegan diet is that you get all your nutrients in your diet without compromising on the taste. The baked eggplant fries are loaded with vitamins and minerals like potassium which are extremely additions to your body, other than it being very rich in dietary fiber. It is almost similar to any fried dish you might have had before, but it has an important antioxidant property and contains almost zero fat and very less calories as compared to your other deep fried foods. The seasonings like paprika, cumin and other herbs add a beautiful smoked flavour too.
4. Spinach Artichoke Enchiladas
Do you think that enchiladas taste good only with chicken and other forms of meat? Here's a mythbuster for you – the spinach artichoke enchilada is carnivore approved and definitely something that is on the friendlier nutrient profile. Spinach is a leafy vegetable which is rich in nutrients, vitamins, minerals and a rich storehouse of all good things and provides your fibre too!
5. Vegan Mac n Cheese
Store-bought vegan cheese and butter is the reason why this recipe works so good. Without compromising on the taste, the vegan mac n cheese is equally flavourful and you will not find much of a difference in this from your average mac n cheese. If prepared correctly, it may even surpass the original dish and carve a lot of liking in your heart as your go-to comfort vegan food.
6. Vegan Barbecue Lentil Loaf
Miss those barbecue nights after partying? The lentil loaves are oat-free and simply burst with the rich, smoky flavour of homemade barbecue sauce. To put together an extremely cohesive piece of food, the oats are substituted for cornbread and the texture is much more amazing than your average barbecue. You can also use your BBQ sauce as a dip and intensify the flavour.
7. Vegan Chickpea Tacos with Peach Salsa
Would you think that being vegan means that you will have to give up your tacos and salsa? Absolutely not! The vegan chickpea tacos are very simple to make and packed with the goodness of proteins (in the chickpeas) and topped off with a lime-scented peach salsa which is filling and can be easily made and is also nutritionally sound based on the diet.
8. Crispy oil free Vegan Chicken Fingers
Made with tofu, these crispy vegan fingers can make you relish it without even thinking about its chicken counterparts once. The chicken uncomplicated tofu recipe is as always, rich in nutrients, and easy to assemble, and instead of frying these, you can toss them in almond crumbs to produce a fine crust and then bake them so they are completely oil free!
Conclusion
Therefore, it is a misconception that vegans don't have the same amount of options or that their options are painfully limited. Instead, all you need to do is do some research and explore the many vegan ingredients, and with time you'll even come up with your fun twists and new recipes. With more and more restaurants offering plant-based foods, veganism is truly evolving everyday and therefore is a very good option to shift to.