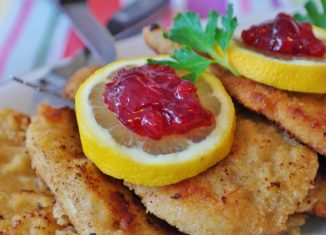 Europe is the place for some of the most exotic dishes globally, which attracts people from all over the globe. People not only love visiting Europe for its scenic beauty but also for its delicious cuisines. One such exquisite dish is the Pork Schnitzel with Potato Salad. The Pork Schnitzel with Potato Salad is a popular dish in central Europe and has valid reasons for its popularity. One of the simplest dishes to cook, this dish is very good for children and its taste does not go down by any level even if it's cold. All these characteristics make it one of the best dishes for home.
In particular, when we talk about Schnitzel, the one made from veal, i.e., the wiener type, is the most famous. You can also use the other types of meat like pork, chicken, etc., and the kids will love to devour it. Anyways here we are going to talk about the pork schnitzel recipe, in particular, garnished with potato salad.
Pork loin is one the most common cuts for pork schnitzel in all probability. If you cook it properly, it will taste delightful. However, you must remember that when you fry this cut of meat a little too much, it loses its juiciness and ends up being dry. Pork tenderloin is a good cut to preserve the juiciness of the meat. This cut cooks faster than the loin cut, and it looks something like large-sized nuggets.
You can serve the Pork Schnitzel with rice, baked potatoes, mash ones, etc., but here outside the dish would be Potato salad. Let us understand how you are going to go about with the pork schnitzel recipe.
Ingredients
To Cook pork schnitzels:
Around 2 pork tenderloins of 500g each; approximately 1 pound.
Take 3 to 4 eggs.
Take 2 cups of all-purpose flour, around 300gm, let's say.
Add Another 3 cups of breadcrumbs, also around 300gms.
Add pepper and salt to your taste.
To Prepare Potato Salad
Take around 1kg (2lb) potatoes that are a little mushy.
Add about 8 to 10 pickled cucumbers.
3 to 4 tablespoons of pickle juice.
Take 1 cup of canned peas and carrots.
Another ½ cup of canned sweet corn.
1 large onion in sauteed form.
Add salt and pepper according to the preferences of your taste buds.
Preparation
Starting with salad is a preferable option as it will need to soak in the spices while it sits in the freezer for 30 minutes.
Boil the potatoes along with their peels for around 20 to 25 minutes. It will give a waxy texture. Red, Yukon Gold, or yellowfin are preferable options.
Once the boiling is over, let the potato cool down for a while. Once it is aptly cooled, peel off the skin.
Now add everything to a bowl. Put the peeled potatoes with 1 cup mayonnaise. 1 can of peas and carrots, 1 cup of sour cream, ½ cup canned corn, 8 to 10 pickled cucumbers, along with a little pickle juice for sweet and sour flavor.
Add some seasoning of pepper and salt.
Add one onion in the end.
Mix everything properly and make sure the salad tastes sour. Once you find the taste to be sour, let it chill in the refrigerator for 30 mins. Add some pickle juice if you need more of that sour flavor.
Now comes the Pork Schnitzel preparation;
Clean the meat by removing the silver skin and any excess fat deposition.
Cut your pork into tenderloins of around 1 to 1.5 inches on a cutting board.
Now you have to pound the meat with a pounding mallet—pound for 4 to 5 times and not too hard. You do not want paper slices, after all.
Season both the sides of the meat with salt and pepper.
Now put the pieces in a huge bowl for coating.
Coat the meat with flour so that it allows the moisture to percolate and stick better.
Beat a few eggs with salt and pepper.
Dip the pieces in the egg and cover them with breadcrumbs.
Coat all the meat properly, and dip it in warm oil for frying.
Do not go for maximum temperature.
Serving
Once you fry the meat properly, it is time for serving. Place 2-3 pieces on a plate and add the previously prepared salad on the side. You can use lemon and parsley leaves for decorating. That is it! Your Pork Schnitzel With Potato Salad is ready!