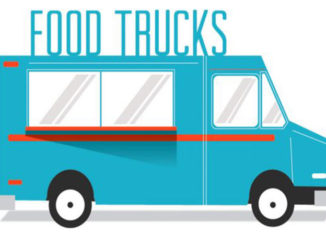 Keeping up with the latest trends in the culinary world, we have only one announcement to make: food trucks are the future.
Many entrepreneurs have recognized this ongoing trend as a potentially very profitable business. As the food truck scene was expanding in the last several years, it has become a whole new culinary culture and much more than a simple means of providing street food.
Today, they are more like restaurants on wheels. Gone are the days when a vendor was associated with selling ice-cream or hot-dogs only. Whole new culinary practices are presented as the newest food truck trends.
In America, the number of trucks is growing daily. As thrilling and exciting it may seem to newbies in the business, it sure is a great challenge to own a successful food truck business. With all the rivalry and quite a lot of original and interesting brands, it might be a bit tricky to find your place in the food truck scene.
We don't want to discourage you, contrarily, we are here to help you achieve your dream. Knowing how passionate foodies can be in sharing their recipes with others, we decided to share some advice on how to succeed in your food truck business.
Copyright: Unsplash / author: Isaac BenhesedI License: CC0 Public Domain
1. The Importance of the Unique Idea
What is most valued in the business world in general, is the idea. When it comes to owning a food truck you need to make it one of a kind. Check Orlando's best food trucks to see what are we talking about.
To attract customers that have such a huge number of street vendors at their service, you need to provide them with a unique experience. It's always recommended to focus your creativity around food. If you are able to come up with a dish that was never offered before, you are doing a good job.
Apart from the food offers it can be anything that can attract a lot of attention. Try to implement a great design to your truck, work on a good menu, consider the eco-friendly or organic labels, etc. However, the most important thing here is to express your idea trough a very catchy and cool logo.

2. Check with Government Regulation
Not every town, city or venue allows food trucks on the streets. Moreover, most of them have strict regulations on where and when can you park and work. If you already have chosen a spot make sure it's legal to park your truck, there.
Many new governmental regulations are making it easier for street vendors to receive permission to work. However, you'll need some good info on the licenses and permits to work.
3. Analyze the Food Truck Market in Your Area
It's of great importance to know and understand the food truck market in your city. Your competition can help you shape your business to perfection.
Understanding who are you competing with can help you gain a bigger customer base by simply setting higher standards. With a good analysis of what the market already offers you can come up with a fresh new idea and gain a better customer base.
Even when you think you have all figured it out, never leave anything to chances. Having a successful business means always tracking customers' needs. Having a good analysis at the beginning of the journey is essential. However, re-checking the market and keeping up with the new trends will help you maintain the desired position.
Copyright: Flickr / author: Richie Diesterheft I License: CC BY-SA 2.0

4. Promotion is Everything
No good product or excellent service can measure up with proper promotion. Food trucks, like any other business these days, find it very useful to connect with their customers via social media.
More than just an advertising space, social media like Facebook and Instagram make good communities. You should spend the time to update info on your location, menu and other interesting details about your truck. People love to follow their favorite food trucks around.
More than food providers, food trucks are recognized as an entertaining spot to hang around. You can perceive the food truck boom as a result of social media interaction. People just love to hang out and eat at a cool place. Moreover, they like to share that with their friends and followers. Therefore, social media is the place where you can advertise and find people's opinions on your food truck services.
5. Keep High Standards for your Food Offers
What is not excusable when it comes to the food business, it's offering food with poor quality.
Setting up a high-standard for the quality of your food is important. However, you should never allow yourself to offer food that is not fresh. Moreover, once you enjoy people's confidence you must provide them with the same quality and service all the time.
Don't forget to always update your menu right. Nothing can piss off a good customer as much as different ingredients than the ones mentioned in the menu.
These days, news are spreading fast. As mentioned above, social media is much more than advertising, it's a quality control monitor.
Once your community is sharing their favorite moments around your truck, it means you are doing a great job!